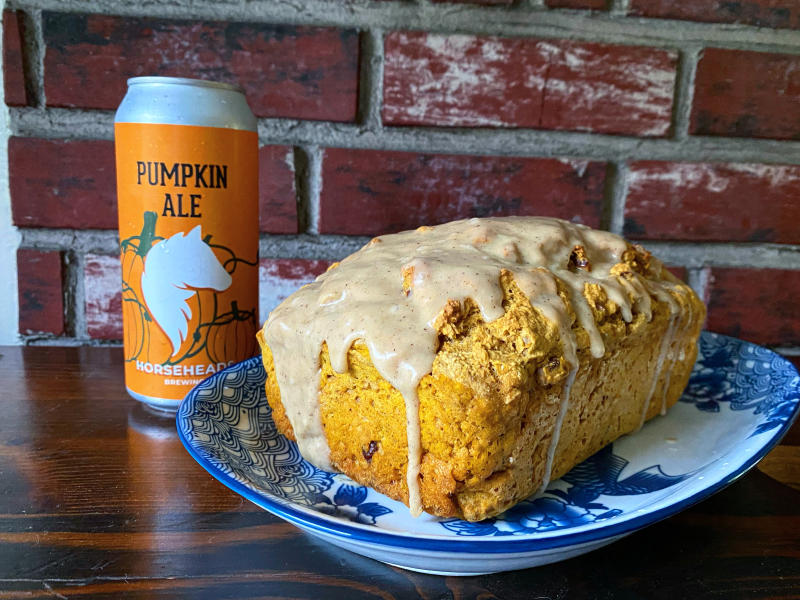 Celebrate spooky season with this homey loaf, leavened with beer instead of yeast. Horsehead Brewing Pumpkin Ale brings warm autumnal notes to this bread, and topping it with a brown butter glaze adds a luxurious finish. Without the glaze the bread is vegan, so simply omit if you avoid dairy. If there are nut sensitivities in your household, substitute toasted pumpkin seeds for the pecans and prepare to chase away the ghosts and goblins with a hearty slice of bread!

YIELD: 1 loaf
EQUIPMENT: Bowls, spatula, cutting board, knife, 9-inch by 5-inch loaf pan, non-stick spray, parchment paper, small saucepan, wire cooling rack
DIETARY INFO: Contains gluten and nuts, vegan-optional

INGREDIENTS:

For the Bread:
● 3 cups all-purpose flour
● 1 tablespoon baking powder
● 1 teaspoon kosher salt
● 1 teaspoon cinnamon
● ½ teaspoon allspice
● ¼ teaspoon cloves
● ¼ teaspoon cardamom
● 1 cup pumpkin puree
● 2 tablespoons maple syrup
● 1 teaspoon vanilla extract
● 12 ounces (1 ½ cups) Horsehead Brewing Pumpkin Ale
● ½ cup roasted pecans, roughly chopped

For the Glaze:
● ½ cup confectioner's sugar
● ½ teaspoon powdered ginger
● Pinch kosher salt
● 2 tablespoons unsalted butter
● 2 tablespoons whole milk
● ½ teaspoon vanilla extract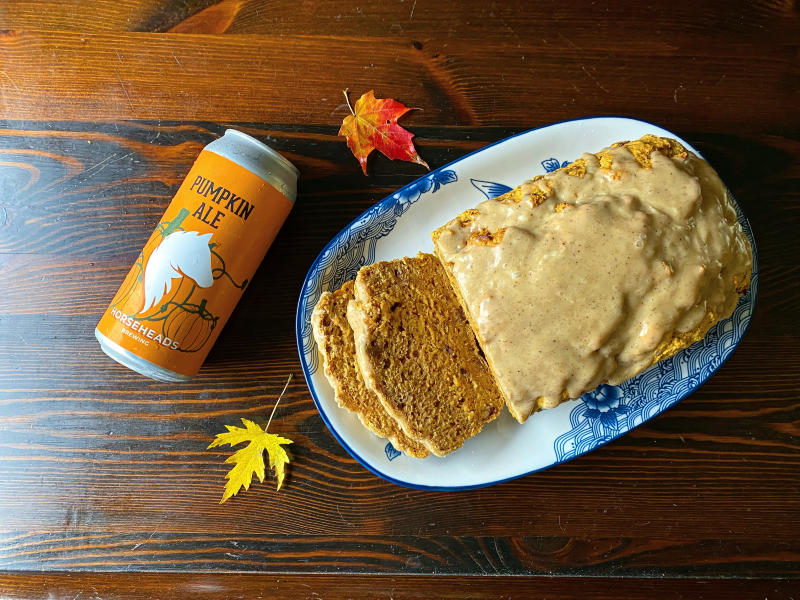 DIRECTIONS:

1. Preheat oven to 375°F. Spray a 9-inch by 5-inch loaf pan with non-stick spray and line with a piece of parchment paper that overhangs two sides, creating a "sling" for the bread.
2. In a large bowl, sift together flour, baking powder, salt and spices. In a medium bowl stir together pumpkin puree, maple syrup, vanilla extract, beer and pecans. Pour wet mixture into dry and fold together with a spatula. (Dough will be thick, stir well to ensure no dry patches remain at the bottom of the bowl!) Scrape batter into prepared pan, smooth top with a spatula, and place in the oven.

3. Bake for 50-60 minutes, or until a tester inserted in the middle of the loaf comes out clean. Allow to cool in the pan for 10 minutes, then gently remove using the parchment sling and place on a wire rack, allowing to cool completely.

4. When the bread is completely cool, make the glaze: in a medium bowl, sift together confectioner's sugar, ginger and salt.

5. In a small saucepan over medium heat, melt the butter. When the butter is melted, swirl the pan continuously over the burner until the butter begins to brown and smell like toasted hazelnuts, about 1-2 minutes. Immediately remove from heat and scrape mixture, including any brown bits clinging to the bottom of the saucepan, into the sugar mixture.

6. Add milk and vanilla extract to sugar mixture and stir until a smooth glaze results. It should be thick but pourable, about the consistency of pancake batter.

7. Place a sheet tray under the wire rack that the bread is resting on, to catch any drips. Remove parchment paper from the bottom of the bread. Drizzle glaze over the top of the loaf, allowing it to drip down the sides at points.

8. Allow glaze to cool and harden completely before slicing bread, about 30 minutes. Bread will keep at room temperature for up to 3 days.