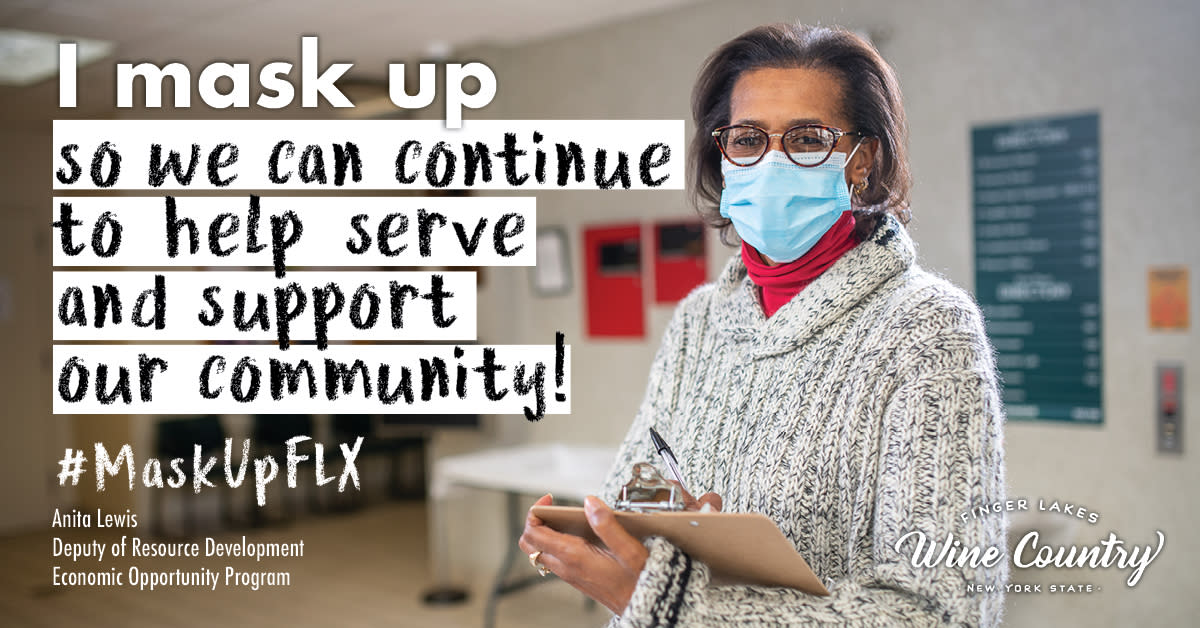 Travel has looked a little different this past year and the Finger Lakes Wine Country community has been working hard to reduce the spread of COVID-19. It is our goal to safely welcome our visitors to enjoy everything our region has to offer from wine tasting, our quaint small towns, outdoor activities, and more.
When planning a visit, it's important to be prepared and plan ahead with accommodations, dining establishments, wineries, breweries, museums, and other attractions for the most positive experience and to best adhere to safety protocols and capacity limits needed to comply with the State of New York's guidelines.
We have put together a helpful resource page for navigating a visit during this time as well as these Finger Lakes Wine Country travel tips below to help keep both our community and visitors safe..
Mask Up
The State of New York requires face coverings that cover your nose and mouth in public places. We ask that you respect these guidelines and be respectful to staff who enforce them. . At this time, even if you have been vaccinated, face masks are required in public in New York. 
Keep A Safe Distance
It is still advised by the Centers for Disease Control to maintain a six-foot distance from others and avoid crowded places. We ask for the health and safety of everyone to please follow these guidelines and maintain the safe advised distance from each other during your visit. Some tips we can offer is to visit more popular destinations during non-peak hours or avoid them altogether if they seem crowded upon arrival. Keep in mind, most of our attractions, wineries, and restaurants are strongly encouraging reservations or purchasing tickets ahead of time to ensure they're at a safe capacity. Your best bet to avoid any disappointment is to call ahead or make a reservation on the business' website.
Dining 
New York's restaurant guidelines continue to change and evolve and should be checked before your visit. We recommend that you check I Love NY's travel resource page for the latest up-to-date information on indoor dining.
It's always best to call ahead and also check with individual restaurants before and during your visit to ensure you have the latest information for each individual business. 
The good news is that warmer weather is headed our way and that means outdoor dining will be a convenient option at our establishments that have an outdoor seating area.
Another option is to order takeout from our local restaurants and find a great picnic spot around our lakes, parks, and public areas with seating.
Wine Tasting
You can still enjoy our region's celebrated wines by visiting our wineries. We recommend that you check with each winery you plan on visiting to stay up to date on their capacity limits and find out if you need a wine tasting reservation or appointment in advance so you can plan accordingly. Again, most wineries are requesting that you make reservations, so if there is a winery you don't want to miss, check their website or give them a call to plan ahead.
Be sure to visit our individual wine trail pages for the latest information so you can plan your wine tasting experience.
Stay up to date on the Seneca Lake Wine Trail, Keuka Lake Wine Trail, and Cayuga Lake Wine Trail.
Plan Ahead & Have Flexibility
Now more than ever, you will need to make sure you plan ahead to secure visits to any specific attraction, winery, or restaurant you may want to visit on your trip. We recommend calling in advance and securing reservations and seeing how each business is accepting visitors with safety protocols and if walk-in visitors are welcome. Some businesses and attractions may have an online booking or reservation system. 
That being said, we also urge you to have a little room for flexibility and last-minute changes that may occur. While our businesses are operating at a limited capacity, service may take a little longer than usual as well, so patience is appreciated. 
Enjoy Our Outdoor Activities
Finger Lakes Wine Country offers an amazing array of outdoor activities from leisurely scenic drives to adventurous hiking and biking trails. Whatever your idea of enjoying the great outdoors, you'll find it among our sprawling farmland, pristine lakes, and beautiful vineyards.
Take a quiet, scenic walk on the Keuka Outlet Trail near Penn Yan, passing waterfalls along the way. Head to the Finger Lakes National Forest which spans between Seneca Lake and Cayuga Lake with over 30 miles of interconnecting trails. Tanglewood Nature Center in Elmira offers a 5-kilometer loop trail along with a nature center that are all family-friendly.
Enjoy a peaceful paddle on our lakes by renting a kayak with Summit to Stream Adventures or Keuka Watersports.
Enjoy the views of scenic trails and vineyards on horseback with Painted Bar Stables in Watkins Glen who offers small group rides and horseback riding lessons.
Don't miss some of our region's most beautiful waterfalls including waterfall trails at Havana Glen Park, Watkins Glen State Park, the Keuka Outlet Trail. Or catch some of our roadside waterfalls from the car including Hector Falls on NY-414, Aunt Sarah's Falls on NY-414, and She-Qua-Ga Falls on Main Street and Genesee Street in Montour Falls.
Stay Up to Date on the State of New York's Guidelines
We advise to frequently check the State of New York's current travel guidelines, before and during your visit, for up-to-date information regarding the latest Covid-19 travel advisories, restrictions, quarantine protocols, and any requirements for travelers in New York State.
We also recommend checking these additional sources.
We have missed our traveling friends. The Finger Lakes Wine Country community is excited to welcome you and make your visit a happy one.