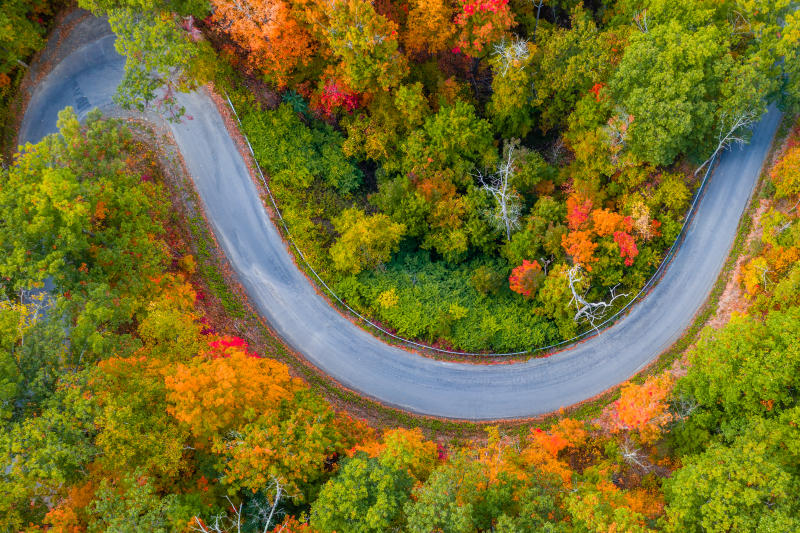 There is no shortage of scenic views in Finger Lakes Wine Country and the best way to cover the most ground and enjoy many of our sweeping and stunning landscapes is by enjoying any of these 5 scenic drives through the region.
These scenic drives will take you past some of our region's charming towns, antique shops, museums, our lakes, wine trails, breweries, cideries, distilleries and more.
Along the way pay attention to farm stops in the countryside, many of which offer U-Pick experiences, and roadside farm stands to pick up some of the best local ingredients to take home with you. 
Seneca Lake Scenic Byway

One of the most well-known scenic drives in Finger Lakes Wine Country is the Seneca Lake Scenic Byway running along the east side of Seneca Lake. This is the perfect drive to get a taste of the Finger Lakes as you'll be passing wineries, cideries, distilleries, breweries, restaurants, and farms. This makes for great stops along the way as well as many great places to catch one of our beautiful Finger Lakes sunsets overlooking Seneca Lake.
We recommend seeing our small town guide to Watkins Glen for ideas of what to see and explore here before starting off on your scenic adventure up the east side of Seneca Lake up to Lodi Marine State Park where you can picnic, watch a gorgeous sunset, and swim and enjoy the pebble beach in the warmer months. (Just note that you will have to pay an $8 per car parking fee at Lodi Marine State Park.)
You'll be driving along the Seneca Lake Wine Trail which is dotted with wineries that offer more incredible views and passing by one of the best roadside attractions in New York State, Hector Falls, which cascades right along a bridge you'll be driving on Route 414.
The wineries close at around 5:00 pm, so for a great sunset view we recommend stopping at Two Goats Brewing or Grist Iron Brewing for views and a drink. 
Penn Yan to Dresden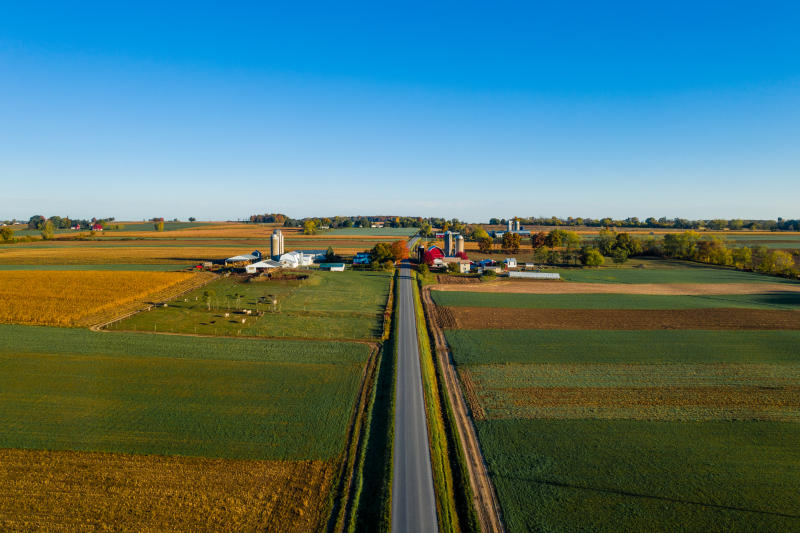 A hidden gem and one of the most scenic drives in the Finger Lakes is the road that follows the Keuka Outlet Trail. This  trail follows an outlet that connects Keuka Lake into Seneca Lake.
The Keuka Outlet Trail is a 7-mile path that is easily walkable and bike-friendly. You can drive along the Outlet Road for several different access points. But the drive itself is also pretty, especially during the fall foliage and spring months.
Starting in Penn Yan on East Elm Street which turns into Outlet Road, you will be leaving town and pass through a wooded road that has a few different stops where you can get out and enjoy a section of the Keuka Outlet Trail. 
If you're looking to stretch your legs, be sure to park and walk towards Seneca Mills Falls or Cascade Falls. There is a parking area that gives you access to the trail with signs that point you in the direction for both waterfalls. Seneca Mills is the quickest to access with a 5-7 minute walk.
Continuing the scenic drive towards Dresden you will pass beautiful farmscapes on Hopeton Road.
For more ideas on what to do while you're in Penn Yan, be sure to read our small town guide to this charming Finger Lakes town. 
Owego to Corning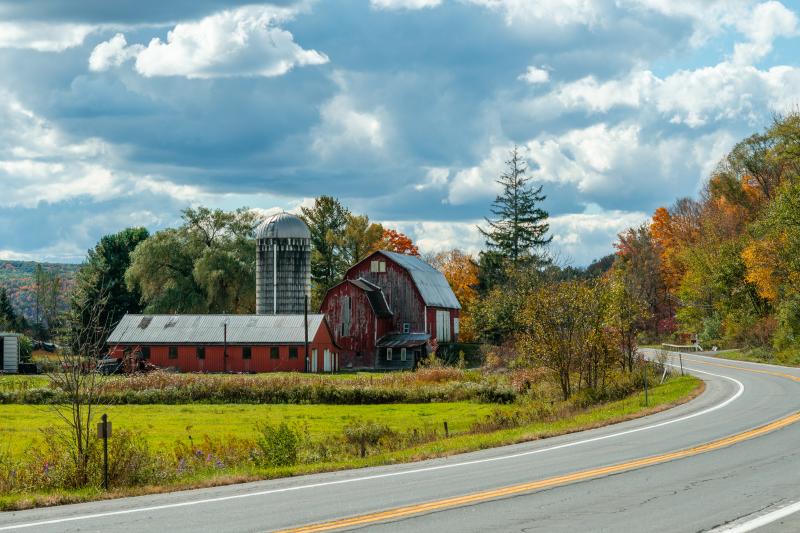 Driving between the charming towns of Owego to Corning offers some picturesque countryside views. Be sure to read our small town guides to both Owego and Corning for ideas of what to do in each of these beautiful destinations. Not only are these great places to stop and stay a bit longer, there are also great opportunities to check out the shops, restaurants, cafes, and cultural attractions.
Leaving Owego on Route 96 you will pass through the rural rolling hills driving along the Catatonk Creek passing some of the region's most beautiful farmland.
Continuing on Route 96 through Spencer you will continue to pass more scenic farms on Route 223 before getting on the Interstate 86-West with breathtaking views of the Chemung River before arriving in Corning.
Elmira to Jerusalem Hill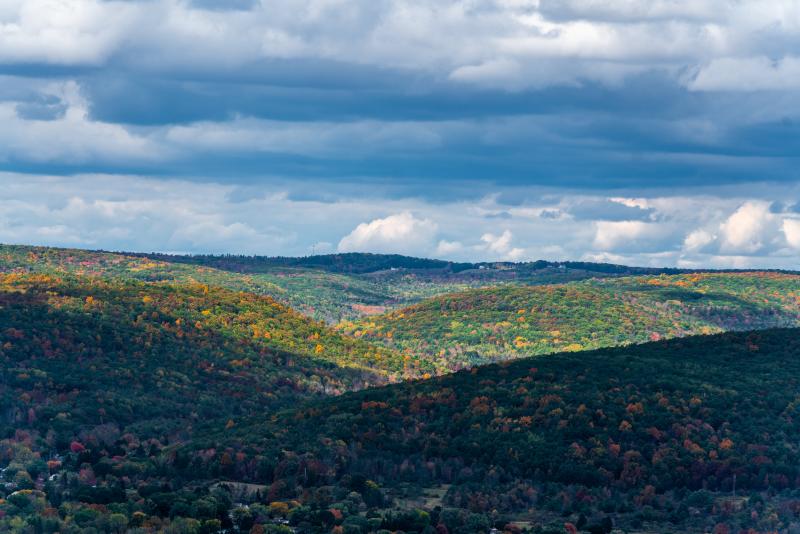 One of the shorter scenic drives to enjoy starts in the city of Elmira and wanders up Jerusalem Hill Road where you will be rewarded with views of Elmira's historic landscape along the Chemung River, continuing into more countryside farmscapes and wooded scenery headed towards Maple Hill State Forest.
For a breathtaking sunset experience with dinner, be sure to make a reservation at the Hill Top Inn which opens for dinner and has a large outdoor seating area and patio overlooking the valley and the town of Elmira and the Chemung River below.
The restaurant at Hill Top Inn doesn't open until 5:00 pm, so this is only an evening experience. We recommend calling ahead and making a reservation to enjoy the breathtaking views from their prime location.
For more ideas for what to do in Elmira, be sure to read our small town guide for information and activities you can enjoy here. 
Along Keuka Lake

Drive around the Crooked Lake for some of the most majestic scenery Finger Lakes Wine Country has to offer. We recommend seeing our small town guides to the villages of Hammondsport and Penn Yan for ideas of what to see and explore here before starting off on your scenic adventure.
Exploring the West side of Keuka Lake you have three different route options to choose from, The Lower Road (West Lake Road/ Route 54A) along the shores of the lake, Middle Road which connects to Route 76 and offers views of the lake and vineyards from a higher point, and The Upper Road (Greyton H. Taylor Memorial Drive).
Along the drive you can stop at many of the region's spectacular wineries including Dr. Konstantin Frank Winery, Heron Hill Winery, and Ravines Wine Cellars. For beer fans there are stops like Keuka Brewing and Steuben Brewing Company.
Exploring the East Side of Keuka Lake you are rewarded with incredible panoramic views from more of the wineries along the Keuka Lake Wine Trail including Keuka Spring Vineyards, McGregor Vineyards, and Hunt Country Vineyards.
For a bite to eat, try stopping at Seneca Farms (open seasonally from the first Friday in March through the end of October) in Penn Yan to take to Keuka Lake State Park where you can picnic with waterfront views.
For more information to help plan your getaway to Finger Lakes Wine Country, visit our website.