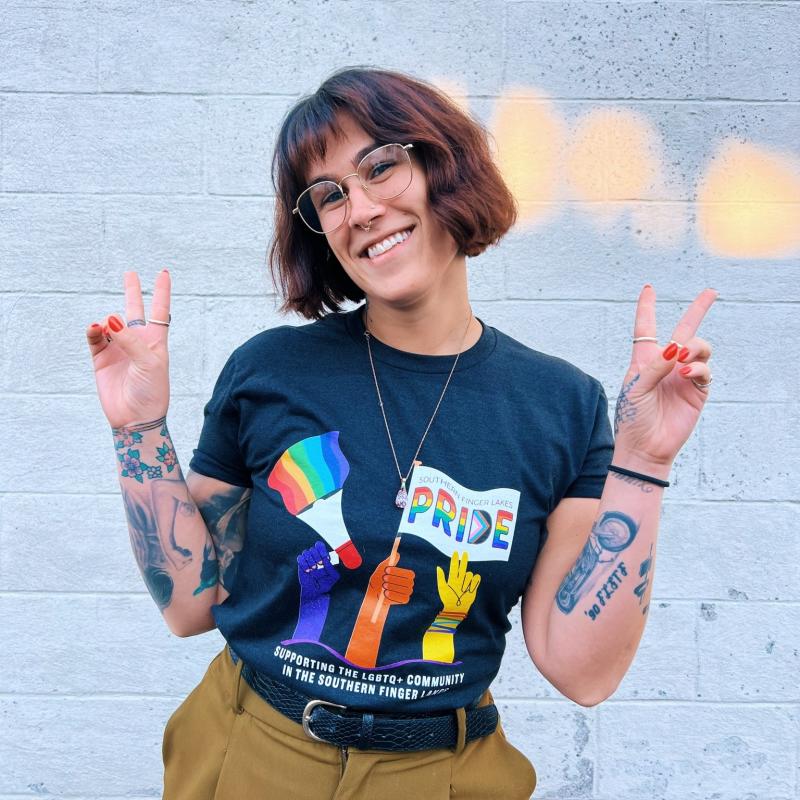 Hannah Jones (she/her) is the Co-Founder and Board President of Southern Finger Lakes Pride. As a part of and an advocate for the LGBTQ+, she strives to make Corning and the surrounding areas a more inclusive and supportive home for the queer community who both live here and visit. In honor of Pride Month and to highlight just some of the reasons our region is so special, we reached out to Hannah and asked her to shine a light on some of the brave voices, safe spaces, and LGBTQ+ allies in Finger Lakes Wine Country. This is the first of two features we will showcase in celebration of our LGBTQ+ community.
When you think of queer folks traveling, what do you think of? When you think of queer folks living, where do you think we live? Many times, we imagine all our queerness landing in one major metropolis city. Maybe New York or LA. I am here to validate that we, the queers, travel to the countryside too. We live in the country, on farms,  and yes, we play, work, thrive, and make a home in rural areas too.
The Finger Lakes region is a beautiful place that so many folks call home, including myself. A transplant queer, I came to the area from New York City as an adult for work. While it is only a five hour drive (and similarly from Philadelphia, Toronto, and Boston, just to name a few), it might as well be a different state. Moving here slowed my world down and led to the creation of a co-founded nonprofit Southern Finger Lakes Pride (SoFLx Pride). Our little queer nonprofit survived the pandemic because of our community work, alongside our beautiful sponsors and allies. Since 2019, SoFLx Pride has put on a festival in Corning, NY and it is back, bigger than ever on June 10, 2023. This isn't something that would have been possible without our community and allies, which, despite outsider perceptions, are all around us.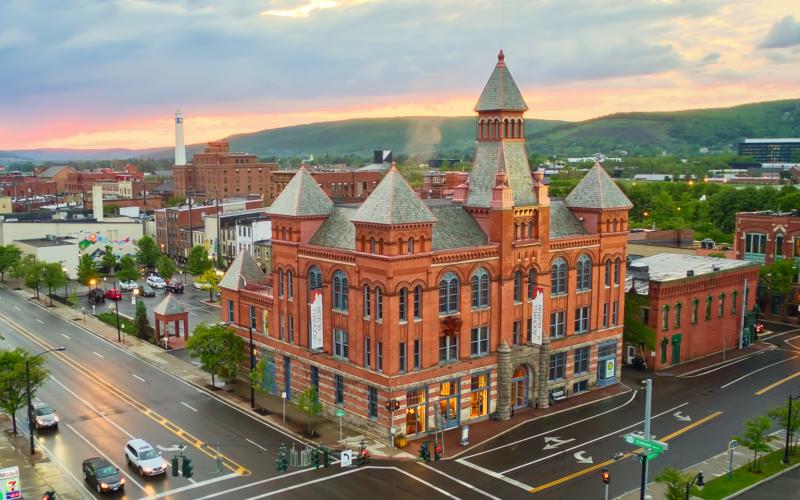 We have worked hard to create spaces that make it so we, as LGBTQ+ folks, feel safer in our community. In Corning, you can walk Market Street and see rainbow windsocks outside of businesses that support our identities all year round. Walk into Liquid Shoes Brewing for a cold beer or The Cellar for a lovely meal. If you are looking to go off Market Street and enjoy the arts, both the Corning Museum of Glass and The Rockwell Museum sponsor and collaborate with SoFLx Pride regularly. In addition, they both strive for diverse art, with Rockwell being a regional leader in this effort.
Being SoFLx Pride, we have an advantage when it comes to understanding where allies are and where safe spaces are for queer folks. Not far from Corning, in Elmira, you can visit coffee shops, bars, stores, and community centers that are all dedicated to our mission of supporting LGBTQ+ youth and their loved ones. Some are even queer-owned, like Chamberlain Acres Garden Center and Florist which regularly hosts a Farmer's Market and local food trucks. Rye Bar & Restaurant, Bell's Coffee & Dry Bar, and Downtown Grind are places where I've felt safe and that hold LGBTQ+ inclusive programming. For a chill evening, stop into Bell's Coffee's - Dry Bar before heading to Park Church's Rainbow Room game night! 
As a local, I spend a lot of my time up in Watkins Glen and Hector, around Seneca Lake. Friends of mine like Terri (she/her) and Orlando (he/him) run queer inclusive spaces. Terri moved here forty years ago and her love of antique items brought her to open up a shop on Main Street in Montour Falls, New York. Down the road in Watkins Glen, New York at Graft Wine + Cider Bar, Orlando will cook you the best Dominican meal you'll get in the Finger Lakes. Fun fact, most of the staff is queer too!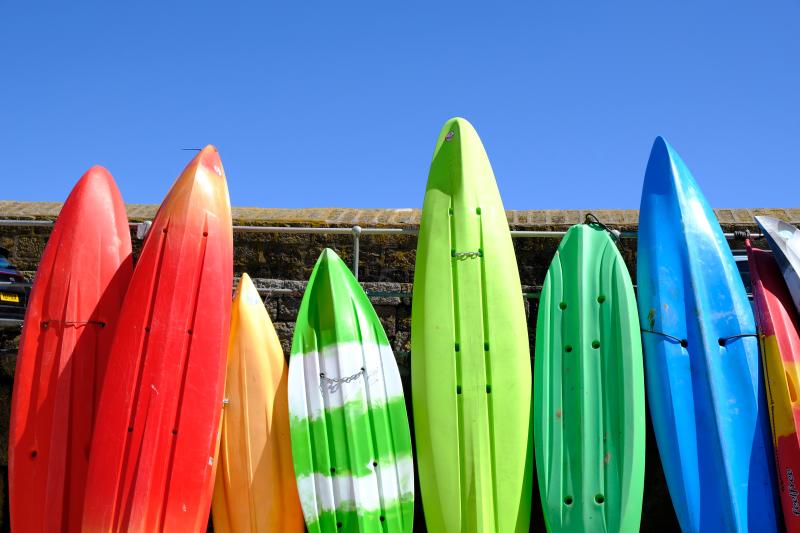 Nature lovers will be safe and have fun camping at Clute Memorial Park. Grab a bite nearby at Elf in the Oak or have a beer at Lucky Hare Brewing. Lake life is a way of life here in the Finger Lakes, so be sure to stop by Seneca Lake Kayak for a daily kayak rental so that you can explore Seneca Lake the right way! 
It would be a disservice to talk about our allies and places that are welcome to all identities, without talking about art. One of the reasons Finger Lakes Wine Country thrives is because of the queer local artists that reside and share their work throughout our small towns. Artists who call Corning, Elmira, Watkins Glen, Hector, and all of the Finger Lakes home, invite queer culture into every space. Whether you are coming to our Pride Festival (June 10, 2023, in Corning!) to see live art throughout Market Street, heading up to Hector to buy art at Hector Handmade or from wineries that display artists, viewing the art on display at the ARTS Council of the Southern Finger Lakes, or going to one of our local Drag Brunches held around the region, you can live through the art in Finger Lakes Wine Country.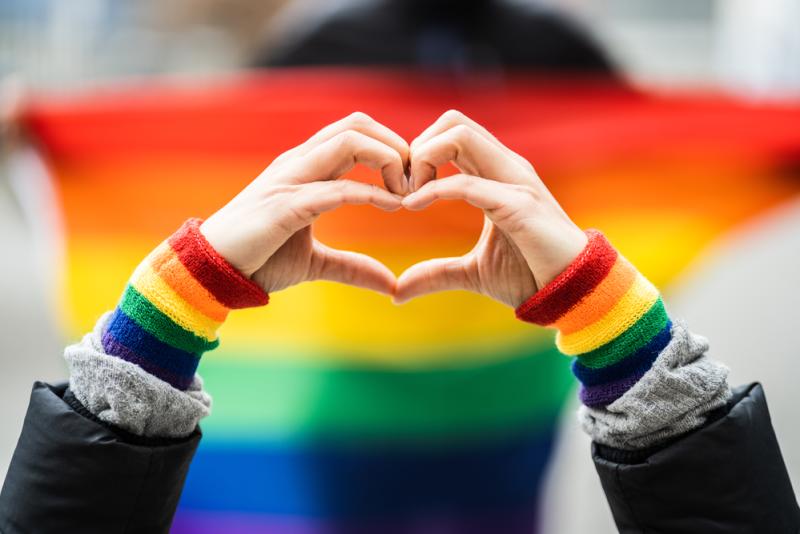 If you plan to visit Finger Lakes Wine Country soon and are looking to experience LGBTQ+ friendly and welcoming spaces, I hope you will support the small businesses and organizations ready to embrace you and show you the best of our community and all it has to offer. We look forward to your visit!