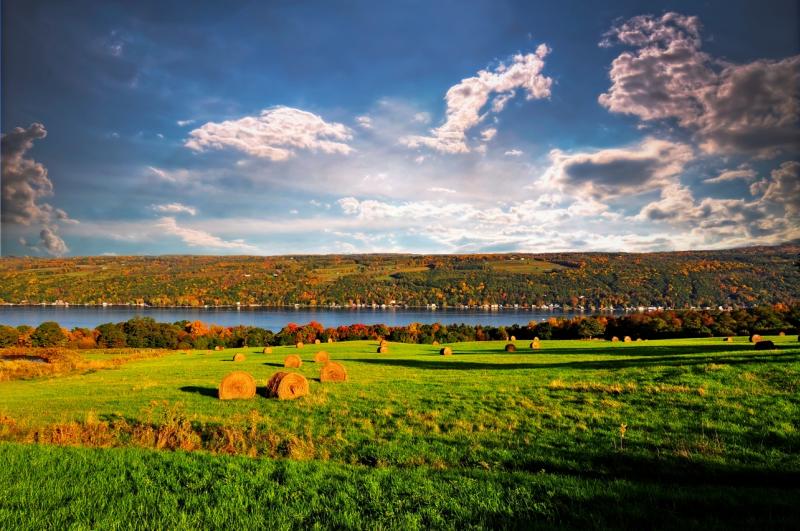 From grape growing to production, the Seneca Lake Wine Trail is one of the largest cohesive wine trails in North America. When you visit the 25-member wineries you are guaranteed to be tasting and purchasing wine made from grapes grown in the favorable conditions surrounding Seneca Lake. 
Seneca Lake is not only the largest of the glacially-formed Finger Lakes but is also the deepest lake within New York State. At 630 feet in depth, the sapphire waters of Seneca Lake make up 50% of the water in the Finger Lakes region. 
The tasting rooms, restaurants, and lodging on the Seneca Lake Wine Trail are open year-round. Although it's called a wine trail you'll find more than just wine here. With this itinerary, you'll visit wineries, breweries, cideries, and a meadery. You'll visit a castle, go horseback riding, and go for a drive at the birthplace of American Road Racing. Outdoor lovers will always find plenty to do in the region, no matter the season.
Where To Stay
There are plenty of lodging options with easy access to all the Seneca Lake Wine Trail has to offer. Choose between a castle, hotels, glamping, and more. 
Belhurst in Geneva, New York was voted one of the Most Romantic Places in New York State. The historic rooms in the 1800's castle hotel are perfect for a romantic weekend getaway. There is also the Vinifera Inn with 20 modern guest rooms. As well as White Springs Manor and a cottage which is located off-site. 
Belhurst is also home to one of the best wineries in New York, named a World's Best Wine Hotel by Wine Enthusiast. As well as two restaurants; Edgar's Restaurant in the Castle and the more casual Stonecutter's Tavern.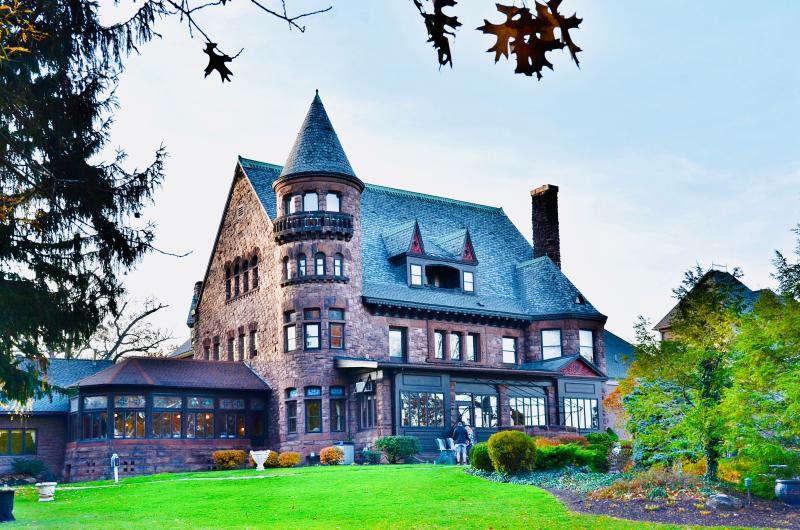 Glenora Wine Cellars in Dundee, New York is a beautiful winery resort located on Seneca Lake in New York's Finger Lakes Wine Country. As the first winery on Seneca Lake Glenora Wine Cellars has been producing award-winning Finger Lakes wines and offering year-round hospitality since 1977. 
The thirty-room Inn at Glenora offers stunning views and an atmosphere of simple elegance that make your stay a perfect soothing getaway. Beyond wine, you can enjoy regional cuisine, featuring seasonal, locally sourced menus, at Veraisons Restaurant, located at the Inn.
Try the Watkins Glen Harbor Hotel, in Watkins Glen, New York recently named America's Most Beautiful Waterfront Hotel by USA Today readers, for lake luxury at its finest. Nestled on the shores of Seneca Lake Watkins Glen Harbor Hotel is the area's only AAA Four Diamond property. 
Many of the spacious guest rooms and suites have panoramic lake views and balconies. Guests have access to an indoor swimming pool and hot tub, and a fully-equipped fitness center, and can enjoy upscale dining and cocktails at the on-site Blue Pointe Grille restaurant and Coldwater Bar. 
The Inn at Grist Iron in Burdett, NY is the only lodging in the region to feature an onsite craft brewery (Grist Iron Brewing Company). Choose from 4 rooms in their traditional-style 1860s Farmhouse or stay in one of 10 spacious suites in The Lodge, which offers rustic, yet modern accommodations including their dog-friendly rooms. 
At Naturluxe & Stars in Watkins Glen, NY you can go glamping! Choose between safari tents, bell tents, and platform tents. Each with Beds with a plush and comfortable mattress, Down alternative pillows, and bed linens. There is a gathering tent for guests in the middle of the property, an accessible parking lot, and ADA Compliant bathhouse. Here you can enjoy the ultimate under-the-stars experience in their private outdoor shower.
Itinerary 
Day #1 
Get an early start with artisanal coffee and a breakfast sandwich at Seneca Sunrise Coffee, in Watkins Glen, New York. Offering a great selection of coffees from around the world, Seneca Sunrise Coffee is committed to roasting only shade-grown, organic coffee beans that are Fair Trade-certified to provide you with the best quality of coffee at an affordable price. 
Your adventure begins with a private Trail Lesson at Painted Bar Stables. This is the only horseback-mounted vineyard tour in the region. For 90 minutes you will explore the trails and the breathtaking views of Seneca Lake.
You must request a ride, walk-up riders cannot be accommodated. Unfortunately, they are unable to accommodate riders larger than 250 pounds.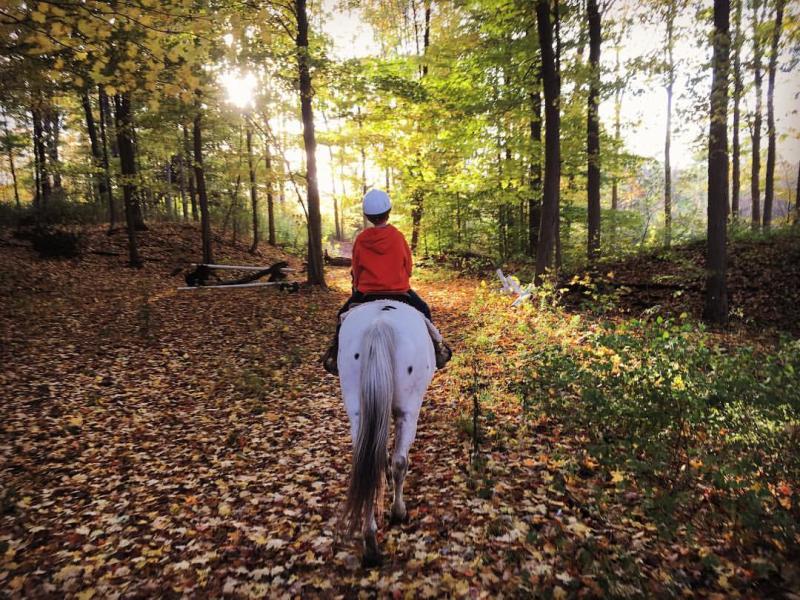 After your horseback riding lesson, head to brunch at the Tasting Barn at Ryan William Vineyard in Burdett. Where you'll find a delicious farm-to-fork menu of Baked Brioche French Toast, Belgian Waffles, or Freshly Baked Quiche of the Day, and a local cup of coffee. 
Next, you're off to spend the day exploring Three Brothers Wineries and Estates in Geneva. With three different wineries, a cafe, and the War Horse microbrewery on site there is plenty to do, see, and taste. 
Your final destination is Belhurst Estate Winery for wine tasting and dinner. Depending on how you're feeling you can get freshened up for a nice night out or keep it casual as Belhurst is home to two distinct restaurants. If you want a relaxing massage after your morning of horsing around you can also schedule a session at the on-site spa. 
Day #2
Start your day with a farm-fresh breakfast at Glen Mountain Bakery & Deli before a day of hiking and outdoor activity. Watkins Glen State Park in Watkins Glen, New York has 9 hiking trails and 19 cascading waterfalls. The gorgeous Gorge Trail in Watkins Glen State Park has 800 stone stairs and tunnels chiseled through rock formations. This trail is 1.5 miles and will take at least two hours to complete. Expect to get wet, wear comfortable hiking shoes, and bring your camera to capture the experience. 
Today we will wrap up the adventure with unique types of wine and wine country experiences. Starting at Fulkerson Winery in Dundee, New York where you can continue your hiking expedition with a Self-Guided Vineyard Tour. Choose between the Main Loop which is 1.5 miles and takes approximately 45 minutes to complete. Or the entire 3.5-mile trail system which leads you through vineyards, fields, and forests for two hours. The trail is open year-round 10 AM - 5 PM. 
After your walk, settle in for wine tasting with a nibble of cheese, crackers, and charcuterie and views of Seneca Lake. Delight your taste buds with one of our popular tasting flights….wine info
From August through October, you can pick your own fruit and vegetables at the 215-year-old farm! Including asparagus, peaches, apples, grapes, and blueberries.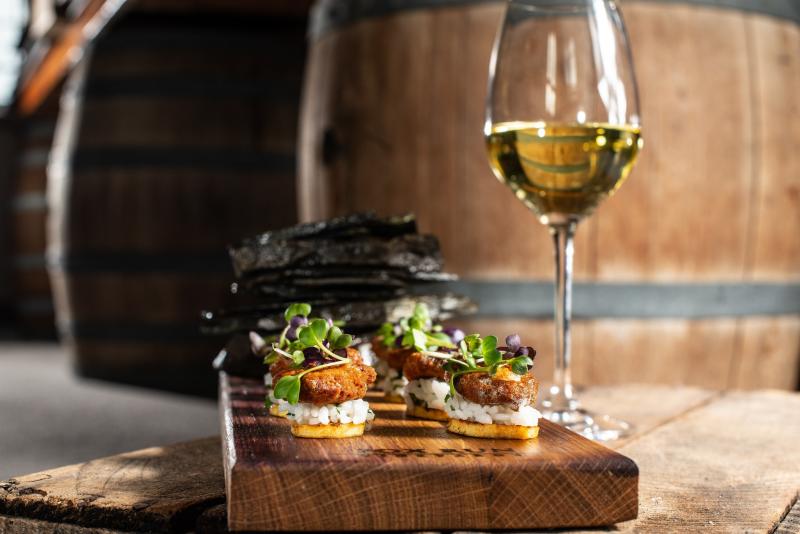 For lunch head to FLX Wienery, in Dundee, New York for comfort food with gourmet add-ons for your wiener, burger, or carrot for our vegetarian friends. Enjoy locally sourced hot dogs, sausages, and hamburgers with cane sugar soda or a homemade spiked milkshake. You can even bring in your own bottle of wine and an opener. They provide plastic cups for free or glasses for $5. 
Less than a minute away is your next stop, Fruit Yard Winery. Here they produce and sell over 20 different fruit and grape wines. Along with wines such as Chardonnay, Pinot Grigio, Riesling, and Traminette, they produce 7 sweet fruit wines - Pear, Peach, Cranberry, Cherry, Strawberry, Raspberry, and Blueberry.
The hours of operation are Friday and Sunday: 11 AM – 4 PM and Saturday: 10 AM – 5 PM. The last tasting is always 30 minutes before closing. They accept groups of up to 5 people without advanced reservations.
Get in the spirit at Miles Wine Cellars in Himrod, New York which has a haunted history. Much has happened there that can't be explained, like mists in the air accompanied by doors slamming. While they discourage ghost-hunting and disrupting the spirits, the Miles family does produce a special "Ghost Wine" (a Chardonnay and Cayuga blend). Wine, Beer, Cider, and Spirits tastings range in price from $7 to $25.
Your final stop on the tour is Earle Estates Meadery. A distinctly different taste than grape wine, Mead can be dry, semi-sweet, or sweet and is found to be refreshing and with the light aroma of honey. Since 1993 this family-owned establishment has offered Mead in many varieties and blends. Its unique nature makes it the perfect blending wine to expand its flavor and taste throughout the 20 Honey wine varieties. 
After a fun casual day head back home to get dressed up for dinner at Veraisons Restaurant in Dundee, New York. This from-scratch-kitchen proudly sources ingredients from over 30 farms in Finger Lakes Wine Country and throughout New York state. Offering a new local menu each season along with a gorgeous view of Seneca Lake that's perfect any time of year. 
Day #3 
Besides being a haven for some unforgettable wineries, you can also find breweries, cideries, and even a meadery alongside the stunning scenery of lush vineyard landscapes and Seneca Lake.
Start today with a scenic drive on the Seneca Lake Scenic Byway, one of the most well-known scenic drives in the region. Explore the east side of Seneca Lake as you pass wineries, cideries, distilleries, breweries, restaurants, and farms. Along the way, you'll pass by one of the best roadside attractions in New York State, Hector Falls. Which cascades and flows beneath the bridge you'll be driving on Route 414 and into Seneca Lake.
Stop at Elf in the Oak in Burdett, New York for a locally sourced, farm-to-table breakfast in a one-of-a-kind setting. Enjoy your yummy breakfast sandwich in the outdoor seating area with views of Seneca Lake. 
The first stop on today's tour is JR Dill Winery in Burdett, New York. Since 2009, J.R. Dill has focused on producing premium hand-crafted small-batch Seneca Lake wines from 100% Seneca Lake grapes. During your tasting enjoy the beautiful view of Seneca Lake along with Dry Riesling, Chardonnay, Cabernet Sauvignon, DeChaunac, and their wine pickles which are a crowd favorite.
Five minutes away you'll find Scale House Brewery with a variety of local offerings. Including craft beer, wine, wine seltzer, and cider. Here you'll also find delicious gourmet pizza that's perfect for a light lunch. 
Your next stop is less than two minutes away at Lucky Hare Brewing Company which creates handcrafted beer. This Farm Brewery is dedicated to producing the highest quality farm-brewed craft beer in New York state.
Whether you want wine or beer, Wagner is your best bet. Wagner Vineyards was established in 1979, it was the first winery on the east side of Seneca Lake to open its doors. Wagner Valley Brewing Company, which shares a home with the winery, opened in 1997. It is the first craft brewery in the Finger Lakes. 
Wagner Vineyards has over 30 award-winning wines ranging from bone dry to dessert wine sweet. At any given time you can find six or more brews on draft at Wagner Valley Brewing Company. Enjoy your drink on their gorgeous deck overlooking the vineyards and Seneca Lake as you snack on charcuterie and soft pretzels.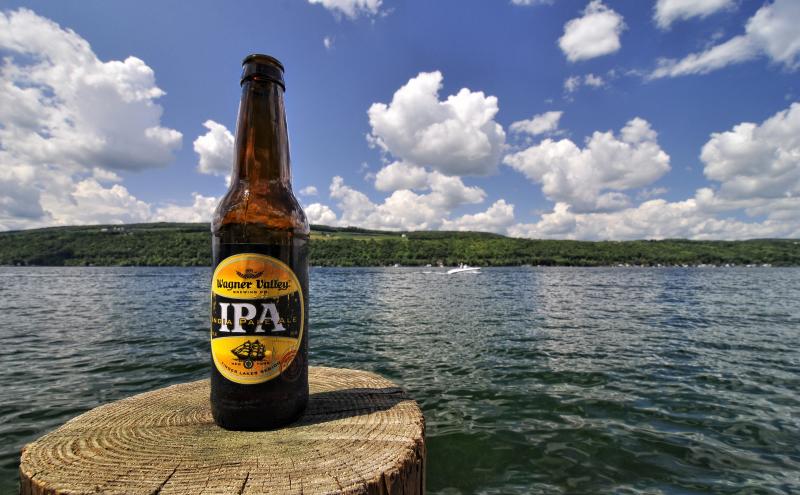 On your way back home make your final stop at Grist Iron Brewing Company in Burdett, NY. This is the only craft brewery in the region to feature lodging, BBQ, and live music. Go for the beer and stay for the band. Be sure to check the calendar of events to see who's performing. 
Seasonal Additions
Here are a few seasonal activities you can add to your itinerary, weather permitting. 
Dine in casual elegance afloat with lunch or dinner on one of Captain Bill's Seneca Lake Cruises. Offering seasonal lunch, dinner, and cocktail cruises on Seneca Lake, they are currently accepting lunch or dinner cruise reservations for 2023.  
Get the best lake view with a sunset or moonlight cruise aboard the schooner, "True Love" with Schooner Excursions. Enjoy a two-hour sail with local wine, hand-picked berries, and locally sourced cheeses.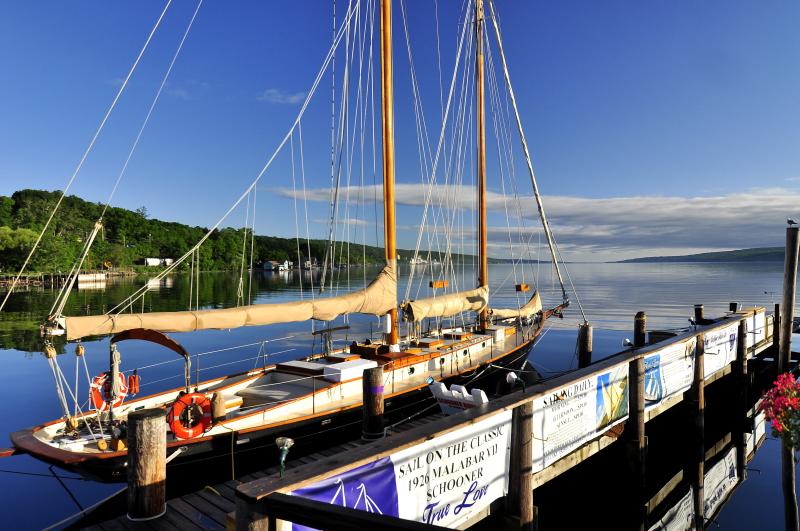 Go for the ride of your life at Watkins Glen International, the birthplace of American Road Racing. Find out what it feels like to drive this storied road course while piloting your own car. You have the opportunity to Drive the Glen until October. 
Open 7 days a week during the summer, don't miss your chance to see Finger Lakes Wine Country from above with Harris Hill Soaring Corporation. Soar 4,000 feet above sea level on an ASK-21 High-Performance Glider at a complex that Amelia Earhart proclaimed to be the "finest gliding and soaring facilities in the country".