Fall FLX Apple Cider Sangria Recipe
A local twist on traditional sangria, this cider-based sparkler is a perfect addition to your holiday table. Easy to make and even easier to drink, you'll be toasting the harvest season in style with the combination of sweet-tart cider and smooth pear brandy. Raise a glass to the bounty of the season shared with friends and family!
YIELD: 6-8 servings
EQUIPMENT: Cutting board, knife, bottle opener, long spoon, large (at least 2 quart) pitcher
DIETARY INFO: Gluten-free, vegan, contains alcohol
INGREDIENTS:
1 cup non-alcoholic apple cider, chilled

¼ cup maple syrup (optional, omit if you prefer a drier sangria)

1 (22 ounce) bottle Glenora Wine Cellars Trestle Creek Hard Cider, chilled

2 ounces Finger Lakes Distilling Pear Brandy, chilled

1 cup non-alcoholic ginger beer, chilled

1 lemon

1 tart firm apple, such as a Granny Smith

1 Bosc pear

1 pomegranate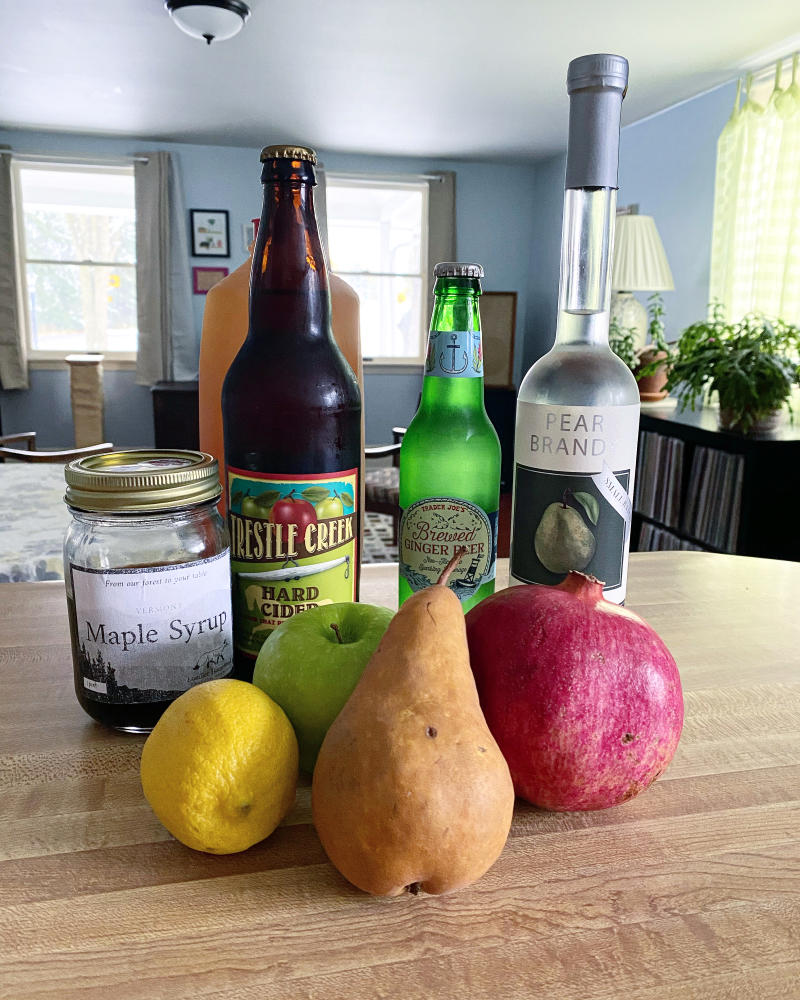 DIRECTIONS:
In a large pitcher, combine chilled apple cider, maple syrup (if using), Trestle Creek Hard Cider, Finger Lakes Distilling Pear Brandy and ginger beer. Using a long spoon, stir gently to combine– it will fizz up! 

Halve lemon. Squeeze the juice from one half of the lemon into the pitcher. Thinly slice the other half and add slices to pitcher.

Cut the apple and pear into large cubes and add to the pitcher. (Depending on the size of your pitcher you may only be able to add half of each fruit initially– save remaining cut fruit to replenish pitcher as needed)

Halve pomegranate. Using a wooden spoon, gently whack the back of the halved pomegranate over the pitcher, until the arils fall into the sangria. Reserve the other half of the pomegranate for another use.

Gently stir sangria with a long spoon. To serve, use a ladle to first scoop out some cut fruit into each glass. Top with liquid sangria mixture. Ice can be added to sangria if desired, although it's lovely at room temperature as well.