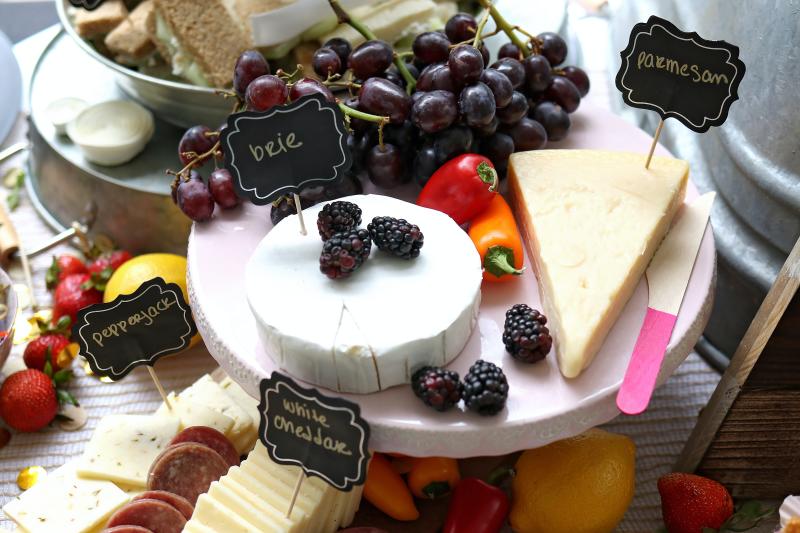 When you're shopping for a great wine and cheese pairing, the quest to match the right bottle with the right wheel to enjoy together can feel like a guessing game. 
Sure, there are a few standard guidelines you can follow—like serving wines and cheeses with similar intensities together. A light, crisp pour of Pinot Grigio and a fresh, citrusy goat's cheese complement each other well, and a brawny blue wedge may need a bigger-bodied red to match its pungency, for example. 
Sometimes, opposite flavor profiles attract, as when a sweet, boozy sip of port or vin santo tames that same bold, salty blue. And when in doubt, choosing a cheese and a wine from the same region is often a good move. But even with these guidelines in mind, the decision sometimes feels like a shot in the dark. 
Here's one tip from a professional: Don't stress about choosing the "correct" pairing, because the right pairing is the one you enjoy. When we get away from that black-and-white, right-or-wrong mindset, pairing becomes more of an exploration of flavor, of your own likes and dislikes. Enjoying good food and drink is supposed to be fun, after all. 
That said, a great way to discover new wine and cheese pairings—and learn more about how our favorite flavors change and evolve when combined—is to start with a few versatile bottles. Styles often described as "food friendly," like these three fantastic Finger Lakes varieties, can be your go-to for pairing not just for a single cheese, but for handful of styles with contrasting textures and flavor profiles. 
You can still anchor your selections with those handy guidelines, as I've done here. But pairing a bottle with a whole board rather than just one wedge can illuminate your understanding of how quality cheese and fine wine play together. 
Use these pairings as the starting point for a delicious cheese board for your next no-cook weeknight dinner, at-home happy hour, or holiday meal. Pair these wines and cheeses one-on-one, then try each sip with a few different styles. You'll learn a lot more about pairing wine and cheese—and your own palate—that way.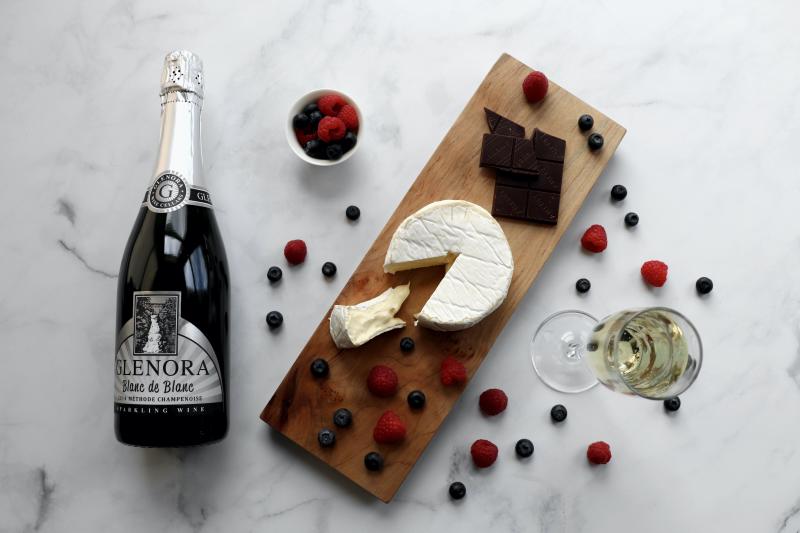 The Wine: Glenora Wine Cellars Blanc de Blanc 2014
The Cheese: St. Stephen, Four Fat Fowl
St. Stephen, a pillowy cow's milk triple-crème from New York's Hudson Valley, needs something bone-dry and bubbly to stand up to its silky, creamy texture. Effervescent varieties like this Blanc de Blanc from the sparkling wine specialists at Glenora cleanse the palate between bites of luscious bloomy rind cheeses like this one. 
Serve this celebratory pairing with sweet treats like fresh berries, squares of dark chocolate, or a drizzle of spring wildflower honey. Pop that bottle to kick off your holiday feast, or save this decadent combination for midnight on New Year's Eve.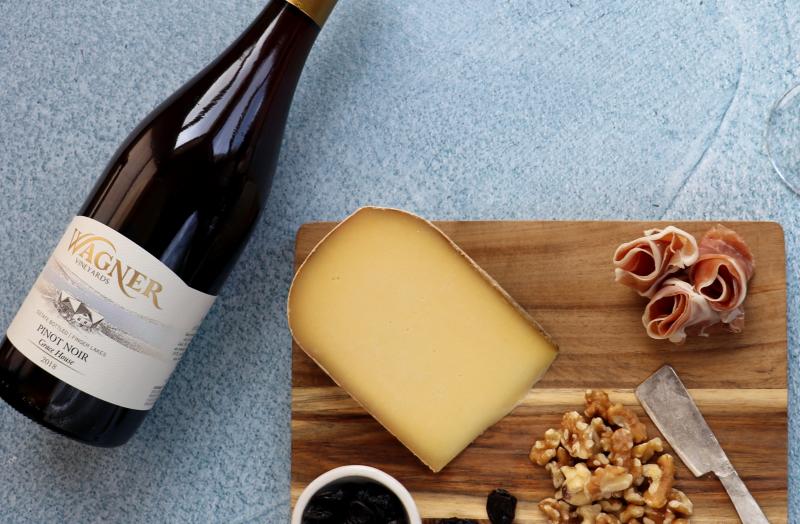 The Wine: Wagner Vineyards Pinot Noir 2018
The Cheese: Pleasant Ridge Reserve, Uplands Cheese Company
Medium-bodied reds—think Cabernet Sauvignon, Cabernet Franc, and Pinot Noir, like this vibrant vintage from Wagner Vineyards—are another versatile option to pair with savory foods from roasted mushrooms to wild game. For this reason, they're also a match with long-aged, umami-rich cheeses like Pleasant Ridge Reserve, Wisconsin's answer to the vaunted varieties of the Alps. It's made only in summer months, when the cows are grazing fresh, verdant pastures.
Pleasant Ridge Reserve is renowned for its deep, complex flavor: the sweetness of that summer milk, nuts and roasted meat, and fruity, floral endnotes. This bright-tasting bottle is the perfect sip to bring out that sought-after fruitiness in the cheese. Taste them together with accompaniments that will amplify the cheese's multidimensional flavor, like walnuts, slices of prosciutto, and dried tart cherries. 
The Wine: Ravines Wine Cellars Argetsinger Riesling 2016
The Cheese: Saint Agur, Savencia Fromage & Dairy 
When tasting through a selection of cheeses, it's a good idea to save the most intensely flavored wheels for last. Produced by century-old French maker Savencia, Saint Agur has a rich, buttery flavor and pleasantly peppery finish. With such a creamy, spreadable texture, it might as well be dessert. 
Some may consider pairing white wine and blue cheese unorthodox. But a dry Riesling like this one from Ravines, made with fruit grown on the long-established vines at Argetsinger Vineyard, can be just the thing to marry with a milder, more approachable blue cheese like this one. 
Remember that rule about pairing blue cheeses with sweet beverages? That still holds true, but the "sweetness" that comes through in this dry Riesling isn't residual sugar. It's citrusy, floral flavor of the fruit. With a bright acidity and grounding minerality, this bottle makes a compelling match for this lush cow's milk blue. Contrast the cheese's salt-forward profile with the warm, round sweetness of fresh Fuyu persimmon and the nutty, caramelized crunch of candied pecans. 
I hope I've inspired you to pick up a bottle of your favorite Finger Lakes wine, grab a few quality artisan wedges from your favorite cheese counter or farmers' market, and explore some new flavor profiles. It's the best—and most delicious—way to develop your palate and discover amazing new combinations. Cheers! 
Photos courtesy of Alexandra Jones