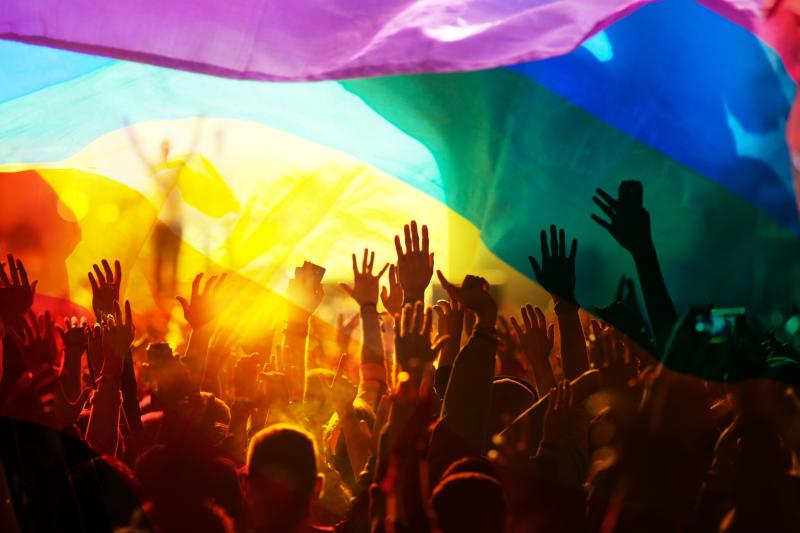 Hannah Jones, President and Co-Founder of Southern Finger Lakes Pride has been sharing stories about the beautiful inclusivity and welcoming communities that visitors and residents can find throughout Finger Lakes Wine Country. She has highlighted just some of the businesses and spaces that are welcoming to LGBTQ+ travelers. Read her first article here. 
In celebration of Pride Month, Hannah interviewed a few queer folks and ally friends that help showcase the diversity of the LGBTQ+ community in the region. These friendly faces are residents of Finger Lakes Wine Country and represent small business owners and entrepreneurs, hospitality team members, and artists. 
Join us as we celebrate our LGBTQ+ neighbors and friends this Pride Month and always.  
The faces of the LGBTQ+ community in Finger Lakes Wine Country are as diverse as the beautiful array of visitors to our region. When asked, many would identify in very different ways. Such as…
"Queer Platonic - I think it means that I can love and appreciate anyone. My love comes in many forms and just the most important thing to me is that people are nice, wonderful, and good people" - Molly (Burdett, NY)
"Transmasculine non-binary person, but that hasn't always been my experience. I didn't come out until I was 35. Things certainly grow and evolve and I feel comfortable with where I am now, and that feels like home for different parts of my identity." - Dante (Elmira, NY)
"Pansexual and demisexual and graysexual…(my identity is) Ever unfolding. I definitely identify as a first-generation American, both of my parents immigrated from Haiti. I am a big plant lover. I identify as a human being, the being part of that phrase resonates. Focusing more on the beingness rather than the doingness." - Freedom (Hornell, NY)
"Myself and the love of my life, David, have been together for 22 years. I think we have always been Trailblazers." - Craig (Watkins Glen and Elmira, NY)
Our LGBTQ+ community are neighbors, friends, and business owners. People who have grown here, invested here, and give back to their communities in ways that help us flourish and grow. 
Craig grew up here, moved away, and has since come back to the finger lakes region. "I love theater and I loved getting involved. Basically, my job now is to come in and open up, program it, and bring in more recreational programs to help youth and we're building an accessible park." - Craig, Clute Park (Watkins Glen and Elmira, NY)
Tasting room associate and bartender Alexi and John are best friends that grew up in the region. They work at Hector Wine Company, Lucky Hare Brewing, and Seneca Lake Kayak. "Drinking is a huge part of it, but not a main priority, I love the outdoors, camping, swimming, bar hopping and hanging out with friends and socializing." -Alexi and John (Hector, NY)
"I work at Graft, which is awesome. I make elderberry syrup and I source vintage clothes. I love to make people feel beautiful." - Fae (Waverly, NY)

The love for the Finger Lakes is something we all share and have in common. This is what community members had to say when asked about finding queer spaces in the region: 
"Pretty much anywhere. I would say, we're pretty lucky to be in this area and not have to constantly deal with what a lot of people have to go through. We're in a very accepting area. I am not saying there isn't (homophobia) but for the most part, those people know how to leave you alone." John (Hector, NY)
"Queer people are always doing our best. The best thing is having workshops, outreach and always growing. Having access to emergency funds and being prepared for anything that could happen. Leaders having the education and preparation. Mentorship is really important, having elder queers supporting younger people." - Eliot (Elmira, NY)
"I'm involved with Elmira Little Theater locally. In our communities, Park Church is a really good resource in Elmira. The Cellar (in Corning), is very supportive and inclusive to the queer community. Bells in Elmira, Elmira Heights, Downtown Grind, and Elmira EOP are very open and affirming." -Dante (Elmira, NY)
In short, this is a love story to our community and a message to let other LGBTQ+ visitors and residents know you are welcome here, and everywhere…in their own words, the community wants to remind you that…
"Get out of your comfort zone and go to meetups. Go to those (queer) events because where I grew up we didn't have anything like that. It is very intimidating to go meet a bunch of strangers, but people around here are very nice and welcoming." - Mika (Corning, NY)
"You are so brave and also, don't be afraid of the weird backlash that people hang on to. There is (queer) community here. Though we are spaced out, there aren't any spaces that are solely for us, we are here and we are everywhere. Continue to show up. Practice your craft and be who you are. For the kids in school, It does get easier." -Sarah (Elmira, NY)
"We don't just all live in the city. We're all over. Look for it." - Fae (Waverly, NY)
To learn more about Southern Finger Lakes Pride and the festivities happening this month in Finger Lakes Wine Country, please visit this link.