Disclaimer: Due to COVID-19 guidelines in New York State, some restaurants may have adjusted their hours, dining in options, etc. Most all restaurants are open for take out. Please call the restaurants in advance for full details. 
Looking for rich and flavorful comfort food? The dining scene in Finger Lakes Wine Country offers an abundance of farm fresh eateries serving up home cooked dishes with savory ingredients fit for any season.
If you're looking for menus filled with comfort dishes that foodies dream about, check out these 6 FLX eateries serving up the ultimate comfort food along with their signature comfort dish recommendations.
Potatoes Au Gratin at Hill Top Inn
Hill Top Inn is located in Elmira on Jerusalem Hill overlooking the scenic Chemung Valley is the perfect place to find comfort food served with a side of sweeping views from their hilltop location. Make dinner reservations and enjoy items off their specialty seasonal menu or their classic menu featuring the ultimate comfort food, their famous Potatoes Au Gratin topped with a layer of melted cheese.
Hill Top Inn is only open seasonally from early March through the end of December and only in the evenings starting at 5:00 pm on Tuesdays - Saturdays  in the fall through their closing date in December.
Mac N' Cheese at Mooney's Sports Bar & Grill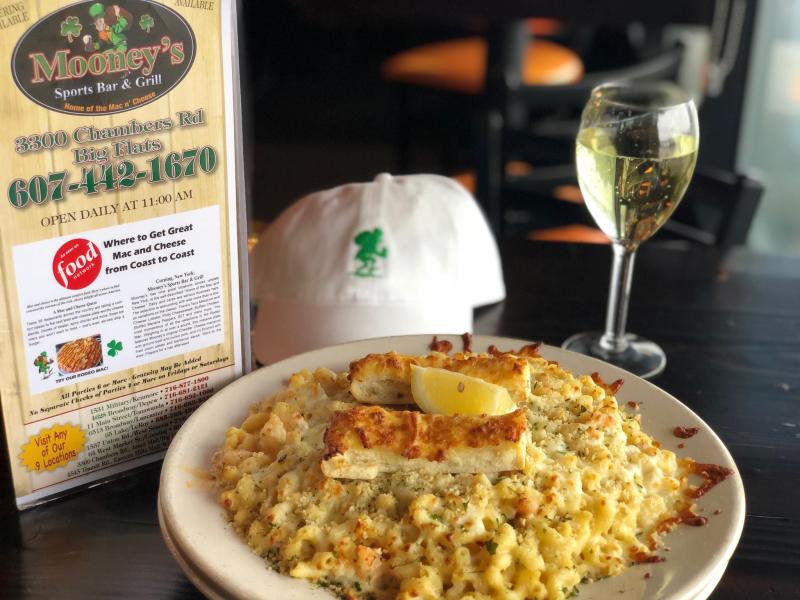 Photo credit: Mooney's Sports Bar & Grill
A guide to the region's best comfort food wouldn't be complete without a cheesy and rich mac n' cheese feature! For a legendary mac n' cheese you will want to stop by Mooney's Sports Bar & Grill in either Corning or Big Flats.
Not only do they serve up their original baked mac n' cheese complete with cheddar cheese and panko crumbs but they also have a menu full of over a dozen variations of their famous mac n' cheese including lobster mac n' cheese, spinach and artichoke mac n' cheese, and Philly cheesesteak mac n' cheese to name a few. Come hungry! Their larger servings can feed two people or more!
Homemade Soups at Old World Cafe
Old World Cafe is a great spot for old world charm and comfort food located in downtown Corning's Gaffer District. The cozy cafe is a vintage Victorian gem and serves up hearty homemade soups, warm sandwiches, and other items that are not only classics but fill you with nostalgia.
Treat yourself at the end of your comfort meal with one of their freshly baked desserts, old fashioned candy, or ice cream from their Victorian ice cream parlor.
Gourmet Burgers and Hot Dogs at FLX Wienery

Photo credit: FLX Wienery
Located in Dundee between Seneca and Keuka Lakes is FLX Wienery which serves up an entire menu of comfort food featuring gourmet sausages and burgers by Chef and Master Sommelier Christopher Bates.
Choose one of the gourmet options for your  wiener, burger, or carrot for our vegetarian friends paired with their savory sides like poutine or loaded chilli for the ultimate comfort food experience at this casual eatery for lunch or dinner.
Chicken Parm at Keuka Restaurant
Located in Penn Yan, the Keuka Restaurant offers a laid-back atmosphere with a menu packed with comfort items from homemade mac n' cheese to savory soups and pasta dishes including their famous and secret recipe for their loaded chicken parmesan served with a layer of melted cheese on top of saucy spaghetti. This is comfort Italian food at its best.
Fried Chicken at Seneca Farms
Seneca Farms is located in Penn Yan on the Northeast branch of Keuka Lake is where you can find some of the best fried chicken the region has to offer, perfect for a solo visit or a fried chicken feast for the whole family. Each of their fried chicken meals are served with classic sides like baked beans, cole slaw, mac n' cheese, mashed potatoes with gravy, and potato salad to name a few.
Besides serving up savory comfort dishes, Seneca Farms also has over 50 flavors of homemade ice cream!
Seneca Farms is open seasonally from the first Friday in March through the end of October.
Take your comfort food experience to the next level and pair it with any Finger Lakes Wine Country wine, brew, or spirit.
Happy eating!