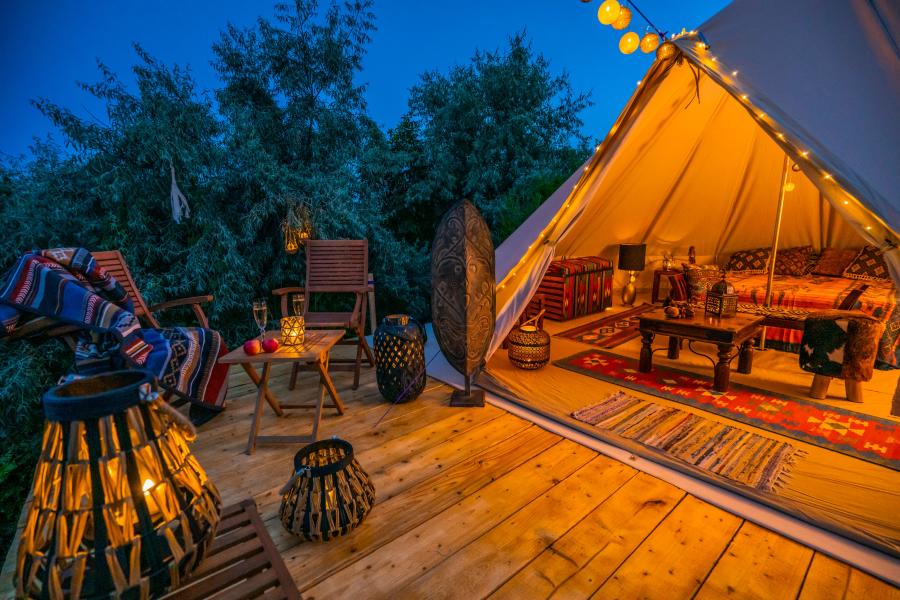 There are plenty of Amazing Vacation Rentals in Finger Lakes Wine Country however, for those who want the chance to connect with nature without having to pitch a tent in the dark there's glamping. This glamorous style of camping often includes a bed, linens, a bathroom, and breakfast. Here are some of the luxurious glamping options Finger Lakes Wine Country has to offer. 
Glamping 
There are so many enriching outdoor activities to do in Finger Lakes Wine Country during the summer. Glamping has become a popular way to explore the outdoor oasis this region has to offer. It also provides more security than camping when solo traveling and most of the amenities of a hotel. 
Where To Stay 
Relax on 25 acres of nature at Seneca Sol Glamping in Burdett, NY where all are welcome, families, couples, and pets. This eco-friendly safe space has 6 spacious glamping tents and a newly constructed fully furnished studio suite to choose from. There's even a small catch and release pond stocked with bass and bluegill.
You'll find the furnished glamping tents in a secluded forest setting. All beds are fully dressed with high thread count linens and warm blankets. Each tent has a private balcony. There is a modern spa-like bath house with hot water, large private shower rooms, private bathrooms with flushing toilets, and a communal sink area. 
The Lounge tent has 5G WiFi and a fully equipped outdoor kitchen with multiple refrigerators. There is on-site charging capability for all your devices, and a complimentary continental breakfast that offers something for all diets. Enjoy locally roasted coffee and assorted teas in the morning and a nightly campfire with complimentary s'mores. 
The Fox Den Studio Suite overlooks Seneca Lake. Here you'll find a fully dressed queen bed, stocked kitchenette, stocked full bath with a walk-in shower, and deck with a gas grill. The suite also has a Smart TV and complimentary 5G WiFi, a vaulted ceiling fan, heating, and cooling, as well as parking for two vehicles.  
Did you know you could go glamping onsite at NY State's only dedicated cask ale brewery? Glamping at Seneca Lake Brewing Company & The Beerocracy has two glamping tents available May - October. The Beerocracy Colonial Camp and The Beerocracy Commonwealth Camp can accommodate up to 8 guests and come fully loaded with everything you need. 
Each site includes a 2-person canvas tent, with a queen bed, a 6-person additional dome tent, camp table, camp benches, Adirondack chairs, campfire pit, wood stove, campfire grill with supplies, water carrier, solar sun shower, and camp toilet. Extra amenities are available for purchase at booking.
At Naturluxe & Stars in Watkins Glen, NY you can choose between safari tents, bell tents, platform tents. Each with Beds with plush and comfortable mattress, Down alternate pillows, and bed linens. There is a gathering tent for guests in the middle of the property, an accessible parking lot, and ADA Compliant bathhouse. Here you can enjoy the ultimate under-the-stars experience in their private outdoor shower. 
Conveniently located next to the main gate of Watkins Glen International Raceway Naturluxe & Stars has 42 acres of private woods for on-site hiking and is less than a five-minute drive to Watkins Glen State Park.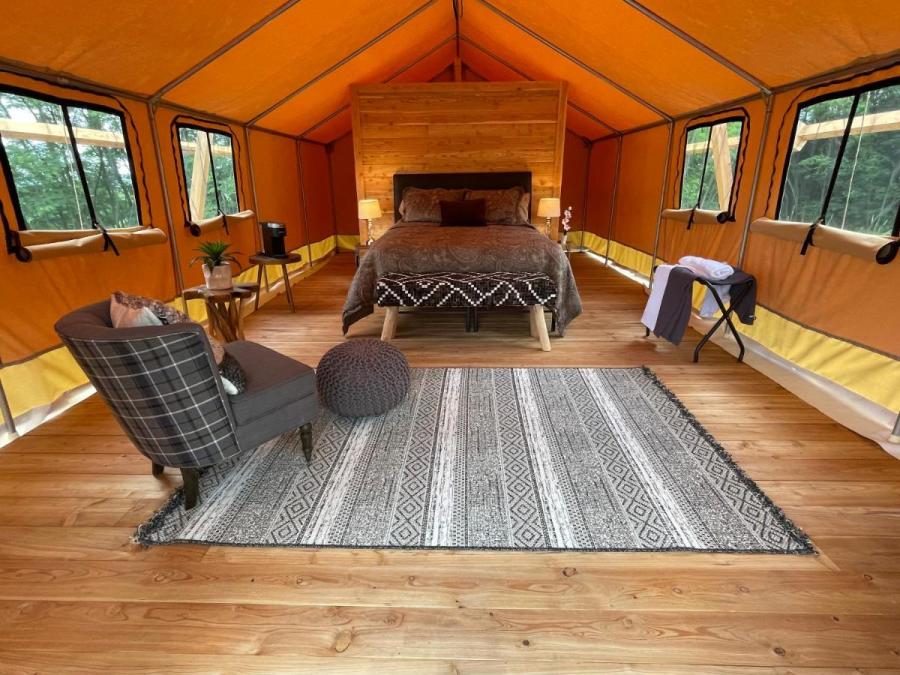 Where To Play 
Enjoy a flight, pint, or glass of wine and some food just steps away from your tent at Seneca Lake Brewing Company and the century British pub, The Beerocracy, which also provides weekly evening events.
Both locations are just a few minutes drive many wineries on the Seneca Lake Wine Trail, local breweries, and gorgeous waterfalls. To get the full farm-to-table experience the region is known for, start your morning striking a pose with baby goats during a 60-minute vinyasa-style goat yoga class at ZiegenVine Homestead. Be prepared to get silly and don't wear long dangly earrings or shirts with fun dangly pieces or straps. They look like a treat!
After yoga, head to brunch at the Tasting Barn at Ryan William Vineyard in Burdett. Where you'll find a delicious farm-to-fork menu of Mixed Berry Baked Brioche French Toast, Belgian Waffles, or Freshly Baked Quiche of the Day, and a local cup of coffee. 
Next, go for a ride on the only horseback mounted vineyard tour in the Finger Lakes with Painted Bar Stables. The Vineyard Ride takes you on a scenic tour of the orchards and forest peaking with a breathtaking view of Seneca Lake. Upon dismount, enjoy wine tasting, and local bites, and walk away with a bottle of wine to drink at a later time. End the night with dinner at  Veraisons Restaurant at the Inn at Glenora Wine Cellars where they offer a new local menu each season along with another fantastic view of Seneca Lake.
Where To Stay 
If you want the fun of camping with the comforts of a cozy hotel room, try Plum Point Lodge Glamping Yurts in Himrod, NY which were named The Best Glamping Site In The Northwest by Forbes magazine in 2019. This lakefront hideaway has an intimate and serene ambiance. 
Each Yurt comes complete with a table, seating, and futon; ceiling and oscillating fans; lights and electricity, flat-screen cable TV, a small refrigerator, and WiFi. Additionally, each Yurt has a private bathroom, with a shower, toilet, and vanity.
Where To Play 
Begin your morning on the Keuka Lake Outlet Trail which connects Keuka Lake to Seneca Lake. Most popular for hiking, biking, and horseback riding the trail follows the old train and canal route from Penn Yan to Dresden. It also has two trails that lead to Seneca Mills Falls and Cascade Mills Falls.
If you're visiting on the weekend, plan to head to The Windmill Farm & Craft Market on Saturday. Home to over 175 indoor and outdoor shops filled with handcrafted items too numerous to count. The Windmill Farm and Craft Market offers a pet-friendly family fun day in the country. Admission is always free, so begin your Saturday here at 8:00 a.m. and stay until they close at 4:30 p.m. 
The Windmill has full restaurants and a plethora of snack options including fresh-squeezed lemonade, pierogies, kettle corn, tacos, ice cream, soft custard, soft pretzels, local cheeses, and more! With six wineries, a brewery, and a distillery, The Windmill is a one-stop destination for tastings.
If you're interested in tasting local beer or wine closer to your Yurt try Miles Craft Ales at Miles Wine Cellars is only six minutes away. Here they're pouring: Calisto Pale Ale, Scottish Lure Ale, Bonfire Brew Ale, and Io Milk Stout. You can also stop into the winery for a tasting of Riesling, Cabernet Franc, or their famous Ghost wine!
Tiny Homes 

Glamping is a glamorous version of camping and tiny homes are a step above when it comes to comfort and convenience. Both of the tiny homes on our list are vegan properties that ask guests to refrain from bringing in any animal food products. If you're looking for vegan-friendly things to do in the region or options for Non-Drinkers we've got you covered! 
Where To Stay 
The JuneBug Lodge is a vegan oasis in Beaver Dams, NY nestled on 130 peaceful and serene acres to get you away from the hustle and bustle of life. Take in breathtaking sunsets and sunrises just over the surrounding countryside, relax by the pond by day, and stargaze on clear nights. 
JuneBug Lodge has three Tiny Homes: one has sleeping space for three, and the other two have one bed. They all include a bathroom, shower, kitchen, fridge, and seating area. The three Lodge options include; The Cow or Pig room which has a queen bed and shared bathroom. Or the Two Bedroom Suite with a private bathroom. 
There are also three separate wooden A-Frames with a queen-size bed. These three A-frames share a little campsite and bathhouse that has a shower and toilet.
Begin each day with a complimentary vegan breakfast. Then spend the morning with the farm animals, take a dip in the swimming pond, go for a hike, or spend some alone time in their Yoga Studio Tiny House. 
JuneBug Lodge is committed to being green, protecting nature, and making as little impact as possible on the environment. The property has Nature's Head composting toilets and solar power. The accommodations have a wall heater and electric outlets but do not have A/C, WiFi, or plumbing. 
Farm Sanctuary is a bed and breakfast and animal shelter that focuses on educating guests about farm animal issues and creating a bond with the rescued animals. The 275-acre Watkins Glen farm is home to more than 600 rescued cows, pigs, turkeys, and other farm animals — each with a special story. 
Watch the pigs frolic in the adjacent pasture as you sip coffee on the front porch of one of the cottages. Here you'll enjoy a bathroom with a shower, Kitchenette, sink, small cooktop, and more. There are also cabins on the property which have a mini-fridge, microwave, toaster, electric water kettle, and Keurig coffee maker with a variety of tea and coffee. However, the cabins do have shared bathrooms located within a short walking distance.
Free Wi-Fi is provided for checking email and general internet searching however streaming is not available. Each cabin does have a TV with a DVD player. You're invited to borrow a film from their "Compassionate Collection" video library or bring your own. Each morning they serve up hot, home-cooked vegan breakfasts consisting of items such as waffles, tofu scramble, and home fries. 
During your stay at Farm Sanctuary, you can take a tour of the shelter with one of their tour guides, meeting rescued farm animal friends along the way. You must be a Farm Sanctuary member to book. Become a member for a full year with a simple $25 donation.
Where To Play 
A short ten-minute drive takes you to downtown Watkins Glen where you can hike among the famous 19 waterfalls at Watkins Glen State Park. After your hike, stop for lunch at Glen Mountain Market Deli, Bakery, & Café, a New York Style Delicatessen with unique vegan sandwiches. They strive to use the freshest local ingredients. Any sandwich on the menu can be made gluten-free. They also have a variety of gluten-free and vegan sweets available. 
According to this Vegan-Friendly Finger Lakes winery list, Magnus Ridge Winery is 100% vegan. Wondering what makes wine or a winery vegan? The easiest way is to call the winery beforehand to ask if they use vegan winemaking practices. After wine tasting head to Graft Wine & Cider Bar, one of the many local restaurants with delicious vegan options. Graft Wine & Cider Bar is the area's only New York-focused wine and cider bar with locally sourced plates to share and pair. Many dishes can be made vegan upon request. End the day with dessert at Colonial Pottery and Creamery. In addition to pottery, you'll find homemade vegan ice creams and waffle cones.