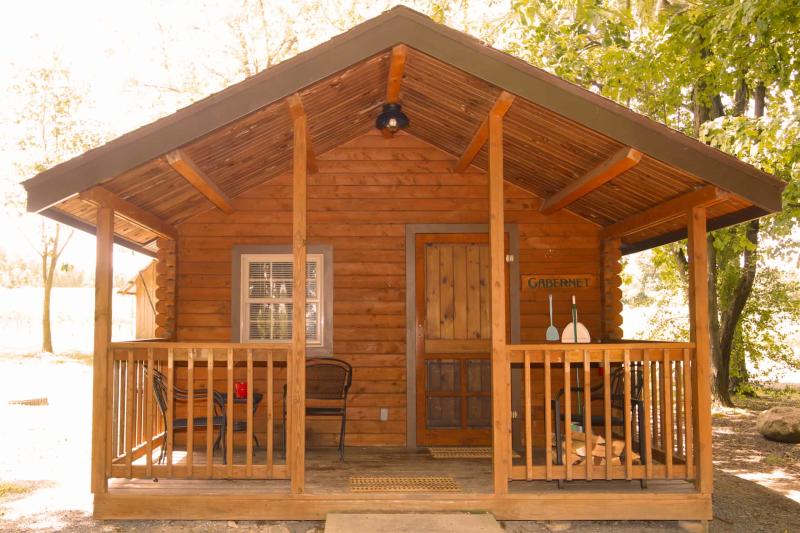 Exploring Finger Lakes Wine Country is an ideal getaway destination no matter what time of year and these properties are the best places to stay during your visit. We've shared where to go camping and glamping, now we're sharing some of the best hotels, castles, tiny homes, and vacation properties available in the region. From pet-friendly options to high-end, exclusive properties these are the best places to stay in Finger Lakes Wine Country. 
Historic Stays 
If you're a history lover, staying at these properties allows you to step into the past and get a history lesson as you explore Finger Lakes Wine Country today. 
Belva Lockwood Inn

The Belva Lockwood Inn plays a major role in history, and not only in Owego, New York. Each room in this restored 5-room home from 1872 is individually decorated with antiques and beautiful furnishings from clawfoot tubs in the bathrooms to soapstone fireplaces. 
This is the beautifully restored home of Belva Lockwood, a 19th-century suffragist and heroine who fought for equal rights from the age of 14 and was the first woman to run for president of the U.S. in 1884 and 1884, decades before women could vote. 
Belhurst Castle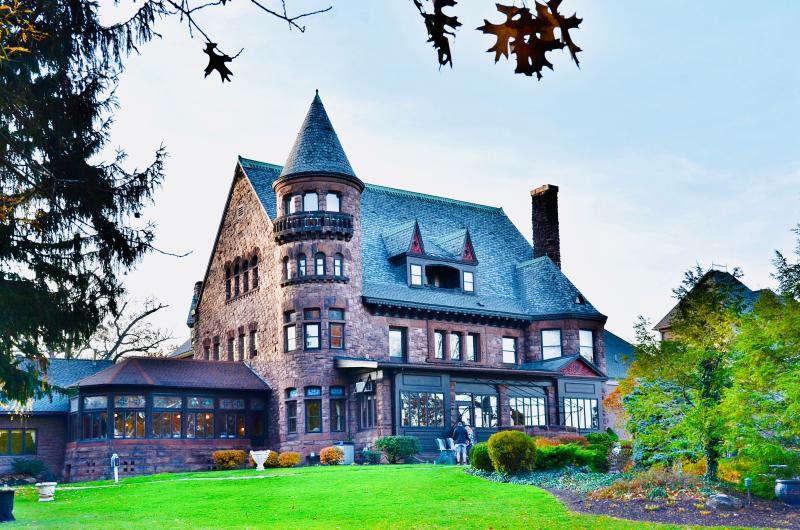 Belhurst in Geneva, New York was voted one of the Most Romantic Places in New York State. The historic rooms in the 1800s castle hotel are perfect for a romantic weekend getaway. There is also the Vinifera Inn with 20 modern guest rooms. As well as White Springs Manor and a cottage which is located off-site. 
Family Friendly Stays
Finger Lakes Wine Country has so much to offer families of all sizes and kids of all ages. From family-friendly wineries, restaurants, and more these two properties are the perfect homebase. 
Watkins Glen Harbor Hotel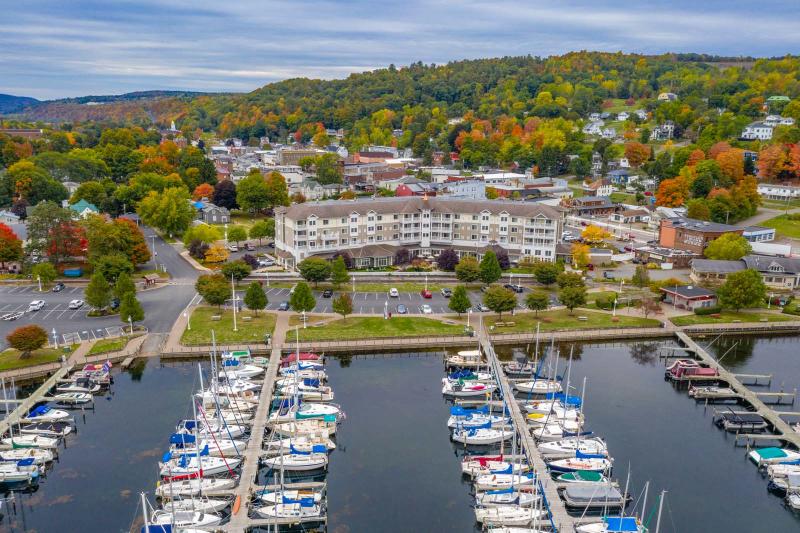 The Watkins Glen Harbor Hotel, in Watkins Glen, New York was recently named America's Most Beautiful Waterfront Hotel by USA Today readers. Many of the spacious guest rooms and suites have panoramic lake views and balconies. Guests have access to an indoor swimming pool and hot tub, and a fully-equipped fitness center, and can enjoy upscale dining and cocktails at the on-site Blue Pointe Grille restaurant and Coldwater Bar. 
This is the area's only AAA Four Diamond property and is within walking distance of Watkins Glen State Park, the most famous State Park in the region. It's home to 19 waterfalls and 9 great walking trails. 
 Courtyard by Marriott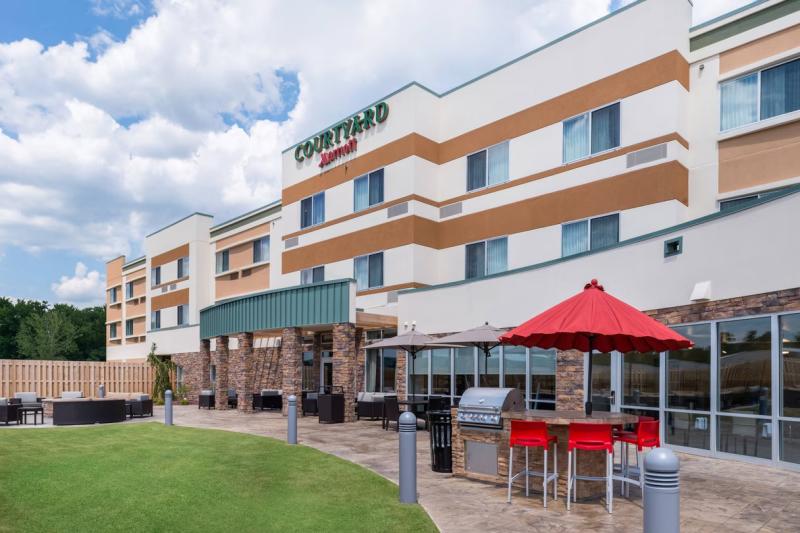 The Courtyard by Marriott in Horseheads, New York has a new state-of-the-art lobby, The Bistro, a fitness center, and an indoor pool making it perfect for the entire family. The Courtyard by Marriott is strategically located near the Corning Museum of Glass. Get a combination ticket for The Rockwell Museum and Corning Museum of Glass, in Corning, New York, and save! There's a free shuttle between the two museums that also stops on Market Street in Corning. 
Bed & Breakfast 
Experience local hospitality and imagine what living in Finger Lakes Wine Country is really like by enjoying your stay at one of the many charming bed & breakfasts in the region. 
1897 Beekman House Bed & Breakfast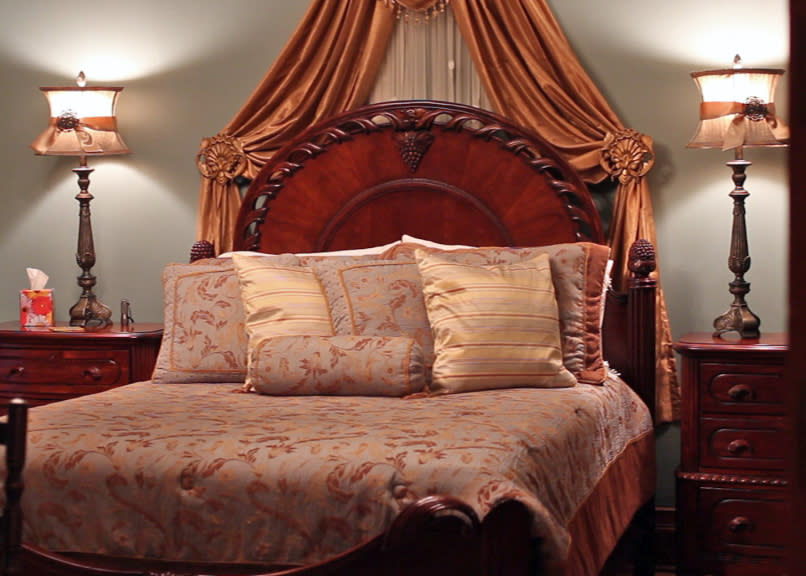 Experience graciousness and hospitality at 1897 Beekman House Bed & Breakfast in Dundee, New York. With 5 elegant rooms, this restored Victorian home dates to 1897. Wake up to a gourmet breakfast prepared by chef and owner Chuck France to fuel your day relaxing or exploring the region.
Magnolia Place Bed & Breakfast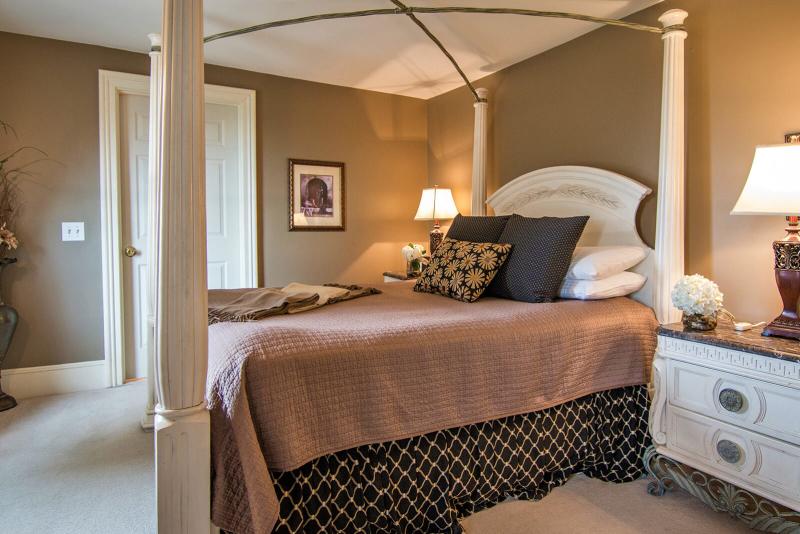 Magnolia Place in Hector, New York is a renovated farmhouse property from 1837 with 5 rooms, 3 suites, and stunning views of Seneca Lake. The perfect blend of historic charm and modern elegance, here you'll find stylishly decorated rooms and toiletries prepared from a nearby lavender farm for a local experience. A country breakfast is served every morning in our spacious kitchen. Before you turn in for the night, return to the kitchen for freshly baked goodies and seasonal beverages to enjoy next to the cozy fireplace.
Magnolia Place is the perfect for exploring the Seneca Lake Wine Trail. It's a short drive from the gorgeous roadside Hector Falls and Watkins Glen State Park where you can find a beautiful town and some of the region's most beautiful waterfalls trails. 
Vegan Stays
Veganism is more than a trend. It's a way of life that as many as six percent of the US population has adopted. Our Vegan & Sustainable Itinerary is full of vegan food and wine options along with ethical experiences.
Farm Sanctuary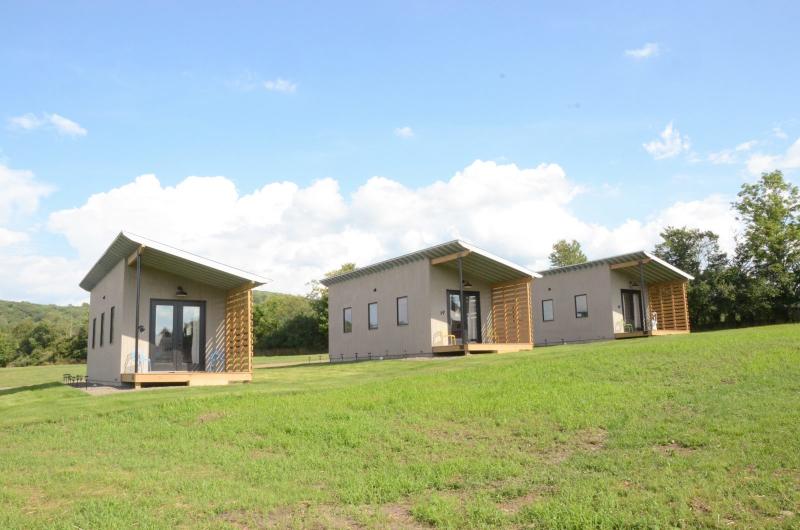 Farm Sanctuary in Watkins Glen, New York is a bed and breakfast and shelter where you can bond with the rescued animals and enjoy a home-cooked vegan breakfast every morning. The 275-acre Watkins Glen farm is home to more than 600 rescued cows, pigs, turkeys, and other farm animals. 
The accommodations include 3 tiny houses and cozy cabins with shared bathrooms within walking distance. In a tiny house, you'll enjoy a bathroom with a shower, Kitchenette, sink, small cooktop, and more. In the cabins, you'll have a mini-fridge, microwave, toaster, electric water kettle, and Keurig coffee maker with a variety of tea and coffee. 
During your stay at Farm Sanctuary, you can take a tour of the shelter with one of their tour guides, meeting rescued farm animal friends along the way. You must be a Farm Sanctuary member to book a stay here. Become a member for a full year with a simple $25 donation.
The Black Sheep Inn and Spa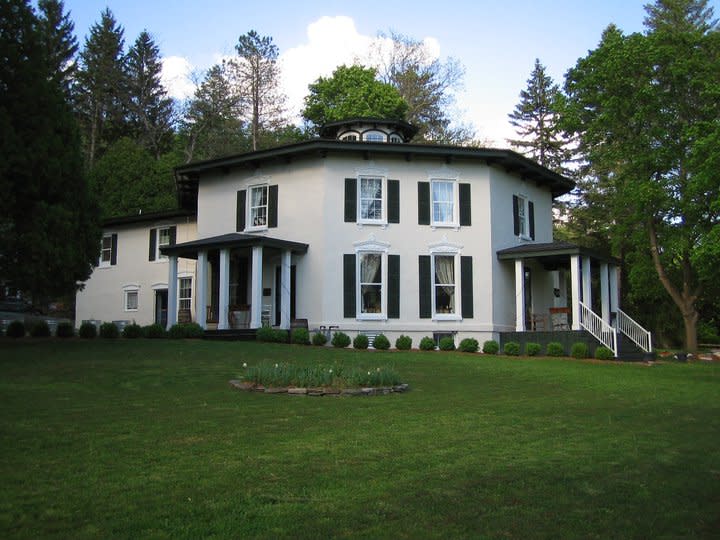 The Black Sheep Inn and Spa in Hammondsport is the newest plant-based inn in the area. This octagon-shaped house was built in 1859 during a trendy movement for eight-sided homes. Each of the 5 superior guest rooms has its own unique design & style. The British-owned and run inn offers 100% vegan, plant-based breakfasts and spa services. 
Pet-Friendly Stays
Wine Country is extremely pet-friendly when it comes to accommodations and activities. So there is no excuse to leave your pooch behind while you have all the fun! 
Penn Yan Properties
Two pet-friendly properties near the Keuka Lake Wine Trail include the Best Western Plus Vineyard Inn & Suites and the 4 bedroom 2 bathroom House of Vines in Penn Yan. The House of Vines is located across the street from the Keuka Outlet Trail which has a paved walking path for walking or running with your pup. 
Corning Properties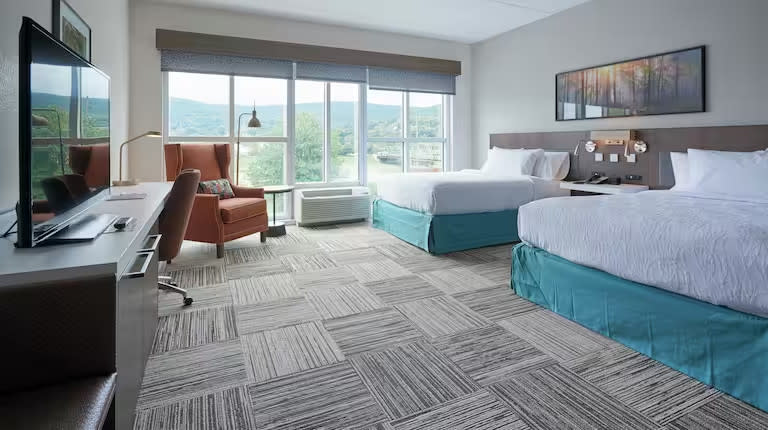 If you prefer a small-town vibe with vintage shops and historic 19th-century restored storefronts, stay at the Staybridge Suites Corning in Corning, New York. The Hilton Garden Inn has a restaurant and bar and is walking distance from the Corning Museum of Glass. The Heritage Village of the Southern Finger Lakes in Corning allows pets at their open-air interactive historical museum that allows visitors to experience 19th-century Finger Lakes life with their furry friend!
Winery Stays
Have some of the best wine in the region at your fingertips when you stay at a property with a winery. 
Glenora Wine Cellars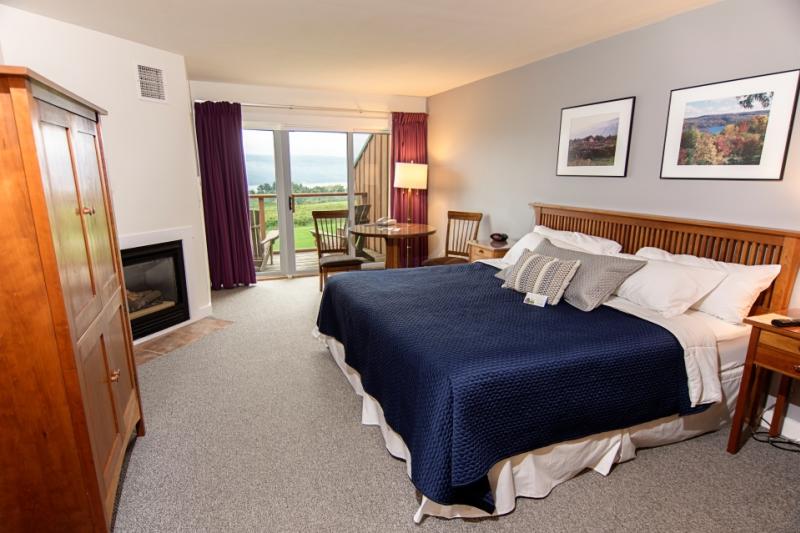 Glenora Wine Cellars in Dundee, New York is a beautiful winery resort located on Seneca Lake in New York's Finger Lakes Wine Country. As the first winery on Seneca Lake Glenora Wine Cellars has been producing award-winning Finger Lakes wines and offering year-round hospitality since 1977. 
The thirty-room Inn at Glenora offers stunning views and an atmosphere of simple elegance that make your stay a perfect soothing getaway. Beyond wine, you can enjoy regional cuisine, featuring seasonal, locally sourced menus, at Veraisons Restaurant, located at the Inn.
Buttonwood Grove Winery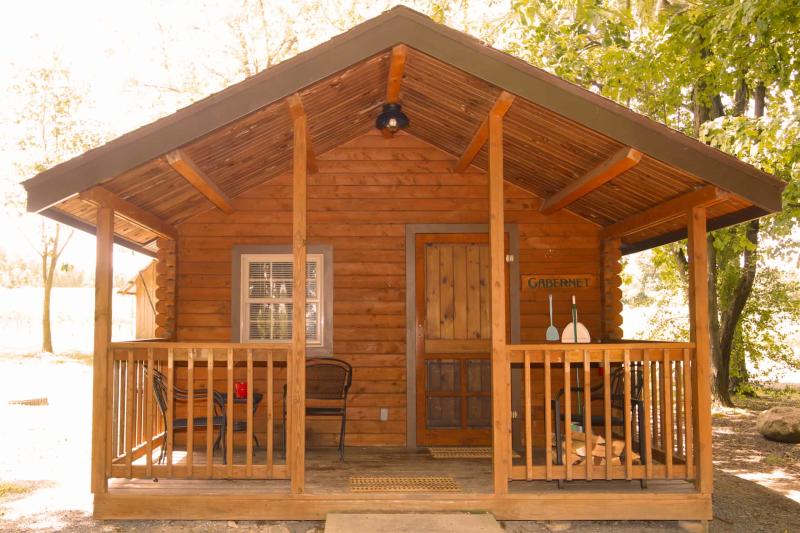 The 4 charming cabins at the Buttonwood Grove Winery in Romulus, New York are surrounded by rolling vineyards, trails, and paths to explore and hike. Each cabin has a fire pit and each guest (21 or older) will get a complimentary wine tasting during their visit. This award-winning winery is also on the Cayuga Lake Wine Trail, the first wine trail in New York. 
Brewery Stays
Finger Lakes Wine Country is also home to some of the best breweries in New York state. Stay at one of these properties to be near the beer. 
Inn at Grist Iron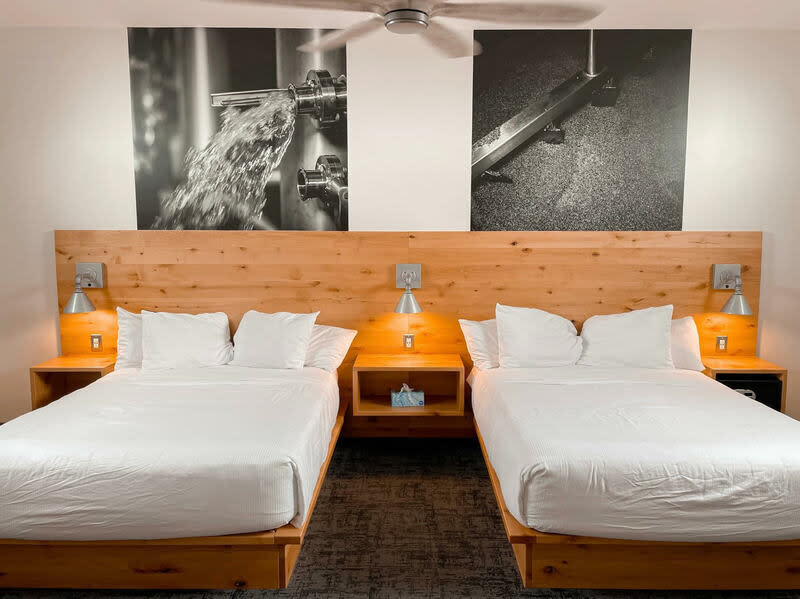 The Inn at Grist Iron in Burdett, New York is the only lodging in the region to feature an onsite craft brewery, Grist Iron Brewing Company. Choose from 4 rooms in their traditional-style 1860s Farmhouse or stay in one of 10 spacious suites in The Lodge, which offers rustic, yet modern accommodations including their dog-friendly rooms. 
Pleasant Valley Inn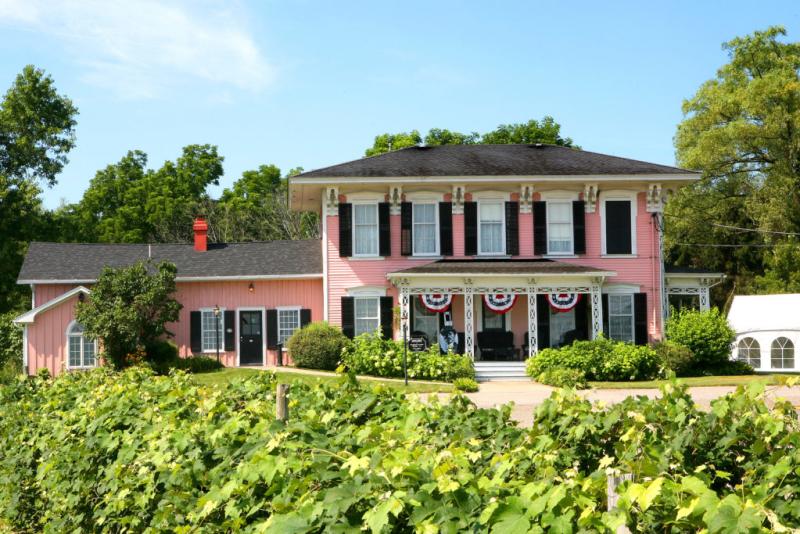 The pink Victorian just outside of Hammondsport, New York is the Pleasant Valley Inn. This chef-owned country Inn features four inviting guest rooms with a luxurious queen-size bed and private bath. The pub offers rustic, homey fare, while the formal dining rooms bring an upscale feel to the regionally focused cuisine.
Group Stays
Whether it's a family reunion, destination wedding, or couples vacation the options below are perfect for Large Groups. 
Seneca Lake Effect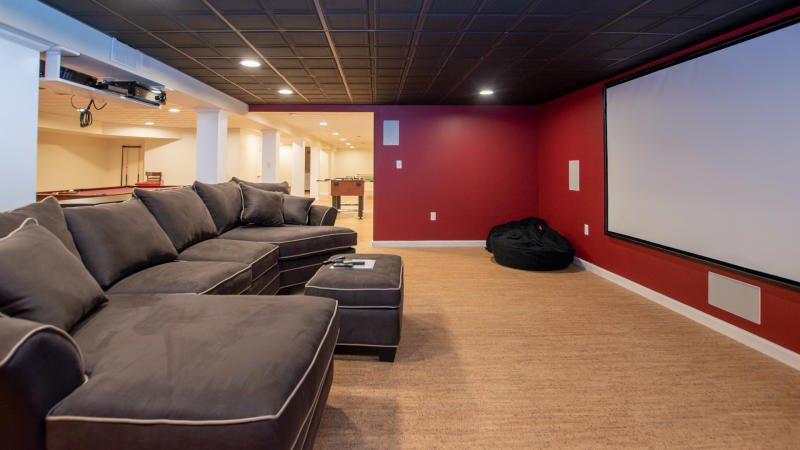 Seneca Lake Effect is situated on the eastern shore of Seneca Lake. This more than 4,000 square foot ranch-style house offers 6 bedrooms, 6.5 bathrooms, and full lake views throughout the common area. The recently renovated basement rec room offers a pool table, ping pong, foosball and a movie projection theater featuring a 122" screen and Dolby surround sound.  
Blue Heron Shores Estate

Blue Heron Shores Estate is just minutes away from award-winning wineries and lakefront restaurants on the Cayuga Lake Wine Trail. This beautiful 6-bedroom estate features a main house and a boat house. Here your group will enjoy a hot tub, a pool table, an outdoor stone fireplace, and spectacular views. 
Seneca Memories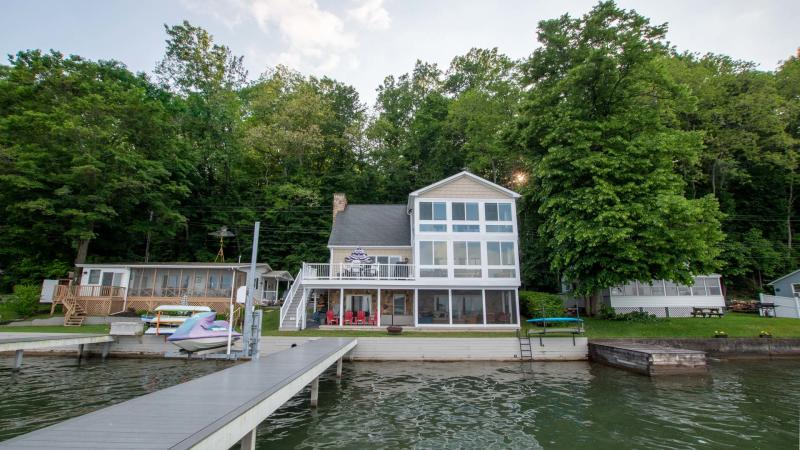 Between Geneva and Watkins Glen, New York you'll find Seneca Memories, a 4-bedroom "home away from home". The inside of Seneca Memories offers luxury amenities and outside you'll discover why so many people love Seneca Lake. The plush yard leads you to your private dock with a fire pit.