DUNDEE, N.Y. (October 24, 2019) - Fulkerson Winery has long been a destination for fresh grape juices for the purpose of home winemaking. However, we had yet to offer any form of a pasteurized, shelf-stable product until now. Starting with a small quantity, we are offering a number of high-quality varietal grape juices, including Riesling, Concord, and Syrah among other wine-grape varieties. We are offering 12 oz. bottles ranging from $3.00 - $5.00 available exclusively at our retail shop. Beginning with a limited supply in 2019, we are expecting to expand out bottling harvest in 2020.
As the fourth most wine-producing state in the nation, New York wineries are constantly expanding their offerings. Fulkerson's efforts to expand our fresh grape products beyond home winemakers were spurred by New York State's Farm-to-School program, specifically regarding the Grape-to-School pilot program launched by Governor Cuomo in May of 2019. With the intention of providing fresh Concord grape juice to schools, the program brings greater visibility to the healthy, fresh juice products offered by many wineries across the state.
Although grape juice consumption has been on the decline with that trend predicting to continue in 2020, Fulkerson aims to enter the market offering a higher-quality product for the same or lesser average cost per unit. By offering juice that consumers know is freshly pressed and made from all-natural grapes while encouraging farm-to-table practices, we hope to lead a resurgence in grape juice consumption.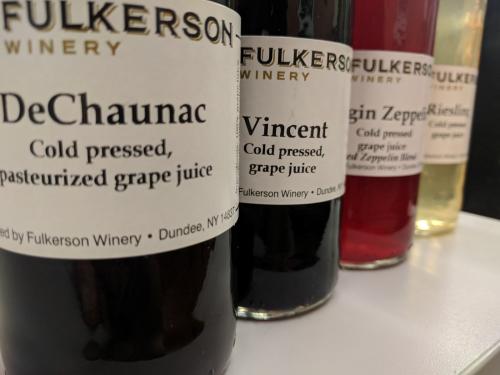 # # #