PENN YAN, N.Y. (April 10, 2019) — The Best Western Plus Vineyard Inn and Suites in the village of Penn Yan, NY received the Champion Customer Care Award at Best Western® Hotels & Resorts' District VII Meeting held recently in Cleveland, Ohio. This award was presented in front of several hundred District VII Best Western hoteliers from Ohio, West Virginia, Virginia, Pennsylvania, New Jersey, Delaware, Maryland, District of Columbia, New York, Vermont, New Hampshire, Massachusetts, Rhode Island, Connecticut, Maine, Nova Scotia, New Brunswick, Newfoundland, Prince Edward Island and Quebec.
This honor is bestowed upon those member properties that demonstrate and best exemplify exceptional levels of service and care. The hotels must also meet quality and design standards and other membership requirements to qualify.
The Best Western Plus Vineyard Inn and Suites was one of only 109 hotels out of more than 2,100 properties in the U.S. and Canada to receive this designation this year.
"I am pleased to congratulate the Best Western Plus Vineyard Inn and Suites on receiving the 2019 Champion Customer Care Award," said Anthony Klok, Chairman of Best Western Hotels & Resorts' Board of Directors. "Our iconic brand has undergone an incredible transformation in recent years to deliver elevated products, services and experiences that today's travelers are looking for. This award is a tremendous accomplishment as it honors hotels such as the Best Western Plus Vineyard Inn and Suites whose commitment to excellence and exemplary performance reflect the new era of our brand - Today's Best Western."
Located at 142 Lake Street Penn Yan, NY, you will find the newly redesigned Best Western Plus Vineyard Inn and Suites. The new design includes new tile, wallpaper, furniture, window fixtures and more high-end finishes throughout. This hotel features 57 rooms and complementary Finger Lakes inspired hot breakfast, heated indoor pool and 8-person spa, 24/7 fitness center, outdoor pergola, s'mores fire pit, local concierge service, 24-hour front desk, and parking for boat trailers and motor coach buses.
For reservations, call the hotel directly at (315) 536-8473 or call Best Western's 24-hour, toll-free number at 1-800-WESTERN. Reservations can also be made online at BestWestern.com.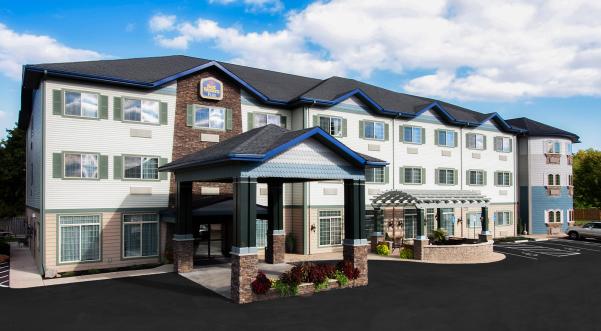 About Best Western® Hotels & Resorts:
Best Western Hotels & Resorts headquartered in Phoenix, Arizona, is a privately held hotel brand with a global network of over 4,500 hotels in nearly 100 countries and territories worldwide*. Best Western offers 16 hotel brands to suit the needs of developers and guests in every market. Best Western branded hotels include Best Western®, Best Western Plus®, Best Western Premier®, Executive Residency by Best Western®, Vib®, GLo®, AidenSM, SadieSM, BW Premier Collection®, and BW Signature Collection®. Through recent acquisition, Best Western now also offers WorldHotels® Luxury, WorldHotels Elite and WorldHotels Distinctive brands. Completing its portfolio, Best Western offers  SureStay®,  SureStay Plus®, and SureStay Collection® franchises**. Now celebrating more than 70 years of hospitality, Best Western provides its hoteliers with global operational, sales and marketing support, and award-winning online and mobile booking capabilities. Best Western continues to set industry records regarding awards and accolades, including 66 percent of the brand's North American hotels earning a TripAdvisor® Certificate of Excellence award in 2018, Business Travel News® ranking Best Western Plus and Best Western number one in upper-midscale and midscale hotel brands respectively for two consecutive years, and Fast Company honoring Best Western Hotels & Resorts with a spot in the Top 10 Most Innovative Companies in the Augmented Reality/Virtual Reality category. Best Western has also won 10 consecutive AAA®/CAA® Lodging Partner of the Year awards, recognizing the brand's commitment to providing exceptional service and great value to AAA/CAA's nearly 60 million members in the U.S. and Canada. Best Western-branded hotels were top ranked in breakfast (food and beverage category) by J.D. Power's 2018 North America Hotel Guest Satisfaction Index Study – ranking first for midscale; and second for upper midscale. Nearly 40 million travelers are members of the brand's award-winning loyalty program Best Western Rewards®, one of the few programs in which members earn points that never expire and can be redeemed at any Best Western-branded hotel worldwide. Best Western's partnerships with AAA/CAA and Google® Street View provide travelers with exciting ways to interact with the brand. Through its partnership with Google Street View, Best Western is the first major company of its size and scale to launch a virtual reality experience for customers, setting a new industry standard and reinventing how guests view hotels.
* Numbers are approximate, may fluctuate, and include hotels currently in the development pipeline.
**All Best Western, WorldHotels and SureStay branded hotels are independently owned and operated.
# # #