Last year, I was invited to attend the Finger Lakes Wine Festival. As a first time attendee, I can attest that at times the festival can seem a little overwhelming. My goal was to learn as much as I could about wine in the Finger Lakes and try things I hadn't sampled before. By the end of the festival, I felt like I had a good handle on how to get what I wanted out of the event.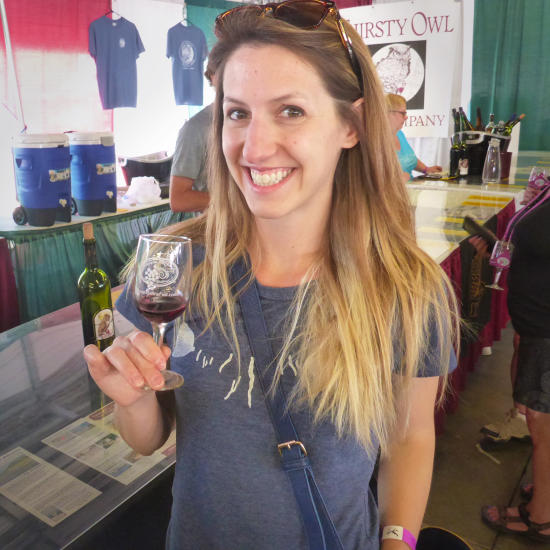 With over 80 wineries pouring samples, 9 educational seminars, 3 special dining options, 6 cooking demonstrations, and a range of live entertainment, the Finger Lakes Wine Festival is a massive celebration of all the things that make this region amazing.
Here's my top five tips if you're looking to learn a lot, taste new things, and meet interesting people:

1. Have a plan
The first thing we did each morning of the festival, was sit down with the festival guidebook and figure out what we wanted to do. Many of the events, like the seminars and cooking demonstrations, overlap one another. You can't do them all, so you need to prioritize. Would you rather do a guided tasting through Dry Rieslings from Seneca Lake or learn to make sweet potato gnocchi? Prioritize what's really important, and when you have free time just go with the flow and enjoy yourself.
 
2. Figure out the logistics in advance
There are two big logistics challenges to figure out, transportation and accommodation. If you're not planning on camping on site, you'll want to find a place to stay well in advance of the festival. Many of the hotels were booked up by the time it came around. I would suggest checking out vacation rentals if you're looking for something fun and different. If you're staying off site, you'll need to find transportation or a designated driver. We used Uber to get from our vacation rental to the festival, and it was fairly inexpensive. If you're planning on driving yourself, be careful and appoint a designated driver.
Terp's Enterprises offers full-service transportation to and from the Finger Lakes Wine Festival. Call 607.795.4426 to reserve or jump on the round-trip shuttle.
View shuttle schedule >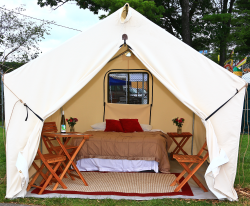 Glamping (NEW!)
Enjoy camping at the Festival without having to rough it. Stay close to the buzz of the festival without the hassle of having to bring your own camping and sleeping gear. We'll have everything set up for you when you arrive! Learn more >
3. Talk with people
One of the best parts of our festival experience was chatting with people. At the tasting booths we talked with winemakers, owners, tasting room staff, and other people associated with the wineries. We got to learn what wines they were excited about, as well as some of the history and heritage of their particular winery. In seminars we chatted with the teachers, who were all part of Women for Winesense, and got to dig a little deeper into the topics they were exploring. At the Taster's Banquet, we chatted with other guests from all over the United States about their festival experience, top wineries, and favorite travel stories.
 
4. Check out the seminars
The educational seminars are a great way for beginner wine tasters to learn more about wine and the Finger Lakes region, and for more advanced tasters it is a way to dig deep into vintages, varietals and microclimates. We attended the Dry Riesling seminar, where we compared five different interpretations of Dry Riesling from Seneca Lake- it was incredible to learn how small differences in microclimate and choices of the winemaker can make one grape taste so dramatically different. We also attended the Sparkling wine seminar, which was one of the highlights of our festival experience. Not only did we get to learn the history behind sparkling wines and sample six very different interpretations, we learn more general tips on sparkling wine- like how to open a bottle without popping the cork, how to properly store and serve it, and how to open one with a sabre!
Free seminar schedule >
Enhanced seminar schedule >
 
5. Pace yourself and drink water
The festival is two days, and is incredibly fun so enjoy everything they have to offer. That being said, in total there are 14 hours of enjoyment (16 if you add the Taster's Banquet), so make sure to pace yourself. We decided to only sample wines that we hadn't tried before, and I used a spit cup during our first seminar so I could experience the wine without ingesting the alcohol. There are water stations all around the festival, so make sure to take advantage of these, and if you don't like something just use the big purple dump buckets they have scattered around.
Plus don't forget to check out the dozens of other vendors, food trucks, and art and cooking demonstrations!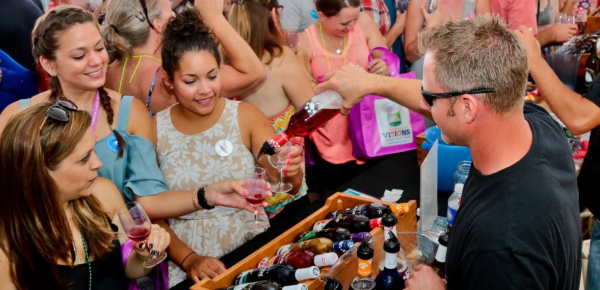 In the end, what matters most is that you enjoy yourself and all that the Finger Lakes has to offer, whether that means spending the entire festival bouncing from winery to winery, or lingering in the seminars and cooking demonstrations. It is a great way to find new wineries, sample things you've never heard of, learn more on the subject, and meet incredible people.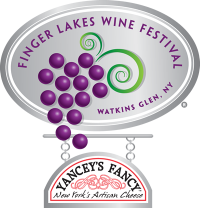 Finger Lakes Wine Festival
July 13-15, 2018
at Watkins Glen International
The Finger Lakes Wine Festival presented by Yancey's Fancy New York's Artisan Cheese, was voted USA Today's "Best Wine Festival." The Festival offers the largest showcase of New York State wines with over 90 wineries paired with regional artisans, music, and seminars all in one beautiful location.
Get tickets >