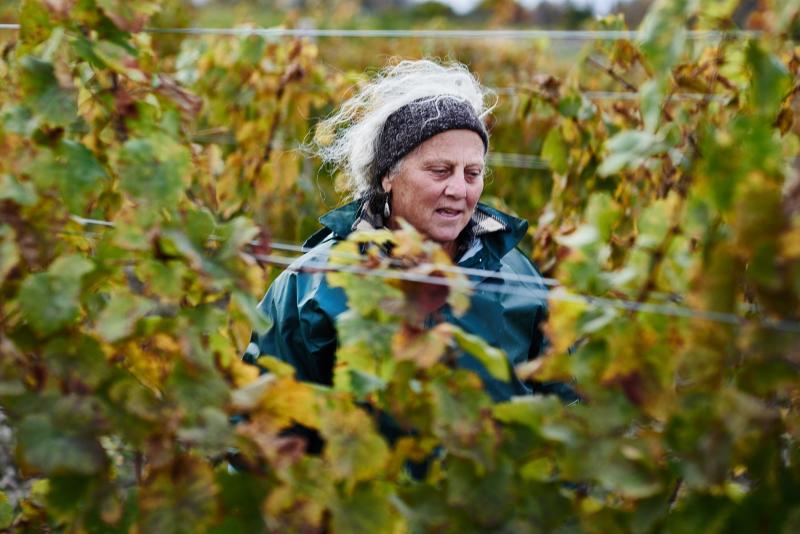 To celebrate Women's History Month, we asked wine writer and educator Maiah Johnson Dunn to do a follow-up on the Unapologetically Female piece she wrote last year. This time she focused on the women behind the scenes,  the owners, marketers, vineyard managers, and cellar hands that make Finger Lakes Wine Country run. 
Alana Ahouse, Knapp Winery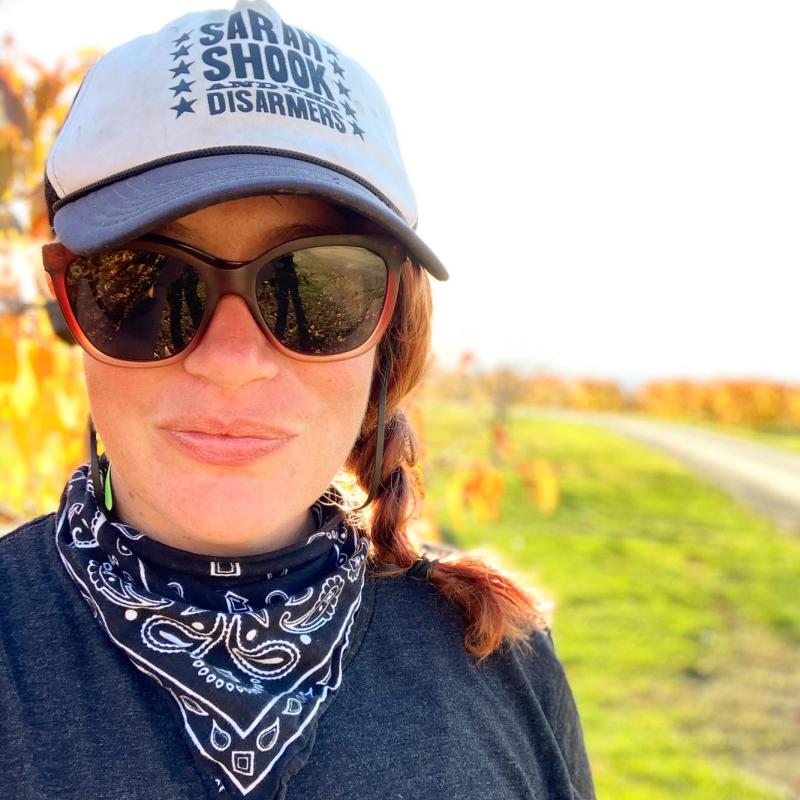 Alana Ahouse in the vineyards. Photo provided.
"This is an exciting time to be in the Finger Lakes wine industry," says Alana Ahouse. "It's really impressive to see people pushing the limits of what we can, could, or should do." Alana is one of those people. As vineyard manager at Knapp Winery, she wears many hats, including farmer, mechanic, environmentalist, plumber, and mathematician. "It's quite literally a labor of love," she smiles–it's clear she enjoys the work.
Alana hopes consumers will take an active role in learning about wine beyond the cellar. "There are tons of people that make this whole thing work," she notes. She's an advocate for those outside the spotlight. 
When asked what advice she would give to her younger self, Alana says "don't be afraid. Give it a shot–I bet you can do it." 
Finger Lakes Wine Country is proud to celebrate Women's History Month 2023 with a roundup of women who gave it a shot and learned they could fly. 
Céline LeSeurre, Domaine LeSeurre Winery

Photos provided.
Wine is in Céline LeSeurre's DNA. It only makes sense, having grown up around her grandparents' vineyards in the Pyrénées foothills in France. As she grew, so did her passion for grape growing and wine, leading Celine to take sommelier classes and travel the world. In New Zealand, she met her husband, Sébastien. In Australia, they made wine. And in New York, they fell in love with Keuka Lake. They decided to stay and opened Domaine LeSeurre within three years of an initial visit. Céline's expertise influences their grape growing, winemaking, and marketing.
Ruth Lucas, Lucas Vineyards

Ruth Lucas (center) alongside daughters Ruthie (L) and Stephanie (R). Photo provided.
A woman founded the first winery on Cayuga Lake. Ruth Lucas moved to the area with her family in 1973 with her husband and kids and began planting. "I just fell in love with the farm and the grapes," she reminisces. The work was not without its challenges. "It took a while for people to realize that New York state could make some really nice wines," says Ruth, who opened the Lucas Vineyards tasting room following the Farm Winery Act. She's also a founding member of the Cayuga Lake Wine Trail, established three years later. Today, she runs the business with her daughters, Ruthie and Stephanie. Her son-in-law, Jeff, is the winemaker. "It's good to be in it with family." 
Erica Paliocelli, Three Brothers Wineries and Estates

Photo provided.
Erica Paliocelli didn't plan to stay more than fifteen minutes at Three Brothers Wineries and Estates. Fifteen years later, she's worked from the first official employee to COO, president, and co-partner. Erica's success is linked to the culture of curiosity and creativity she has fostered over the years. In the face of adversity, Erica provides a steady presence, as seen throughout the pandemic and following the 2021 fire that destroyed Bagg Dare, one of the three wineries on the property. Most recently, her efforts to better the industry were honored when Erica was named a 2022 Woman of Distinction by New York State Senator Pam Helming.
Ashlee Weis, Weis Vineyards

Photo provided.
Ashlee Weis grew up loving the arts and was often drawing or painting. Her passion translated into a keen eye for branding and design, which the Weis Vineyards co-owner now uses regularly. Alongside marketing and interior design, Ashlee oversees staffing, tasting room, and wine club. Her brand development, alongside her husband Peter's wines, has solidified Weis as adored by many. "We are very high quality, but very relaxed," explains Ashlee. "Whether you like dry wine or sweet wine you're going to get the same experience from us and our staff every time you come. We just want people to feel comfortable."
Debra Bermingham, Bloomer Creek Vineyard

Photo provided.
"When we were young, Kim and I fell in love with the broad skies and open fields of the Finger Lakes and set out to become a part of it," Debra Bermingham once said in a James Beard Foundation interview. The award-winning artist and vigneron co-owns Bloomer Creek Vineyard with her husband, Kim Engle. Together, Les Bloomers made a living transforming forgotten lands into bountiful vineyards. It's not unusual to find Debra tending to the grapes, behind the bar, or on the bottle itself as her artwork graces a selection of labels. 
Jacqueline Wooster, Heron Hill Winery

Photo provided.
Jacqueline Wooster lights up when she talks about New York wine. "I always tell my daughter how lucky she is to grow up in the beautiful Finger Lakes: where people come to visit," she gushes. Jacqueline oversees wholesale and retail sales as the Director of Sales at Heron Hill Winery. She spends her days driving sales through brand experience, a perfect role for someone like Jacqueline. "It's easy to be passionate about the Finger Lakes wine industry," she says, highlighting the constantly evolving nature. "Plus, the wines are so delicious."
Brittany Bagley, Bagley's Poplar Ridge

Photo provided.
Brittany Bagley was just 19 years old when she took over the family business. Her father, Dave, founded Bagley's Poplar Ridge Vineyards in 1980. Dave's goal was to create a welcoming environment and "wines that are pleasant and fun to drink." He ran the business for nearly 30 years before passing away unexpectedly. Brittany quickly became one of the youngest female winery owners in the region. Having spent most summers helping her father in the tasting room and vineyards, she hit the ground running. Over the years, Brittany has worked hard to keep her father's spirit alive in both product and atmosphere.
Diana Lyttle, Boundary Breaks

Photo provided. 
For 32 years, Diana Lyttle taught plant science to high school students in Connecticut. When she and her husband, Bruce Murray, were ready for a change, they moved to the Finger Lakes. "My favorite part of teaching was helping students grow by introducing them to new ideas. I do the same thing here at Boundary Breaks," says Diana, truly an educator at heart. She's a co-owner and the front-of-house manager, often found creating tactile learning experiences in the tasting room. "I want them to remember their visit, and perhaps have it change them just a little bit."
Ann Martini, Anthony Road Wine Company

Photos provided.
Owners of Anthony Road Wine Company Ann and John Martini moved to Seneca Lake to grow grapes at the urging of a friend who called it "fun." They didn't have much agricultural experience but were up for an adventure. After planting their first five acres by hand, Ann was hooked. "Maybe I was meant to be a farmer," she chuckles. As their plantings and family expanded, John took a job at the Cornell Experiment Station to support the business while Ann ran the family and the farm. From trimming and tying to payroll and taxes, Ann did it all while always making time for her family. Ann's advice for the next generation comes straight from her heart. "Hang in there. Be happy, and kind," says Ann. "It's so important these days to be kind to people."