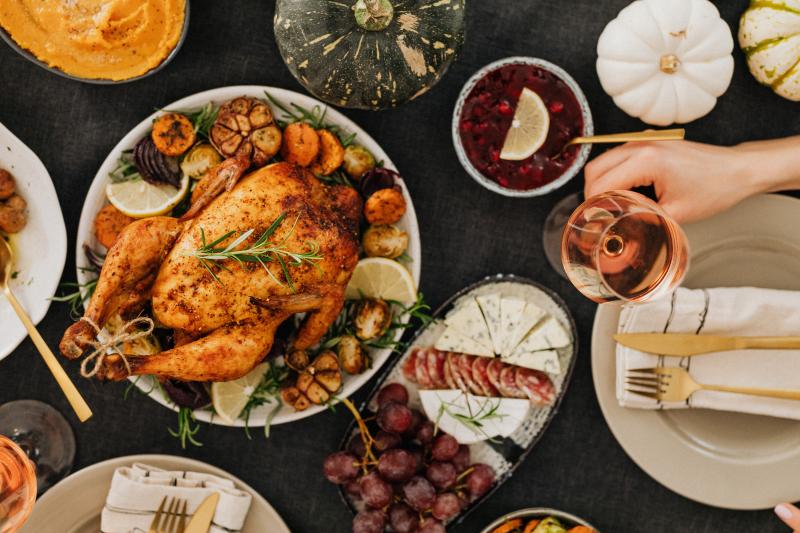 Thanksgiving dinner is one of the most anticipated meals of the year. With a spread of family favorites, traditionally focused around a beautifully roasted turkey, this meal isn't complete without wine. We're excited to share with you why Finger Lakes wine makes the perfect addition to your holiday meals.
The Finger Lakes is a cool climate wine region. This means that our wines are bright with balanced acidity making them perfect for pairing with most any food. They tend to be lighter in body, meaning they'll compliment the meal and not take it over. They also tend to have elements of spice, with herbaceous or floral notes, creating a beautifully fruit-forward flavor that we find in our favorite holiday foods. Cool climate wines also tend to be lower in alcohol, lending well to enjoying with food and sipping over a longer period of time.
Turkey is a versatile meat. It pairs nicely with aromatic white wines from the Finger Lakes, like Riesling or Gewurztraminer. But, it also is wonderful when enjoyed with a Pinot Noir, Cabernet Franc, or a Dry Rosé. Mashed potatoes, stuffing (or dressing), gravy, macaroni and cheese, green bean casserole, rolls, butter (is your mouth is watering?) are all heavy foods – delicious, but heavy. And what do we love to add to this plate? Not just for color, but for a break in the fat and starch? Cranberry sauce! Whether canned or homemade, this is the beautiful bright acid element that breaks up the richness of the Thanksgiving plate. The same can be said for Finger Lakes wine. A sip of Riesling, Dry Rosé, or Pinot Noir will add a delightful balance to your Thanksgiving feast.
While this may be a great lesson for Thanksgiving, it really lends itself well to pairing wine with food throughout the year. Especially during the holidays when we indulge in so many rich foods. So, whether you're stocking up for Thanksgiving, or any day, below are some of our favorites to add to your holiday shopping list. All wines linked are available for shipping to your home (depending on your state) and many can be found in your local wine and spirits store. Cheers!
Sparkling Wine
White Wine
Red Wine
Rosé Wine