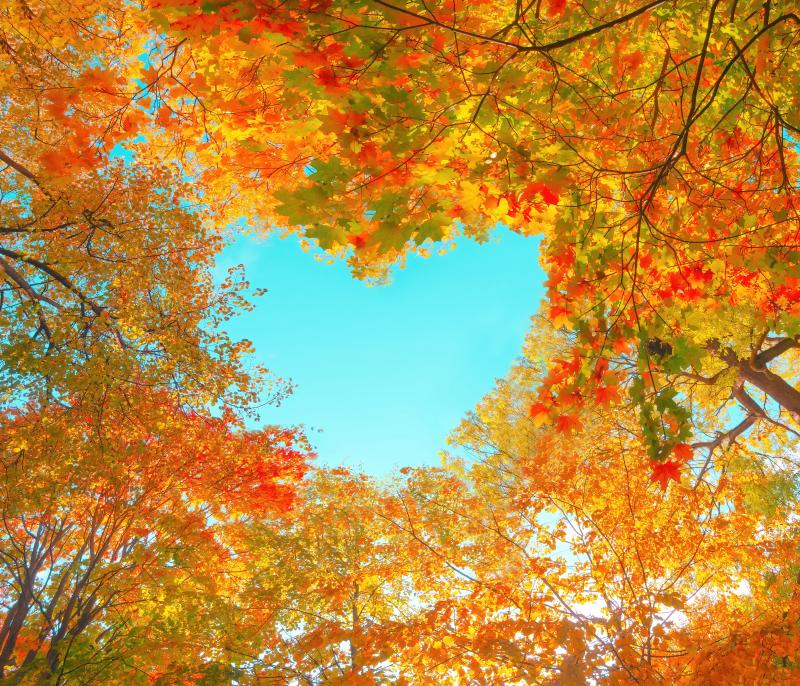 When the summer heat fades to cozy cuddle weather, a romantic fall getaway in Finger Lakes Wine Country is the perfect mix of pampering and adventure. From pumpkin-infused spa treatments and fireside wine tasting to fairy-tale castles and waterfall chasing. 
The leaf peeping and long walks remind you of the things that make fall magical. A picturesque getaway to Finger Lakes Wine Country will allow you and your partner to take a break, create new experiences together, and turn up the heat on your romance.
Romantic Stays
There are so many adorable little towns around the Finger Lakes and plenty of unique hotels and charming B&Bs in the region to choose from.
Belhurst Castle
Belhurst in Geneva, New York was voted one of the Most Romantic Places in New York State. The historic rooms in the 1800's castle hotel are perfect for a romantic weekend getaway. Ask for a room with a soaking tub, a fireplace, and a view of Seneca Lake.
Belhurst is also home to one of the best wineries in New York, named a World's Best Wine Hotel by Wine Enthusiast. Join one of the daily wine-tasting tours where you can learn about winemaking in the Finger Lakes region. After wine tasting, head to the hotel spa for a relaxing massage. End your day with dinner at Edgar's or Stonecutter's one of the two on-site restaurants.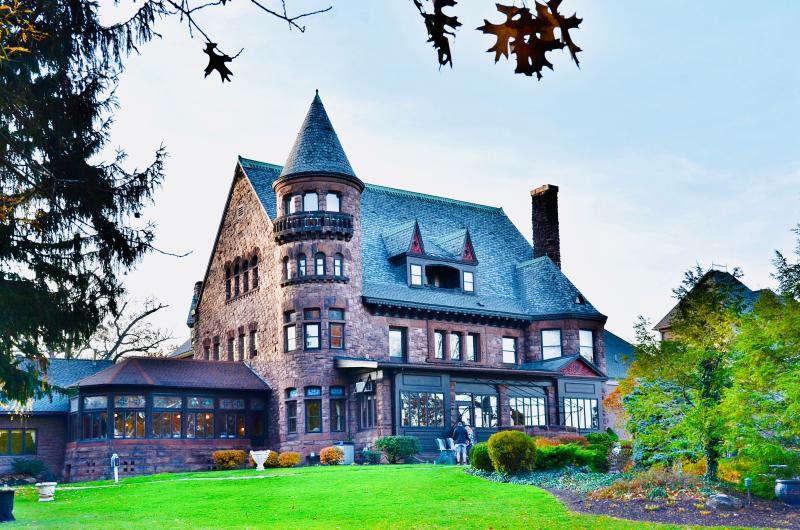 Watkins Glen Harbor Hotel
Watkins Glen Harbor Hotel in Watkins Glen, New York was named the best waterfront hotel in the US in 2016 by USA Today's 10Best. The hotel is luxurious but not pretentious and is the largest hotel in the area with 104 guest rooms and the Blue Pointe Grille restaurant. 
The two specialty suites, the Admiral Suite and the Commodore Suite are the most spacious, featuring a whirlpool tub in the bathroom, a wine bar, and a patio with a view of Seneca Lake. The hotel offers a great starting point for exploring the area and is close to Seneca, Cayuga, and Keuka Wine Trails.
The Inn at Glenora Wine Cellars
Every room at the Inn at Glenora Wine Cellars has spectacular vineyard and Seneca Lake views and features a private patio or balcony. The Vintner's Select guest rooms have whirlpool tubs and fireplaces which will help create an enchanting atmosphere. 
Visit the Tasting Room and Retail Shop to try their award-winning Finger Lakes wines or take a cellar tour. End the day delicious meal at the on-site Veraisons Restaurant featuring locally sourced regional cuisine and a wide variety of local wine, beer, and spirits. 
Romantic Eateries
GRAFT Wine + Cider Bar
GRAFT Wine + Cider Bar is the perfect place to be wined and dined and the only wine and cider bar in the area exclusively serving a variety of New York State hand-crafted wines, ciders, and beer. GRAFT Wine + Cider Bar highlights premium Finger Lakes producers on a rotating, seasonally focused bar and kitchen menu thoughtfully prepared by regional chef, Orlando Rodriguez. 
The Cellar
Corning's premier wine and martini bar is The Cellar. The modern fusion menu is crafted by Chef Michael Lanahan and features unique dishes that blend global culinary traditions and incorporates locally farmed produce as available. 
Enjoy the hip & trendy vibe in this upscale restaurant. End the night with the perfect fall bite. Try their Cellar S'mores made by "Tableside Campfire" or the Pumpkin Blondie. 
Pleasant Valley Inn
Pleasant Valley Inn in Hammondsport, New York features everything from fresh seafood and prime steaks to house-made pasta and desserts along with an extensive wine list. This chef-owned Inn in the "Coolest Small Town in America," also has a small pub that's the perfect spot for an after-dinner cocktail by the fireplace.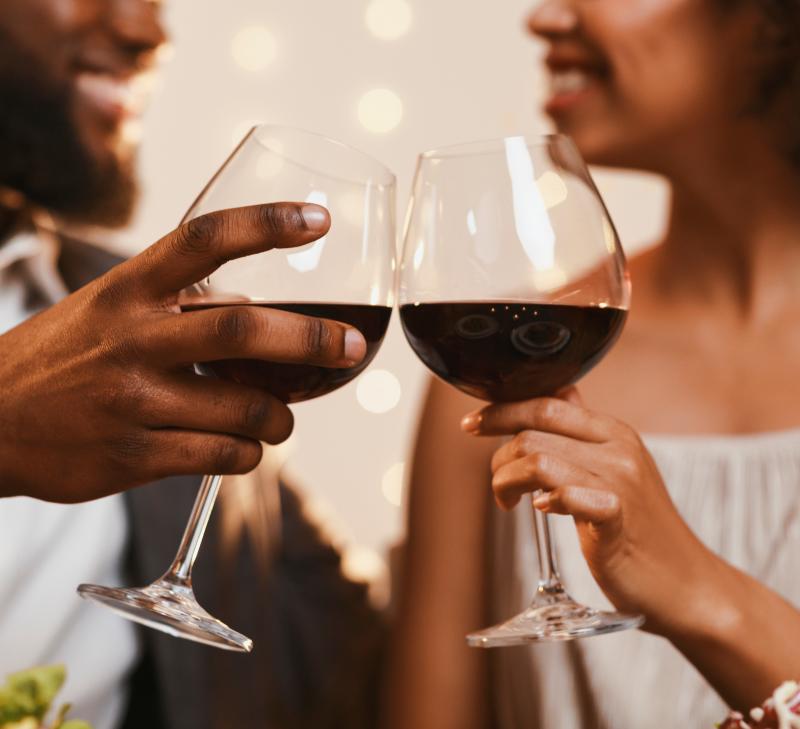 Activities For Wine Lovers
With three different wine trails in the region, there are unlimited wine-tasting possibilities. There are even great options for Non-Drinkers. These three suggestions are some of the most charming in Finger Lakes Wine Country.
Once Finger Lakes
Enjoy a romantic tasting with sweeping views of Seneca Lake from the outdoor deck at Once Finger Lakes in Penn Yan, New York. This tasting room offers a curated selection of wines from the region paired with a menu of food sourced using local ingredients. 
Dr. Konstantin Frank Winery
Dr. Konstantin Frank Winery near Hammondsport, New York is responsible for revolutionizing winemaking in the United States and is one of the oldest wineries in the region. Situated in a building that once housed a pre-Prohibition wine company, The Terrace at 1886 is an outpost that offers a chance to try the winery's full lineup.
Boundary Breaks
Boundary Breaks Vineyard has a strong commitment and love for Riesling. Which is evident from the moment your lips touch this liquid gold. Relax at this beautiful Seneca Lake-front vineyard which is open daily from 11 AM - 5 PM, no reservations are needed. No large groups are allowed, which means that your tasting experience is intimate and special.
Activities For Nature Lovers
You don't have to look far to see nature's beauty when visiting Finger Lakes Wine Country. These three activities are a great way to unplug from life and tap into each other, through nature. 
Chase Waterfalls
Finger Lakes Wine Country has a reputation for being GORGE-ous with over 50 waterfalls to explore with your love. From picturesque potholes to breathtaking cascades visiting the region's iconic gorges will help make your fall getaway dreamy. This Waterfall Guide details the best time to visit, where to park, wheelchair accessibility, and more. 
Take a Fall Foliage Glider Ride
The most unique way to practice leaf peeping is by taking a Fall Foliage Glider Ride with Harris Hill Soaring Corporation. Named the #1 pick of Conde Nast Traveler's list of Best Fall Foliage Adventures in the U.S., Harris Hill Soaring Corporation is open on the weekends after Labor Day until the end of October from 10 AM – 6 PM, weather permitting. The passenger weight limit is 245 pounds. 
Take a Scenic Drive
There is no shortage of scenic views in Finger Lakes Wine Country. The best way to explore more of the region, enjoy the stunning landscapes, and see the changing fall colors is through these scenic drives. Drive through some of the region's charming small towns, antique shops, museums, and wine trails.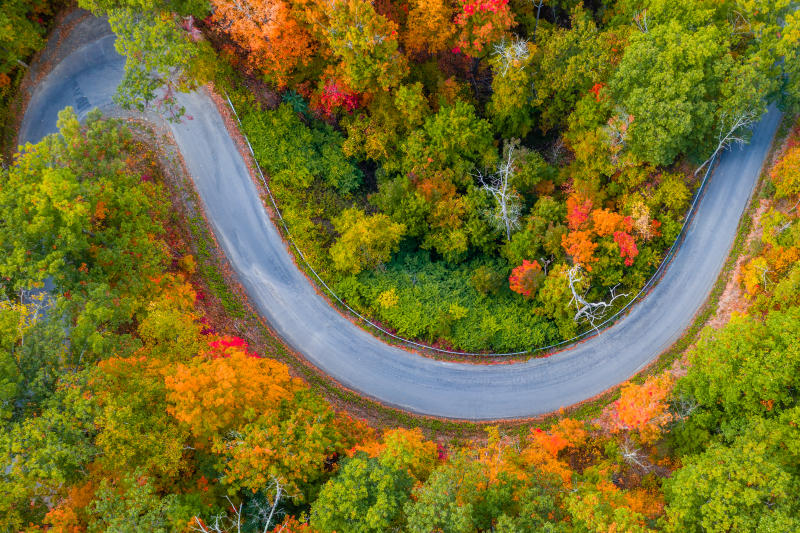 Activities For History Lovers
If you're a pair of passionate history buffs, these three activities will lead to a fun adventure down memory lane. 
National Soaring Museum
Trace the history of motorless flight at the National Soaring Museum in Elmira, New York. View the beautiful, finely-crafted sailplanes from past to present, practice flying with simulators, and see a movie that explains your soaring flight experience. 
Learn about the significant events in history that took place around motorless aviation in the 1930s. You'll also get to check out their collection of soaring trophies and memorabilia telling the early history of soaring and gliding in America. Then watch the gliders take off and land from the air-conditioned Schweizer Gallery. 
Mark Twain Country
Elmira College, founded in 1855 was the first college in the world to offer a bachelor's degree to women and it didn't become co-educational until 1969. Mark Twain's wife Olivia Langdon Clemens is an alumna. When in Elmira, Twain and his family usually stayed with Olivia's sister Susan Crane at Quarry Farm. Twain complained that there were never any quiet spaces for him to work and write, so he had a small octagonal study built on a hill away from the house. It was in this study that he wrote some of his famous novels, including The Adventures of Huckleberry Finn.
The study was eventually moved to the campus of Elmira College to preserve it. You can visit the Mark Twain Study and Exhibit on the campus of Elmira College. Olivia Langdon Clemens is the reason why Elmira, New York is called "Mark Twain Country" and is Mark Twain's final resting place.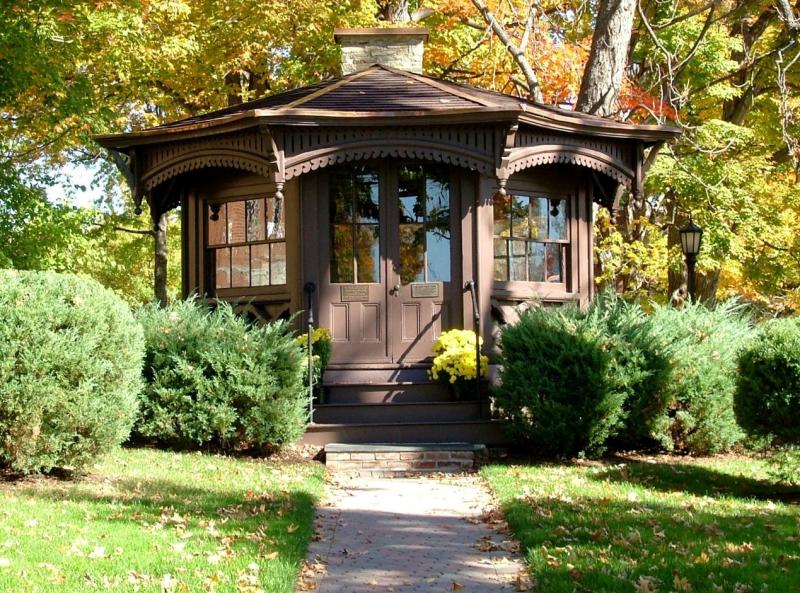 John W. Jones
John W. Jones was an agent on the Underground Railroad that helped over 800 enslaved Americans escape slavery but his story is not widely known. Jones' family home was restored into a museum, which currently stands on Jones' original farm property. Located directly across the street from Woodlawn Cemetery. 
As the sexton for Woodlawn Cemetery, one of Jones' primary roles was to bury deceased Confederate soldiers from the Elmira Prison Camp. Of the 2,973 prisoners who Jones buried, only seven are listed as unknown. Jones kept such precise records that on December 7, 1877, the federal government declared the burial site a national cemetery. 
Woodlawn Cemetery
The most famous people buried at Woodlawn Cemetery in Elmira, New York are Mark Twain and John W. Jones. Within Woodlawn Cemetery is the distinct Woodlawn National Cemetery, where Confederate prisoners from the nearby Elmira Prison were buried during the American Civil War. Both cemeteries are still active and together were added to the National Register of Historic Places in 2004.
Activities For Art Lovers
Corning, New York is a small town with a big reputation. Known as "America's Crystal City", it's home to 169-year-old Corning Incorporated which has been creating glass cookware since CorningWare (1958), and Pyrex (1915). The town has lots of places to visit and create custom glass art and is known for the Corning Museum of Glass, home to Netflix's Blown Away, a competition series featuring the art of glassmaking.
Corning Museum of Glass
From pumpkins, ornaments, and holiday tree sculptures, hot glass work, fusing, and sandblasting are just a few of the classes available to experience at the Corning Museum of Glass.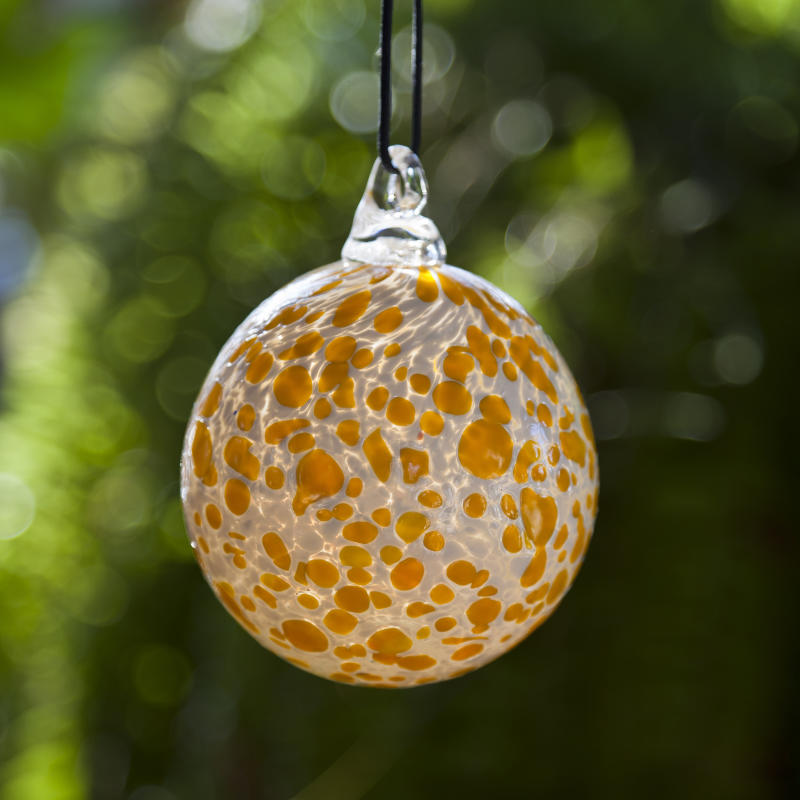 Hands on Glass Studio
At the Hands on Glass Studio you can schedule one-on-one glass-blowing lessons for a more intimate learning environment. 
Vitrix Hot Glass Studio
You're invited to watch incredible glass artists at work at Vitrix Hot Glass Studio located in the historic Hawkes Crystal building. Then step into the gallery and shop the unique vases, ornaments, and perfume bottles. 
Activities For Food Lovers
Finger Lake Wine Country is known for its farm-to-table lifestyle and food, which includes some great vegan options. Fruit picking is not only fun, but it can also make a romantic weekend more memorable. Autumn is synonymous with apple picking in Finger Lakes Wine Country. According to the New York Apple Growers Association, New York State is the second-largest apple-producing state in the country. 
Get your hands on some McIntosh, Empire, Golden Delicious, Rome, Idared, Crispin, and Gala apples this fall! Be sure to call the location to confirm they are still open for the season. 
Apple and Moore
Apples and Moore (formerly Riesinger's Apple Country) in Watkins Glen, NY has over 20 apple varieties available Their website is updated regularly to let you know what apples are available for picking before your visit. Apple Cider is usually available beginning in the second week of September. So you can snack on fresh apple cider donuts homemade every Wednesday, Friday, Saturday, and Sunday.
Apple Barrel Orchards
Offering several varieties of fresh apples and concord grapes for picking is Apple Barrel Orchards in Penn Yan, New York. In their Farm Store, you'll find locally produced fresh apple cider, Apple Butter, fresh baked goods, Caramel Dip, and more. They are open seasonally from September through February. 
Fulkerson Winery
Get a taste of the harvest experience at Fulkerson Winery in Dundee, NY. They offer U-pick grapes and other fruits, vineyard tours, and Home Winemaking Classes.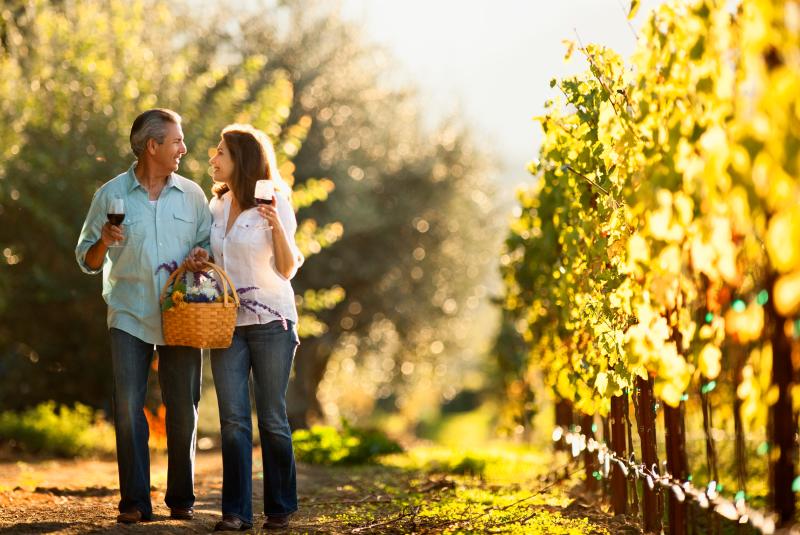 Activities For Spa Lovers
Rest and rejuvenation are key ingredients to a romantic fall getaway. Below are three options for spa lovers. 
Ageless Spa
Treat yourselves to a couples massage and facials at Ageless Spa in Corning, New York. Their extensive menu of services has something for anyone looking to indulge in some self-care and pampering.  
Inner Peace Floats
Floatation Therapy is a relaxation treatment that allows you to tune into your heartbeat and your breathing resulting in deep calm as well as a variety of other benefits. Inner Peace Floats also in Watkins Glen, offers this unique experience as well as massage.
Namaste Spa
Namaste Spa, in Horseheads, NY, will help you find your zen. They offer massage services as well as cupping, body treatments, and pumpkin-infused spa treatments.