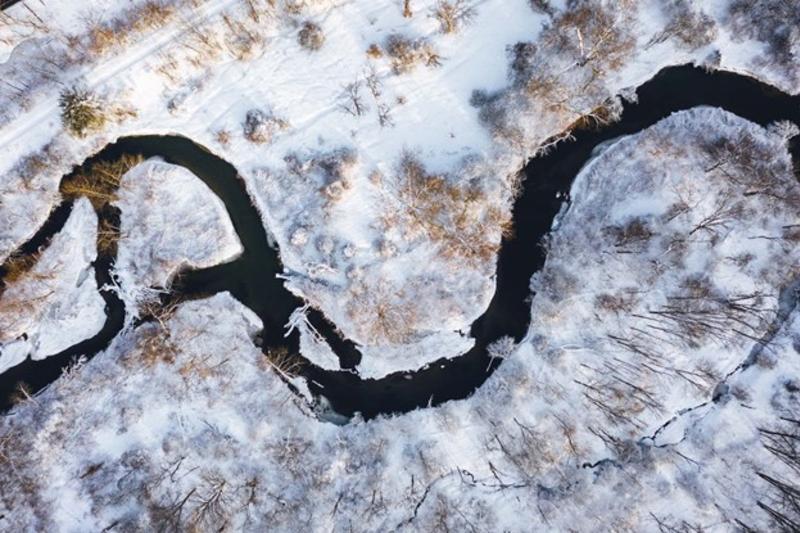 Finger Lakes Wine Country is an all-season getaway, we even like to say that there are five seasons of fun here. Winter is easily one of the most underrated seasons to visit the region and one of the quietest, but that doesn't mean there aren't plenty of outdoor activities for the whole family to enjoy.
Here are just a few of the incredible outdoor activities to enjoy in Finger Lakes Wine Country in the winter.
Snowshoe Rentals
A fun adventurous activity fit for the whole family in winter is snowshoeing on the trails at Tanglewood Nature Center and Museum in Elmira. The trails are open to the public from dawn to dusk, however if you don't have your own snowshoes or crampons you can rent snowshoes for both children and adults from Tanglewood Nature Center during their hours of operation.
Visitors typically spend anywhere from one to three hours exploring the trails and there are trail options for beginners to advanced snowshoe enthusiasts. Please call ahead of your visit as their seasonal hours are different and the facilities are closed on Sundays and Mondays.
Snowmobile & Cross Country Ski Trails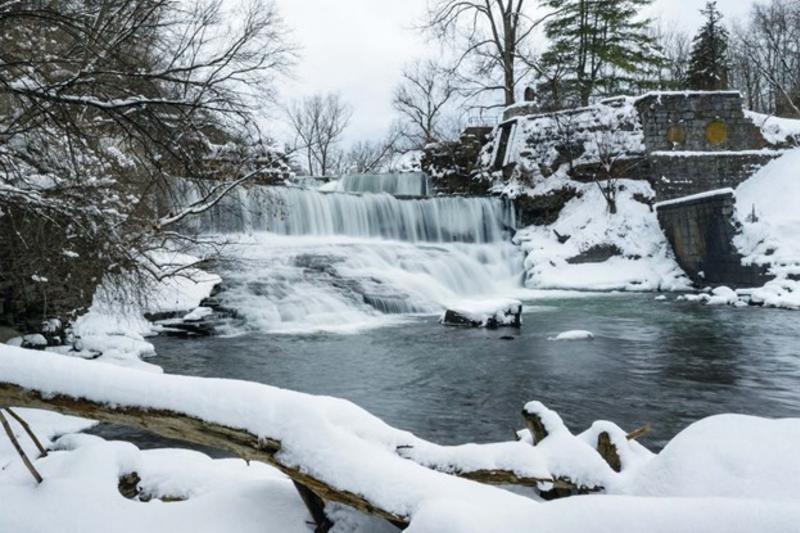 Two favorite wintertime sports to enjoy after a fresh dumping of snow is snowmobiling and cross-country skiing. The Keuka Outlet Trail offers seven miles bordering the Keuka Outlet stretching between Keuka and Seneca Lakes from Penn Yan to Dresden, NY. 
Along the trail, for both winter activities you will be rewarded with the serene nature surroundings as well as gorgeous views of Seneca Mills Falls.
Be sure to visit our small town guide to Penn Yan for before or after your winter adventures where you can grab a bite to eat, shop, or grab a cup of hot coffee to warm you up.
Maple Syrup
Another end of winter time favorite to enjoy in the region is tasting a bit of nature's candy during maple syrup season! Many of our region's farms and orchards produce pure maple syrup and you can not only sample this season's tasty syrup, but also bring it back home to your kitchen.
Be sure to call ahead any of the farms or markets in advance to ensure they are open during your visit, many have special seasonal hours.
Check out some of our farmer's markets that are open year-round like Parluski's Farms in Bath, Engelbert Farms in Nichols, Stewart's Family Farm in Hornell, Chamberlain Acres Farmer's Market in Elmira, Painted Post Farmers Market in Painted Post, Oak Hill Bulk Foods in Penn Yan, Apple Barrel Orchards in Penn Yan, Thyme Stands Still Farm Stand in Burdett, and Oak & Osage Farm in Hammondsport to name a few.
Winter Wines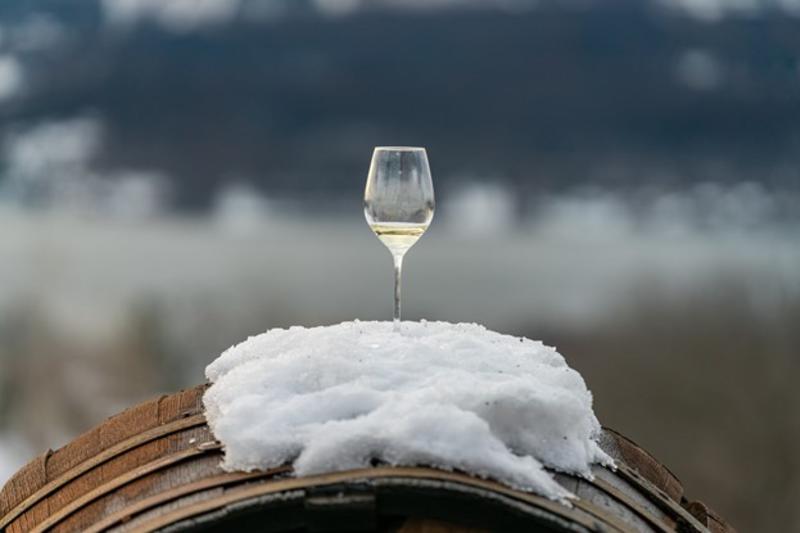 Winter in Wine Country is one of the most exciting times to enjoy some of our award winning wines from our region. While enjoying a tasting at one of our wineries requires a little planning ahead as some tasting rooms are only open seasonally and those that do have wine tasting available often have a different schedule for the slower, winter months.
We advise to call ahead to any wineries you plan on visiting before your visit to ensure they are open during that time/day.
You can still enjoy some of our wines without visiting our cellars and wineries by picking up bottles at the winery retail shops or any of our local wine retailers who are open year round.
During the winter months, you may want to enjoy some of our specialty wines from the colder months including ice wines which are a type of dessert wine which are known for being sweeter produced from grapes that have been frozen still on the vine. 
See our 5 Chilly Ice Wine Cocktail Recipes too for more fun ideas for enjoying this seasonal specialty.
Another wintertime favorite for drinking are fortified wines like Sherry or Ports known for their higher alcohol content. Winemakers add a neutral grape spirit, like brandy, to the wine which is where you get the elevated alcohol content from and is often consumed in the colder months.
Fortified wines are complex in flavor and are often used in mixed drinks too, we have 5 Fortified Wine Cocktail Recipes you can try this winter.
There's also something so nice about a good red wine on a cold winter day or night which our region has a great selection of red wines. Be sure to check out these 5 Red Wine Cocktails too.
Winter Horseback Riding
Just outside one of Watkins Glen you can enjoy winter horseback riding at Painted Bar Stables who offers horseback riding experiences year round by appointment only.
Bundle up and saddle up for a wintery horseback riding adventure.
Visit our small town guide for Watkins Glen for more ideas nearby before or after your winter horseback riding adventure.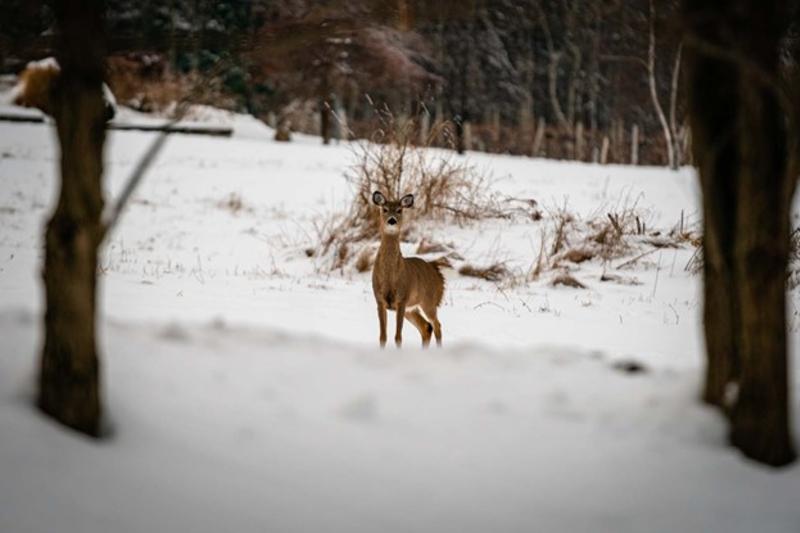 Winter Camping
Not for the faint of heart, but another adventurous winter activity in the region for those who love the chilly wilderness is primitive backcountry camping in Italy Hill State Forest in Branchport off of Keuka Lake.
This style of camping offers no amenities and are for the serious outdoor enthusiasts who like to camp with everything on your back and the winter backdrop and crisp cool air make for an unforgettable experience. Anyone participating in primitive camping in the area must follow these guidelines from New York State's Department of Environmental Conservation.