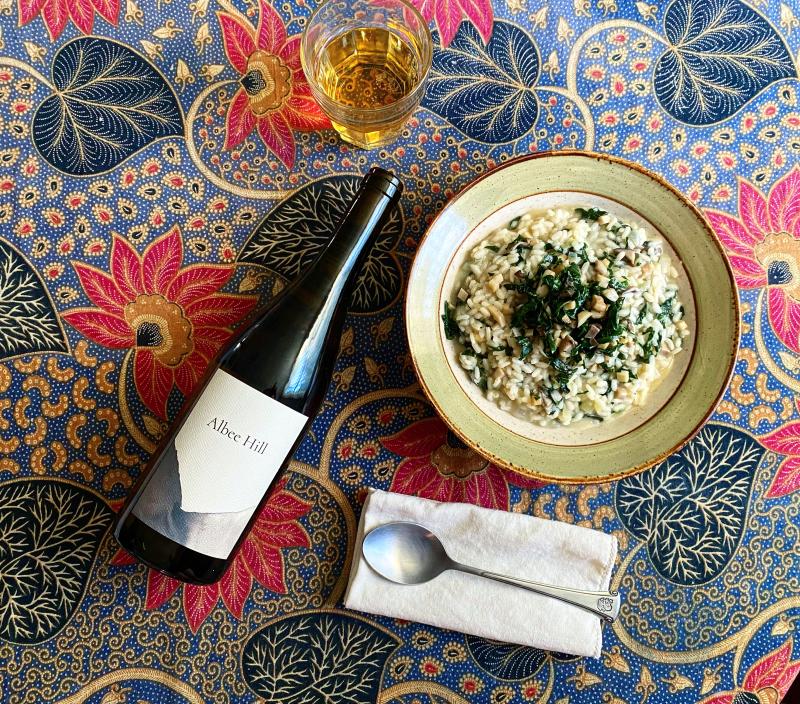 Mushroom and Kale Risotto with Albee Hill Still Dry Cider
As the golden light of September illuminates the fields and lakes with its warm glow, the harvest celebration in the Finger Lakes begins. A simple and satisfying risotto for dinner helps calm the busyness of early autumn. Earthy mushrooms and kale compliment the creaminess of the rice, and Eve's Cidery Albee Hill still dry cider lends the dish a gentle, apple-y sweetness. Raise a glass of cider to celebrate the enormous bounty of the Finger Lakes harvest season!
YIELD: 6 servings
EQUIPMENT: Large frying pan or dutch oven, saucepan, knife, cutting board, cheese grater
DIETARY INFO: Vegetarian, gluten-free, contains dairy
INGREDIENTS:
7 ounces wild mushrooms

4 ounces kale leaves, finely chopped

8 tablespoons (1 stick) unsalted butter, divided

5 cups vegetable stock

1 medium onion, finely chopped

1 ½ cups arborio rice

4 tablespoons freshly grated Parmesan cheese

3 tablespoons fresh lemon juice (about 1 lemon)

Kosher salt and freshly ground pepper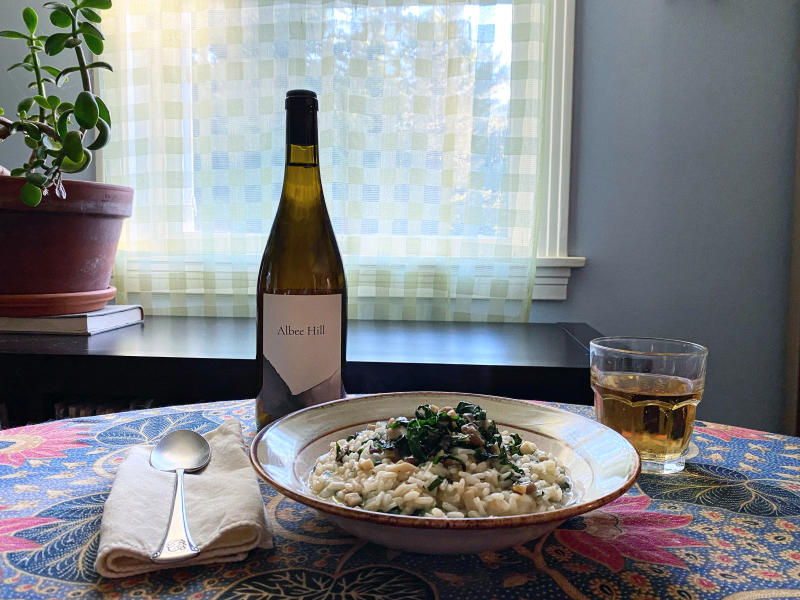 DIRECTIONS: 
Clean mushrooms thoroughly with a dry paper towel. Slice thinly. In a large frying pan with high sides or a dutch oven, heat 4 tablespoons of butter over medium-high. Add sliced mushrooms and cook for about 4 minutes, or until lightly browned. Add chopped kale leaves and saute until just wilted. Remove mushrooms and kale from the pan and set them aside.

Heat the vegetable stock in a saucepan until almost boiling. Cover and keep warm over a low flame. In a frying pan or dutch oven, heat 2 tablespoons of butter over medium-low heat. Add onion and cook for 5-7 minutes, or until just translucent and soft. 

Increase heat to medium-high and add rice to onions. Stir until the rice is well coated with butter and begins to turn opaque, about 3 minutes.

Add cider to the pan and allow to come to a boil. When the cider has almost evaporated, reduce heat to medium and begin adding the hot stock, one large ladleful at a time, stirring gently until the liquid has been almost completely absorbed by the rice. Add the next ladleful of stock and repeat until the rice is tender and creamy. This process should take about 20 minutes.

When rice is tender and creamy, stir in most of the mushroom-kale mixture, reserving about ¼ cup for serving. Stir in the remaining butter, Parmesan, and lemon juice. Season to taste with salt and pepper.

Serve the risotto topped with a bit of the mushroom-kale mixture and toast the glory of September with a glass of Eve's Cidery Albee Hill still dry cider.