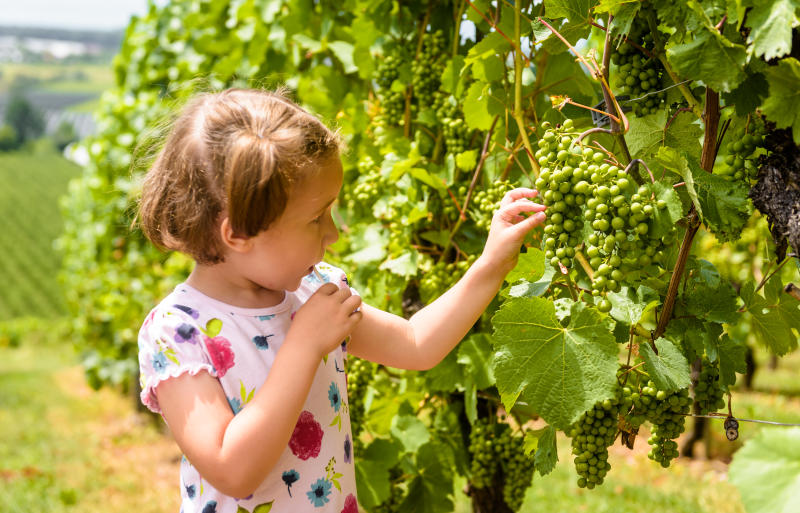 Traveling with your family creates a lifetime of memories and Finger Lakes Wine Country has so much to offer families of all sizes and kids of all ages. These family-friendly wineries, restaurants, and activities cater to families by providing welcoming, easygoing experiences that visitors of all ages will enjoy. 
From wineries with pet donkeys and glass-blowing workshops to kid-friendly restaurants and the New York Ice Cream Trail, we've found fun activities that the whole family will love. Use the locations listed below as a starting point for your unforgettable family trip to Finger Lakes Wine Country.  
Wineries 
Many of our wineries have plenty of outdoor space for the kids, while the adults can sip and sample our award-winning wines. However, these places have a few extra options that the kiddos will enjoy. 
On the Seneca Lake Wine Trail, you'll find Wagner Vineyards Estate Winery and Glenora Wine Cellars. Wagner Vineyards Estate Winery in Lodi, New York was the first winery on the east side of Seneca Lake. Here you'll find a winery, brewery, and restaurant with a stunning Seneca Lake view. The kids can choose between smooth and creamy root beer or Blush Grape Juice. While you choose between their estate-grown Riesling, Chardonnay, and more. 
Glenora Wine Cellars in Dundee, New York was the first winery on Seneca Lake and has a lot to offer a visiting family. This winery resort has more to offer than just delicious wine slushies, including a restaurant and a thirty-room Inn on site. Making it a great place to make your home base. The Inn at Glenora offers stunning views and comfortable accommodations. At Veraisons Restaurant your family can enjoy regional cuisine, featuring seasonal, locally sourced menus.
If you're looking for more wine slushies visit Swedish Hill Winery in Romulus on the Cayuga Lake Wine Trail. Here the kiddos can choose between two grape juices. The Concord Grape juice is thick, sweet, and tart and their White Grape Juice is sweet and dry. While you sip on your slushie the kids can pet Doobie, the winery's donkey, and say hi to Sven, the miniature horse. 
Activities 
From camping and hiking sites to waterfall sightings, there is no shortage of family-friendly outdoor activities to engage in. Eldridge Park in Elmira, New York has a something for everyone, including walking trails, a skate park, picnic areas, rides and more! The Tanglewood Nature Center in Elmira has a kid-friendly sensory trail. This 0.19 mile mulched loop trail has a treehouse, imagination stations, climbing walls and more. This trail can be a muddy or bumpy for strollers. 
Farm Sanctuary in Watkins Glen, New York is a bed and breakfast and animal shelter that focuses on educating guests about farm animal issues and creating a bond with the rescued animals. Your family can book a tour of the 275-acre farm which is home to more than 600 rescued cows, pigs, turkeys, and other farm animals — each with a special story. 
Take a goat farm tour at Side Hill Acres in Candor, New York. Meet the goats and learn how to milk one by hand! Then tour the cheese plant and learn how their goat cheese is made.
At Hawk Meadow Farm in Trumansburg, New York your family can learn about the ecological, social, cultural, and medicinal roles of the mushroom kingdom. See what it takes for a Shiitake to end up on your dinner plate and then take some home with you from their farm store! Tours last about an hour, involve some walking and cost $12.00 per person. Tours are available from May through September by reservation only. 
Many incredible museums in the region will keep the kids engaged and excited. Get a combination ticket for The Rockwell Museum and Corning Museum of Glass, in Corning, New York and save! There's a free shuttle between the two museums that also stops on Market Street in Corning. The Rockwell Museum has a kid-friendly scavenger hunt, plus an Art Lab around the corner from the Museum. This interactive family studio offers hands-on play and crafts. The Corning Museum of Glass not only has a collection of nearly 50,000 objects related to glass. It offers glass-blowing classes and workshops for all ages and skill levels.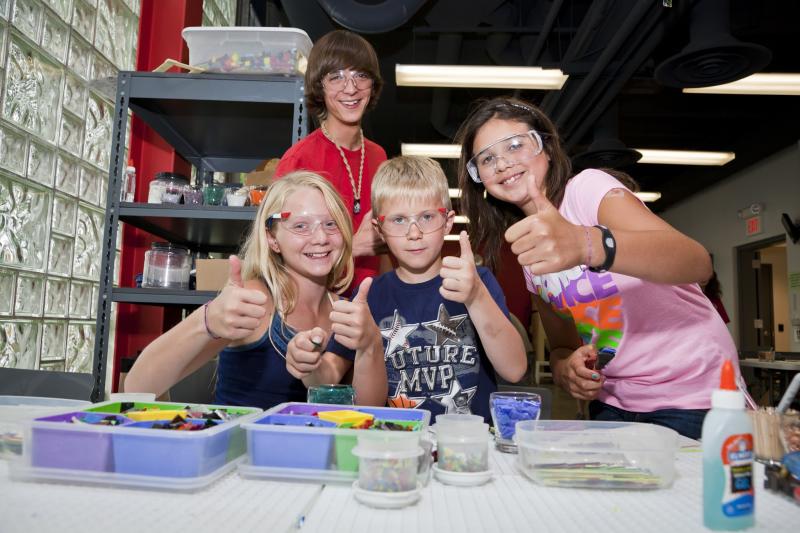 The Café at The Corning Museum of Glass is one of the best museum cafes you'll ever visit. It's the perfect place to grab lunch with your group. Choose between salads, sandwiches, pizza, and the noodle bar, we suggest the Ramen. 
Restaurants 
If you're in the mood for "high-end low brow food" enjoy the locally sourced hot dogs, sausages, and hamburgers at FLX Wienery in Dundee, New York. The kids can enjoy cane sugar soda, and homemade milkshakes and you can get your milkshake spiked if you like! 
For some variety head to Thai Elephants in Watkins Glen. Here you'll find something for everyone. The food is fresh, delicious, and served unbelievably fast. After dinner take a stroll to Seneca Harbor Park harbor and enjoy the view from the pier.
If you're looking for some lakeside family fun The Switzerland Inn aka The Switz in Hammondsport, New York is your place. Right on Keuka Lake, The Switz has live music, great fish, and an affordable kid's menu. It's the perfect place to end your day with dinner and a little dancing. Be sure to request a table on the downstairs deck if you want to dance the night away. 
After you dine on the famous Beer Battered Fried Chicken prepared daily at Seneca Farms in Penn Yan. You can walk over to the retro ice cream shop which has over 50 flavors of homemade ice cream! Seneca Farms is open seasonally from the first Friday in March through the end of October.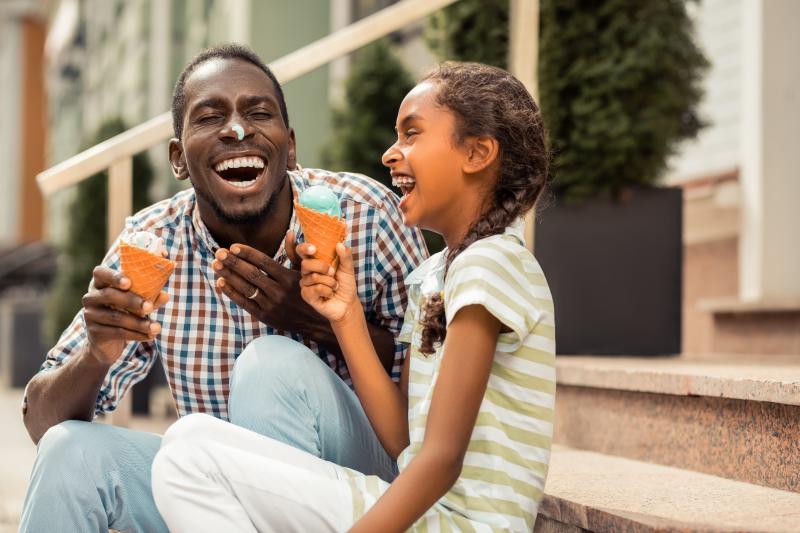 Crooked Lake Ice Cream Company is the coolest ice cream shop in America's coolest small town, Hammondsport, NY. For more than 30 years this family-friendly classic 50s diner has been a local and tourist favorite. The best part is you'll want to take your ice cream to go- Keuka Lake is only a 2-minute walk from the shop. 
Did you know that there are a few New York Ice Cream Trail destinations in the region? In Corning, you'll find Dippity Do Dahs, which features a local artist every month. Seasonal hours and ice cream flavors. Choose between 22 signature flavors, fun seasonal quality homemade ice creams along with sorbets, vegan and, no sugar-added options made in shop. 
Your family vacation won't be complete without visiting Corning's Chocolate Trail. Be sure to stop at Dimitri's Confectionary Treats​ for the homemade Ghirardelli treats they specialize in. Don't forget to visit Slammin' Jammin' BBQ for their chocolate soda ice cream float. 
Where to Stay
For the most convenient access to activities, we recommend staying along Keuka Lake, Seneca Lake, or Cayuga Lake. These are the most central options in the area and will be a scenic 30-60 minute drive to most activities, wineries, and restaurants. 
If the primary needs of your family include a pool, breakfast, and wifi these are the perfect options. The Best Western Plus Vineyard Inn & Suites in Hammondsport, New York offers exceptional value and comfort.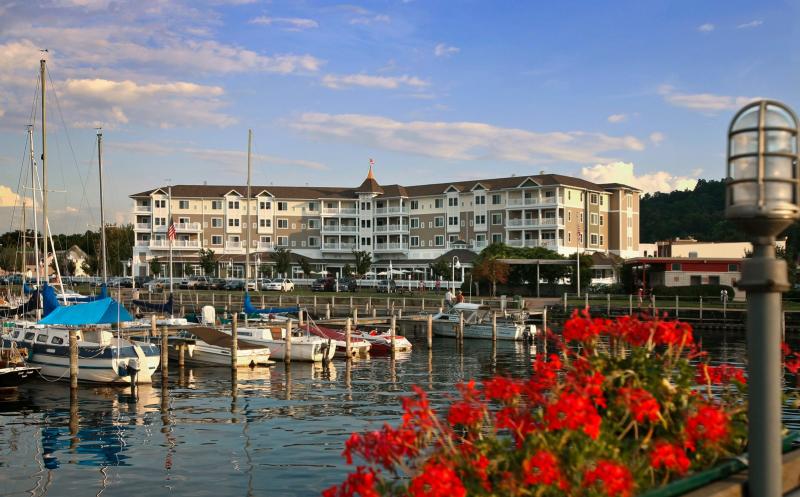 The Watkins Glen Harbor Hotel, in Watkins Glen, New York was named America's Most Beautiful Waterfront Hotel by USA Today readers. As the area's only AAA Four Diamond property, some of the amenities include spacious guest rooms and suites, an indoor swimming pool and hot tub, and a fully-equipped fitness center. Your family can also enjoy a meal on-site at the Blue Pointe Grille restaurant. 
If you prefer to rent a family-friendly vacation property take a look at the the charming Sleepy Bear Lodge. This three bedroom home is tucked inside the Sugar Hill State Forest. Here you can enjoy the countless trails and private catch and release fishing pond on 46 acres of private land. The Seneca Lake Effect is perfect for large groups with 6 bedrooms, 6.5 bathrooms, and full lake views throughout the common area. The recently renovated basement area offers a pool table, ping pong, movie projector, surround sound, and more.  
As a reminder: At most places well-behaved and well-supervised children are the norm. The suggested places are family-friendly, but kids can't explore on their own, since most wineries are working facilities. Feel free to explore these locations with your child and point out fun new things, but please don't let them roam on their own.