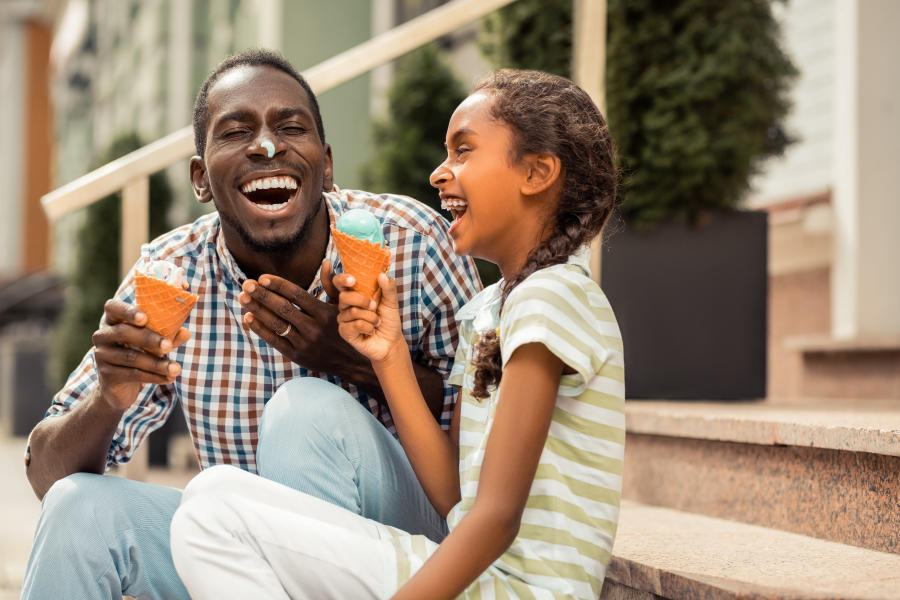 Finger Lakes Wine Country has a long list of creameries that will delight ice cream and cheese lovers. A hot summer's day and ice cream are best friends and what would a cheese-lover love more than learning how to milk a goat by hand? 
We've got the scoop on the best places to get your frozen fix. Along with where to shop for artisan cheeses. From cow cuddling to cheese and ice cream flights this guide will give you a sweet look at wine-and-cheese country. We've also included locations with vegan and non-dairy ice cream options. Remember it's always best to bring cash as some of these places are cash-only. 
Penn Yan, New York 
Sweet
At Spotted Duck Creamery in Penn Yan, you'll find award-winning organic frozen custard made from organic milk and cream, house-made vanilla, and duck eggs. Open Thursday through Tuesday from 12 PM to 8:30 PM during the summer. Some of the unique seasonal flavors include Fleur Blue made with (organic, local) blueberries, hints of French lavender, and their classic vanilla cream base. Java Junction, Caramelt, are other popular flavors along with their dairy-free Blueberry Streusel. 
Savory
Northeast branch of Keuka Lake….After you dine on the famous Beer Battered Fried Chicken prepared daily at Seneca Farms in Penn Yan. You can walk over to the ice cream shop which has over 50 flavors of homemade ice cream! Seneca Farms is open seasonally from the first Friday in March through the end of October.
Nearby You'll Find..
The Bieber Normande Dairy - The Cheese Shop is a family-owned and operated dairy farm in Prattsburgh, NY.  Located on the historic Pratt Farm they specialize in the distribution of the area's finest handmade cheeses from independent cheesemakers. They also raise beef, chicken, turkeys and produce maple syrup. 
Crooked Lake Ice Cream Company is the coolest ice cream shop in America's coolest small town, Hammondsport, NY. For more than 30 years this family-friendly classic 50s diner has been a local and tourist favorite. The best part is you'll want to take your ice cream to go- Keuka Lake is only a 2-minute walk from the shop. 
Shtayburne Farm Creamery in Rock Stream, NY is a family-owned dairy farm with farm-fresh cheese, handcrafted ice cream, and over three generations of experience. They control every aspect of their rich cheese creations. They grow the crops, milk the cows, and process and package the cheese. Their cheese and ice cream flights are a must-try! 
Parulski Farms in Bath is a 400+ acre family-run farm that produces 6 flavors of cheddar cheese, 6 flavors of jack cheese, and 5 flavors of cheese curd as well as their 2 yr old cheddar. Their farm store is open daily from 10 am- 5 pm year round. Check out these great cheeses as well as the meats that they raise on their farm and all the other local products they offer in their store including honey, maple syrup, jams, teas, etc. Call to schedule a farm tour.  Order online or give them a call to double-check the inventory and schedule a farm pick-up.
Stewart's Family Farm and Creamery in Hornell offers a farm store that is open 4 days a week year-round, selling their own dairy products like milk, goat cheese, and ice cream in addition to bulk food and pantry items including baking ingredients and seasoning to fresh baked goods and soft serve ice cream.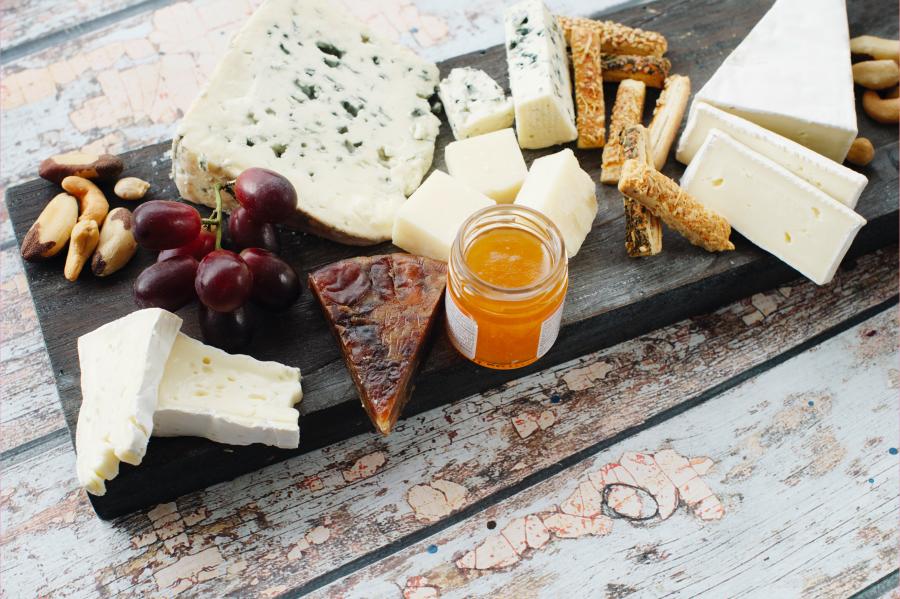 After a short tour and cheese sampling at Sunset View Creamery in Odessa, you'll have a chance for some cow cuddling. Then head to the farm store and bring home your choice of cheese, cheese curd, raw milk, and more. 
Watkins Glen
Sweet
The Winner's Circle Ice Cream is a walk-up ice cream stand with 24+ flavors of soft custard desserts, no sugar ice cream, and non-dairy treats. Hand-dipped ice cream & delicious Texas hots are also served.
The Great Escape Ice Cream Parlor is the local vintage spot that's been serving up homemade ice creams, novelties, cakes, and Italian gelato, as well as a variety of popular vegan and non-dairy options for over 39 years. Located just one block from the famous Watkins Glen State Park this family-owned and operated business is fondly known as the "Big Yellow Ice Cream Shop". 
Colonial Inn and Creamery in downtown Watkins Glen is just one block north of the beautiful Watkins Glen State Park & five short blocks south of Seneca Lake. In addition to pottery, they make homemade dairy and vegan ice creams & waffle cones. 
Savory
Browse an assortment of cheeses from local creameries at Seneca Cheese Company and take a taste of the Finger Lakes home with you. And enjoy their large selection of local wines and craft beers available on-site paired with a cheese flight or board,  charcuterie platter, a gourmet grilled cheese sandwich, cheesy pretzels, or cheesecake.
Corning, NY
Sweet
Old World Café & Ice Cream Parlor in downtown Corning's Gaffer District is a great spot for old-world charm and comfort food. Delicious ice cream treats like freshly baked desserts and old-fashioned candy can be enjoyed at this vintage Victorian-style cafe.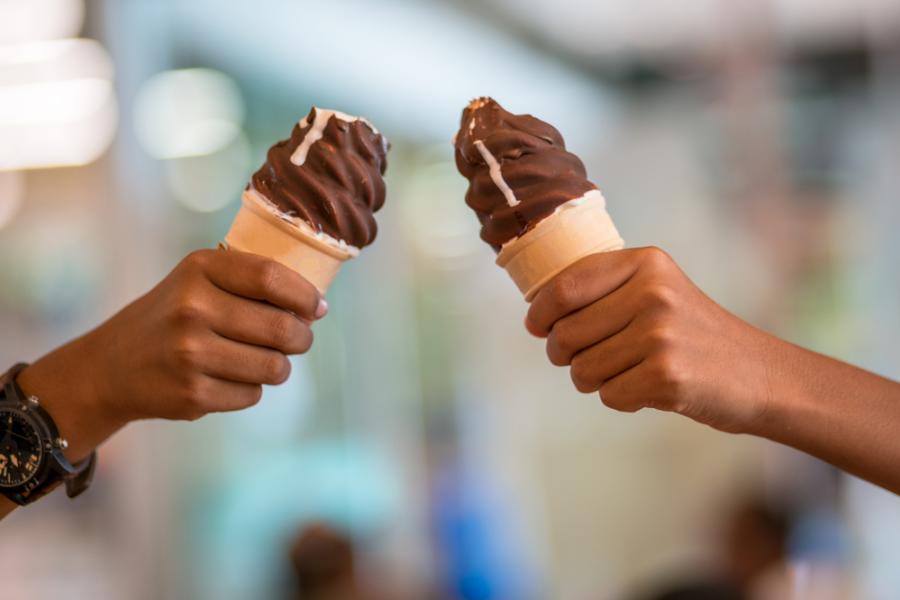 Two minutes away at Dippity Do Dahs Homemade Ice Cream, they feature a local artist every month. Seasonal hours and ice cream flavors. Along with signature flavors including vegan options you can find ice cream cakes, cookie pizzas, smoothies, and more. 
Nearby You'll Find..
Savory
Golden Age Cheese Company is an online wholesale and retail cheese manufacturer located in Woodhull, NY. They produce several types of 100% natural cheese every day. From fresh Mozzarella, Mild to aged Cheddars, Fresh Plain and Flavored Cheddar Cheese Curds, Specialty Cheddars, a variety of Smoked Cheeses, and more! 
If you have a craving for soft serve, classic ice cream flavors, or boozy ice cream treats visit The Dairy Barn in Horseheads, NY. This original 100-year-old Dairy Barn is cash-only and has line dancing every other Tuesday night. 
Candor, New York 
Sweet
Craving Non-Dairy Dole Whip? Head to Hi Way Dairy Bar in Candor for their local take which could include lemon or mango! This family-owned business is cash-only and a community landmark. They offer soft and hard ice cream in a variety of ice cream flavors and ice cream cakes and more. 
Savory
Side Hill Acres Goat Farm in Candor, NY are producers of gold medal award-winning goat milk cheese. As a family-operated goat dairy, they are committed to maintaining herd health as well as premium quality handcrafted goat milk products. Visitors can tour the farm, tour the cheese plant and learn how our cheese is made, mingle with the goats, and learn how to milk a goat by hand!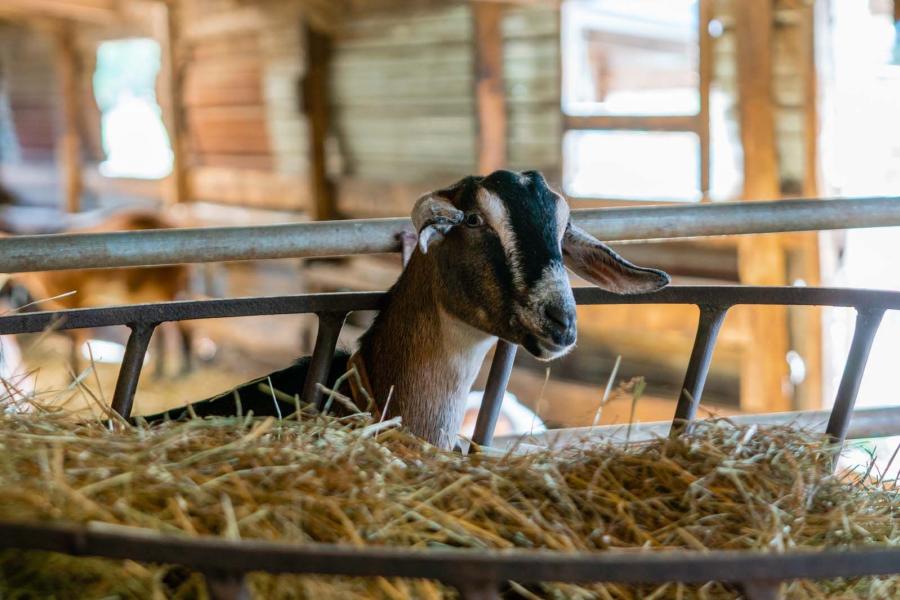 Nearby You'll Find..
Big Dipper Ice Cream in Apalachin, NY is a family-friendly ice cream stand with a small playground and many ice cream choices. 
Ice Cream Works! is a family-owned ice cream shop in Owego offering many kinds of ice cream,  food, custom cakes, and homemade ice cream sandwiches. They even have an ice cream truck that you can book for your next event!
Maple Lawn Dairy Restaurant in Elmira, NY is a family-friendly restaurant serving daily homemade specials and desserts for over 35 years. It's one of the places you can get homemade ice cream year-round.
Nichols, NY
Sweet
Dad's Ice Cream in Nichols, NY is a seasonal favorite with a large selection of Perry's Ice Cream flavors. Along with soft serve, sundaes, and floats. You can eat outside at a picnic table, or stay inside so your ice cream doesn't melt.
Savory
Engelbert Farms in Nichols is the first certified organic dairy farm in the United States since 1984 and offers certified organic products in their farm store and kitchen located in a historic creamery building. Here you can find 16 varieties of hand-made artisan cheeses as well as farm-raised organic meats, produce, and items from nearby farms. open year-round, Thursday through Saturday.