Celebrate the harvest in a unique and memorable way this autumn at The Corning Museum of Glass.

Changing leaves are transforming the landscape and the smell of autumn fills the air. At the Museum, we celebrate this transition with our annual glass pumpkin harvest. Join us in welcoming the new season!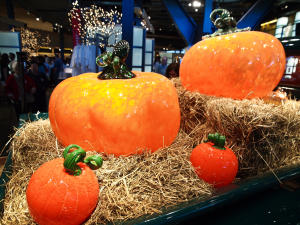 Experience Them
You've seen big pumpkins, but never one this big made of glass! Made by our Museum glassmakers, the giant pumpkin, which measures 97 inches (more than 8 feet) in circumference and weighs in at 70 pounds, is a popular part of our Fall Glass Harvest celebration. Browse The Shops to pick your perfect pumpkin to take home!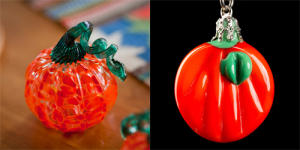 Make Them
Try your hand at making your own glass pumpkin. Our artists will help you blow a pumpkin sculpture or flamework a pumpkin pendant. This experience is a seasonal favorite, so book early.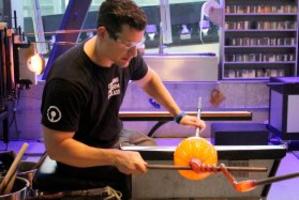 See Them Made
See how our famed glass pumpkins are created in these special demonstrations.
Pumpkin Making Marathon
Columbus Day weekend only, glassblower demonstrations on the Courtyard Stage show how the glass gourds in our Farmers Market are made.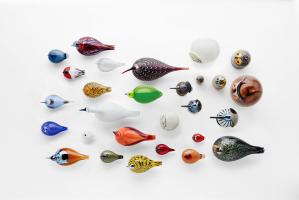 Imagination to Creation: Oiva's Birds
September 28 - 30
Finnish glassmaking comes to Corning! The Corning Museum of Glass is excited to host guest glassmakers Helena Welling and Juha Saarikko. Both gaffers are visiting from the littala factory in Finland for a celebration of renowned designer Oiva Toikka's glass birds. Don't miss glassblowing demos by Finnish glassmakers, a live bird display, and bird life history hosted by Tanglewood Nature Center and Museum.
Join us for the unique opportunity to watch as gaffers Helena Welling and Juha Saarikko produce Oiva Toikka's famed bird designs in the Amphitheater Hot Shop. This demo is included in the cost of admission.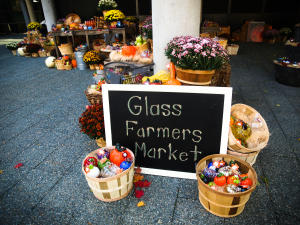 Glass Farmers Market
Jump into Fall and shop the Glass Farmers Market from September 29 - October 9. Enjoy a full Fall display where you can choose from thousands of glass pumpkins, apples, acorns, and more.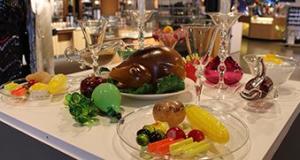 Glass Holiday Feast
The Hot Glass Show team has created a glass holiday feast featuring meal staples like turkey, ham, mashed potatoes, and green beans. The feast grows each year as gaffers create and bring their favorite dishes to the table.

Last Chance for Tiffany!
Don't miss the opportunity to see Tiffany's Glass Mosaics, on view now through January 7, 2018.
Save these dates!
Family Night
September 22
Behind The Glass: Rakow Commission
November 9
2300° Craft Beer Tasting
November 16
See all upcoming events at cmog.org/events