Chicken Panzanella and J.R. Dill's Sauvignon Blanc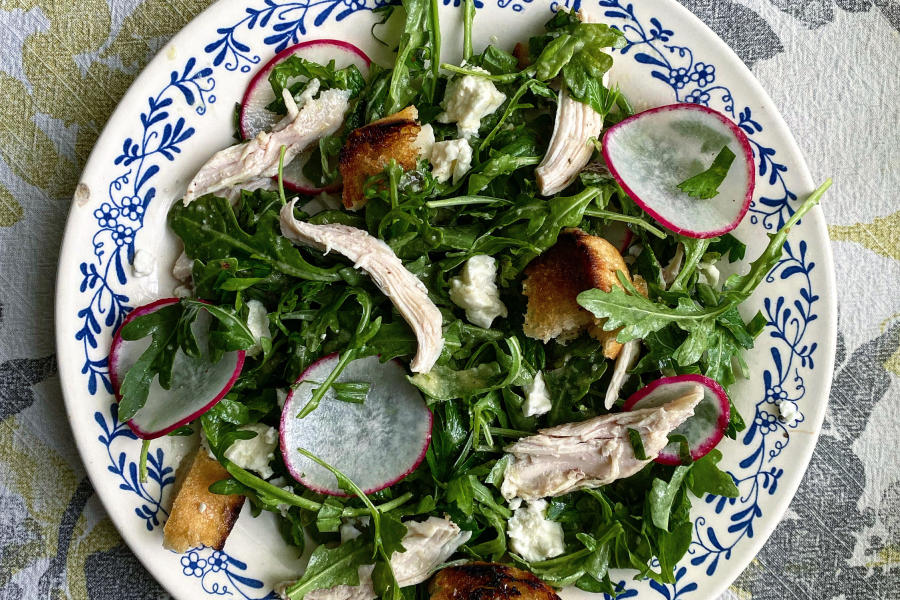 Traditionally a summer salad consisting of juicy tomatoes and stale bread, panzanella makes a perfect light supper. Here we've swapped out the summer produce with the abundance of herbs and greens that are the hallmark of spring in the Finger Lakes. Tangy sourdough bread and creamy fresh cheese from some of our region's finest dairies make every bite of this salad a delightful contrast in texture and flavor. The herbaceous notes of J.R. Dill's Sauvignon Blanc both serve as a backbone for the salad dressing and also complement the meal perfectly when served alongside. This dish and a chilled bottle would be excellent fare for the first lakeside picnic of the season!
YIELD: 4 servings
EQUIPMENT: Small oven-safe dish, aluminum foil, cutting board, knife, blender, skillet, large bowl
INGREDIENTS:
For the Chicken:
1 pound boneless, skinless Autumn's Harvest chicken breasts (about 2 large breasts)

1 large onion, peeled and sliced into ½" rings

1 tablespoon olive oil

1 teaspoon kosher salt

½ teaspoon freshly cracked black pepper
For the Dressing:
2 teaspoons Dijon mustard

2 tablespoons spring honey, such as Bright Raven Farm Spring Bloom honey

6 tablespoons lemon juice, plus more to taste (about 2 large lemons)

⅔ cup olive oil

Kosher salt and freshly cracked pepper (to taste)
To Assemble:
2-3 tablespoons olive oil

2-3 1" thick slices (about 9 ounces) sourdough bread, such as Wide Awake Bakery's Gary's Bread

2 ounces parsley (1 small bunch), finely chopped

1 cup (packed) tender herb leaves, such as basil, tarragon, mint and/or dill

4-6 ounces baby arugula or other tender young salad green

8 ounces soft cheese, such as Remembrance Dairy's Fromage Blanc or Lively Run Dairy's Chevre, crumbled

4 ounces radish, very thinly sliced with a sharp knife or a mandoline
DIRECTIONS:
Cook the Chicken:
Preheat the oven to 350 degrees Fahrenheit. Place sliced onions in the bottom of a small casserole dish. Pour olive oil and wine over onions. Lay the chicken breasts over the onions and sprinkle with salt and pepper. Cover dish tightly with a lid or a piece of aluminum foil and bake on the bottom rack of the oven for 30 minutes.

After 30 minutes, remove lid or foil and move dish to the top rack of the oven. Bake for 20-30 minutes longer, uncovered, or until the chicken is cooked through.

Remove dish from oven and carefully move the chicken aside to a plate or a cutting board until cool enough to handle. Reserve onions and wine mixture for dressing.
Assemble Dressing:
In the basin of a blender, combine 1 reserved cooked onion slice, 1 tablespoon of the chicken cooking liquid and remaining dressing ingredients, including a healthy pinch of kosher salt and black pepper.

 Blend on high until dressing is completely smooth. Taste and adjust seasoning– it should be bright and slightly sweet. Add more lemon juice if it's tipped over to dessert territory, add more salt if it seems a little flat. 
Assemble Salad:
Warm 2 tablespoons olive oil in a skillet set over medium heat. Arrange bread slices in a single layer in skillet. (You may have to work in batches to fry all of the bread). Toast bread until golden brown and crispy on one side, about 4-5 minutes. Flip bread slices and fry the other side until just golden, 1-2 minutes.

Remove bread slices from pan and allow to cool slightly. Cut off any thick crusts and tear fried bread into loose 1" chunks.

Shred cooked chicken breasts. In a large bowl, combine herbs, arugula, shredded chicken and fried bread chunks. Drizzle about half of the dressing over and, with clean hands, toss gently to coat. Add cheese crumbles and sliced radishes and toss gently to incorporate, adding more dressing if necessary. (You may have dressing left over)

Arrange salads on plates and pour everyone a glass of J.R. Dill's Sauvignon Blanc as you toast the spring season!