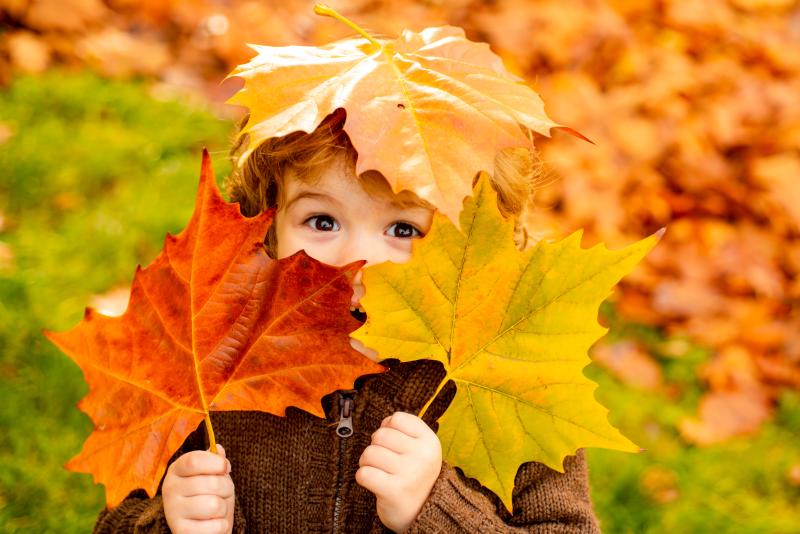 A fall trip to Finger Lakes Wine Country is ideal for families who enjoy amazing hikes, hands-on activities, and stunning lakeside views. This Finger Lakes Wine Country family-friendly fall travel guide will help you plan your next visit and create fun family memories.
There's a chill in the air as trees start bursting with colors, and the fall foliage brings leaf-peepers and photographers. From chasing waterfalls to picking pumpkins, grapes, and apples, get ready for an active exploration of the region. 
*If you suffer from seasonal allergies be sure to check the pollen count before your visit. 
Where to Stay
Farm Sanctuary
Farm Sanctuary is a bed and breakfast and shelter that focuses on educating guests about farm animal issues and creating a bond with the rescued animals. The 275-acre Watkins Glen farm is home to more than 600 rescued cows, pigs, turkeys, and other farm animals — each with a special story. 
During your stay at Farm Sanctuary, the family can take a tour of the shelter with one of their tour guides, meeting rescued farm animal friends along the way. You must be a Farm Sanctuary member to book. Become a member for a full year with a simple $25 donation.
The kids will love watching the pigs frolic in the adjacent pasture as you sip coffee on the front porch of one of the cottages. Free Wi-Fi is provided for checking email and general internet searching however streaming is not available. Each cabin does have a TV with a DVD player where the family can watch a film from their "Compassionate Collection" video library. Each morning they serve up hot, home-cooked vegan breakfasts.
Seneca Sol Glamping
Have a family glamping adventure at the pet-friendly Seneca Sol Glamping in Burdett, NY. This eco-friendly safe space has 6 spacious glamping tents to choose from. There's even a small catch and release pond stocked with bass and bluegill. Each tent has a private balcony. There is a modern spa-like bath house with hot water, large private shower rooms, private bathrooms with flushing toilets, and a communal sink area. 
The Lounge tent has 5G WiFi and a fully equipped outdoor kitchen with multiple refrigerators. There is on-site charging capability for all your devices, and a complimentary continental breakfast that offers something for all diets. Here you will enjoy locally roasted coffee and assorted teas in the morning and a nightly campfire with complimentary s'mores. For another glamping option, check out Naturluxe & Stars.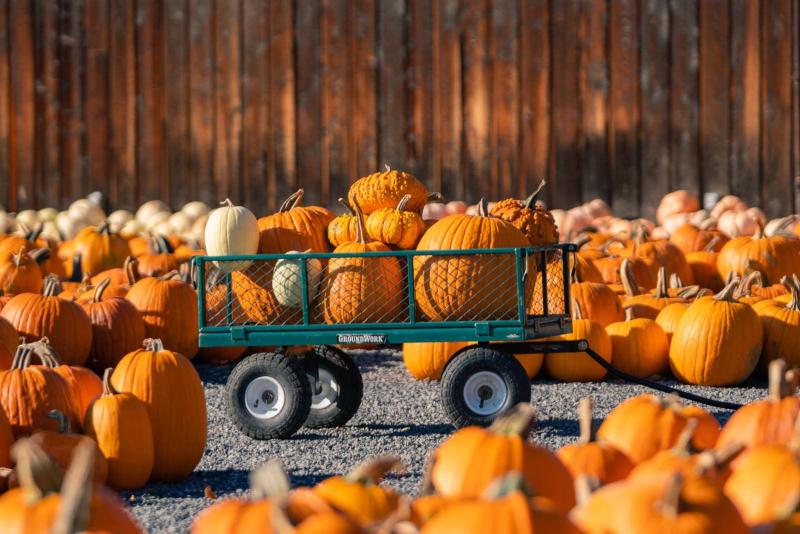 Pumpkin Patching
As you travel through the region, you'll notice plenty of pumpkins in many of the farmers' stands. Make sure to stop in to collect your pumpkins for the season, and don't miss out on the corn mazes and other fun activities many of them have in place! Some considerations are:
Smithome Farms Pumpkin Patch
Smithome Farms Pumpkin Patch in Elmira is the only local pumpkin patch that allows you to pick your pumpkin in the field. It also has a 3-acre corn maze, apple cannon, hayrides, haystack hunts, and duck races. Enjoy a casual lunch of hot dogs, cider, fresh mini donuts, and kettle corn for a fun family day. Smithome Farms Pumpkin Patch is open 11:00 AM - 5:00 PM September 17th – October 30th  Saturday, Sundays & Columbus Day/ Indigenous Peoples Day.
Iron Kettle Farm
Iron Kettle Farm in Candor, NY has built a reputation for its spooktacular pumpkin display and corn maze. Weekend activities begin September 17th and weekday hours begin in October. Hours are Saturday-Sunday 10 AM - 5:30 PM and Monday- Friday 12-5:30 PM. Please call and check their Facebook Page for the most up-to-date details. 
Bradley Farms
Not only are there thousands of pumpkins to explore and select from at Bradley Farms, in Elmira, NY. The farm is celebrating the town's 200th birthday with their 2022 corn maze and new phone-based game! Wagon rides, all of your favorite fall baked goodies, hot foods, our famous candy apples in several flavors, and of course. Bradley Farms is open Mon- Saturday 10 AM - 6 PM, Sunday and Monday 10 - 3. Their annual Phantom Phrightnights haunted attractions open in October. 
Corning Museum of Glass
From September 6-November 27, 2022 the Corning Museum of Glass will be offering two family-friendly pumpkin-themed classes. Their Blown Pumpkin Class is open to all ages. While their Pumpkin Pendant Class which teaches a Flameworking technique is for ages 10 and up. Experience this seasonal favorite as a family and create a new tradition of making unique glass pumpkins.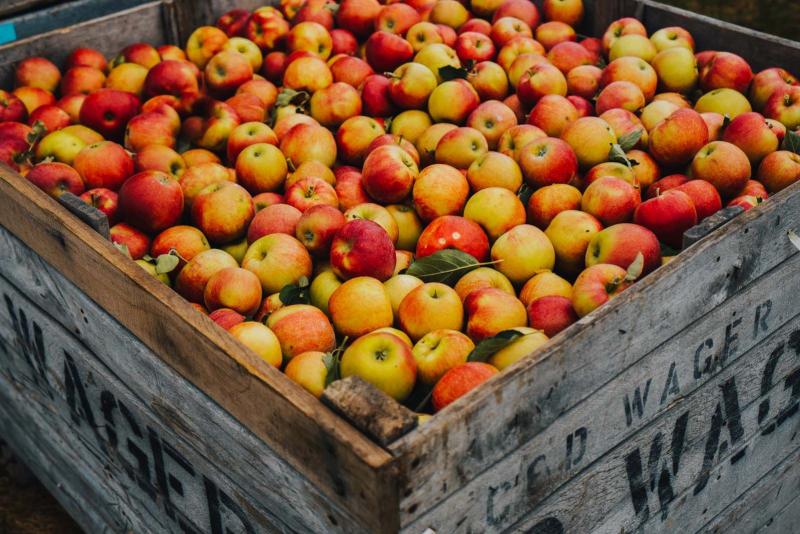 I Pick, U-Pick
McIntosh, Empire, Red Delicious, Cortland, Golden Delicious, Rome, Idared, Crispin, Paula Red, and Gala. Autumn is synonymous with apple picking in Finger Lakes Wine Country. According to the New York Apple Growers Association, New York State is the second-largest apple-producing state in the country. There are several apple orchards and farms with seasonal picking schedules. Here are some places where you can pick the apples perfect for your pies and buy a few bottles of apple cider.
Apple and Moore
Although Apples and Moore (formerly Riesinger's Apple Country) in Watkins Glen, NY has over 20 apple varieties available, strolling through their fifty acres you can also pick pumpkins. Their website is updated regularly to let you know what apples are available for picking before your visit. 
Apple Cider is usually available beginning in the second week of September. Fresh apple cider donuts are homemade every Wednesday, Friday, Saturday, and Sunday. Farm hours during harvest are 7-days a week 9:00 AM – 6:00 PM.
Apple Barrel Orchards
Apple Barrel Orchards in Penn Yan is a third-generation family-owned fruit farm. This year they are opening in early September. Offering several varieties of fresh apples and concord grapes for picking. In their Farm Store, you'll find locally produced fresh apple cider, Apple Butter, fresh baked goods, Caramel Dip, and more. 
Fulkerson Winery
Get a taste of the harvest experience at Fulkerson Winery in Dundee, NY. They offer U-pick grapes and other fruits, vineyard tours, Home Winemaking Classes, and Winemaking Juice. 
When these U-Pick farms begin to close for the season, step out of the orchard and into the Farm Stores for fresh regional and seasonal ingredients.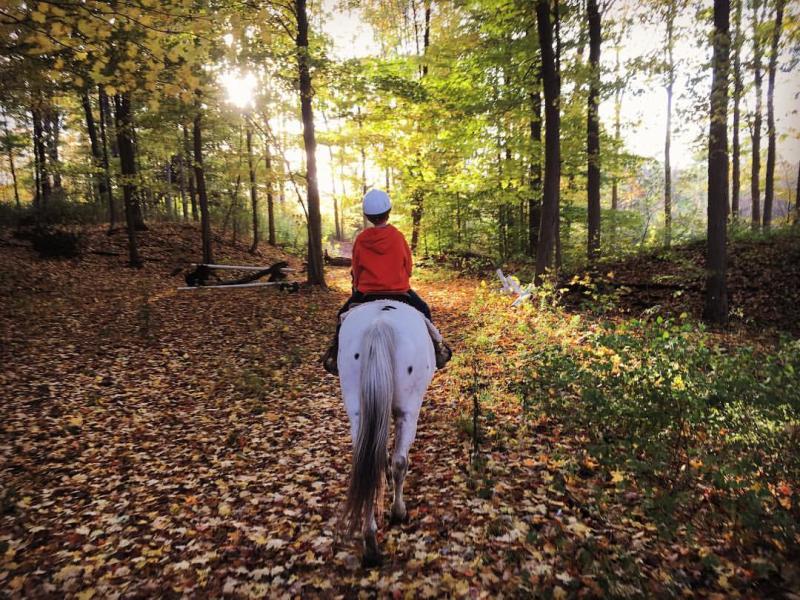 Leaf Peeping
A crisp fall day is a perfect time to explore the region as a family. Hiking is one of the best ways to get into nature and enjoy the colorful fall foliage. 
The Finger Lakes National Forest alone, which spans between Seneca and Cayuga Lakes in the Finger Lakes region, has 30 miles of interconnecting trails that traverse gorges, ravines, pastures, and woodlands. Other trails to explore are:    
Tanglewood Nature Center, in Elmira, NY - Check out their website for trail maps. Please note, dogs are not allowed on trails leading out or into the nature center. The map includes 5 easy, family-friendly trails to explore. All trails walked together make up a 5K loop with diverse views, from mixed forests to meadows. Also great for winter snowshoeing.
Catharine Valley Trail runs from Montour Falls, NY to Horseheads, NY - This easy 6-mile trail follows an abandoned railroad and canal towpath corridors, and passes through a variety of wildlife habitats. Perfect for walking, bicycling, cross-country skiing and snowshoeing. Two dogs maximum allowed per visitor/group.
With 19 waterfalls, caves, and stone bridges it's clear why Watkins Glen State Park was voted NY's #1 state park by USA Today. The Glen Creek Gorge Trail is an hour-long hike on a moderate trail with lots and stairs and waterfalls. Be sure to start early if you want to miss the crowd. 
Here are three more unique and adventurous ways to practice leaf peeping this fall. Make sure you reserve early as these activities often go till the end of October and book up fast!
Peep the Fall Foliage from the water on a kayak or paddleboard guided tour with Summit to Stream Adventures in Watkins Glen, NY. Painted Bar Stables in Watkins Glen, NY offers small group rides and beautiful fall trail rides for the entire family. Children 10 years or older are allowed to do trail rides, while children ages 8 and 9 are required to ride in a Trail Experience Lesson before trail riding. 
Take a Fall Foliage Glider Ride with Harris Hill Soaring Corporation for breathtaking aerial views. Named the #1 pick of Conde Nast Traveler's list of Best Fall Foliage Adventures in the U.S., Harris Hill Soaring Corporation is open on the weekends after Labor Day until the end of October from 10 AM – 6 PM, weather permitting. The passenger weight limit is 245 pounds.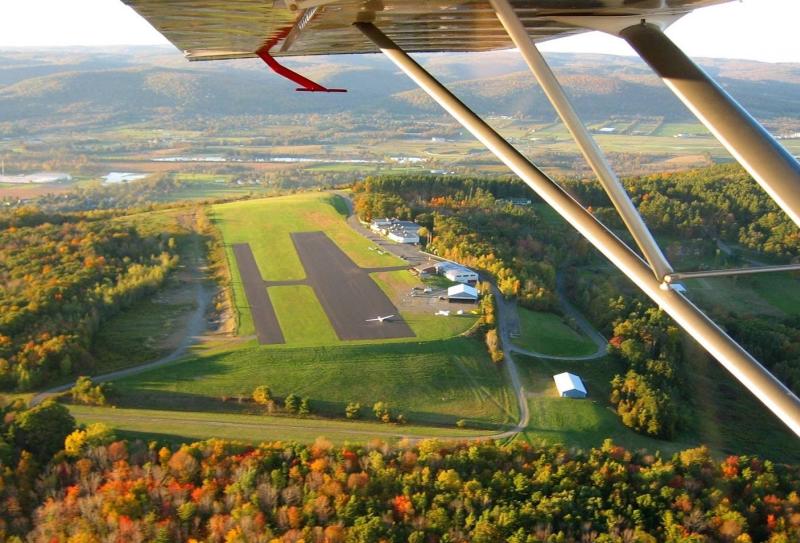 Rainy Day Suggestions
Visit these 5 Amazing Finger Lakes Museums to visit on a Rainy Day. Or explore more of the region with a scenic drive if the weather becomes an issue. The Seneca Lake Scenic Byway will take you past wineries, cideries, distilleries, breweries, restaurants, and farms. Allowing for some great stops along the way. It also has great places to watch the sunset overlooking Seneca Lake.