"Perhaps you've heard that we make some fantastic wine here in the Finger Lakes. While our Rieslings, Cabernet Francs, and Pinot Noirs, consistently take home medals, wine isn't all we do with grapes. The native varietals like sweet Concord and Catawba make a mean pie. This local specialty is sweet and jammy, baked into a perfectly flaky crust -- and available at many cafés, bakeries, roadside stops, and restaurants in the region. Enjoy it with a pour of one of the region's delightful dessert wines."
- Rochelle Bilow, "Local Favorites" in Finger Lakes Wine Country's Travel Magazine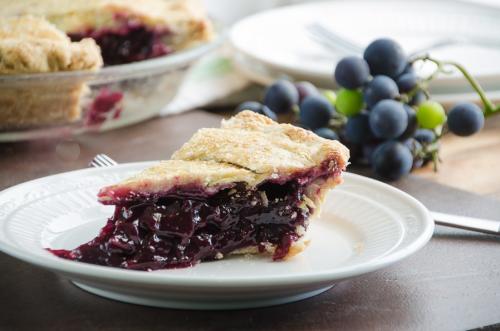 Ingredients
1 recipe-prepared, double-crust pie dough
1 ½ pounds Concord grapes (after removing from stems)
¾ cup plus 2 tablespoons sugar
2 ½ tablespoons cornstarch
1 ½ tablespoons freshly squeezed lemon juice
1 tablespoon unsalted butter, softened
Instructions
Wash grapes and discard any that are under-ripe, damaged, and blemished. Remove skins form grapes by pressing them between your thumb and forefinger. Put the skinless grapes in a medium saucepan. Reserve the skins.
Gently mash the grape pulp in the medium saucepan to release their juice. Cook over medium-low heat until grapes come to a full boil, and simmer, covered, for 5 minutes.
Remove from heat and allow to cool completely. Press the grapes through a fine sieve and discard the pits. In a heavy bottomed pot, combine the grape pulp, grape peels, and all the remaining ingredients. Bring to a simmer over low heat, stirring continually until the filling is slightly thickened and bubbly. Remove from heat and allow to cool completely.
Preheat oven to 400° with a rack in the bottom third of the oven with a pizza stone or baking sheet on it.
Transfer filling to pie dish lined with prepared pie shell. Attach top crust, crimping edges to seal. Cut six small slits in crust. Place on pizza stone or baking sheet, protecting edges with a pie ring.
Bake for 30 minutes at 400°, then reduce heat to 375° and bake 25 to 30 minutes more. Cool at least three hours before cutting.
(Courtesy of Jennifer Morissey at HomeinTheFingerLakes.com)