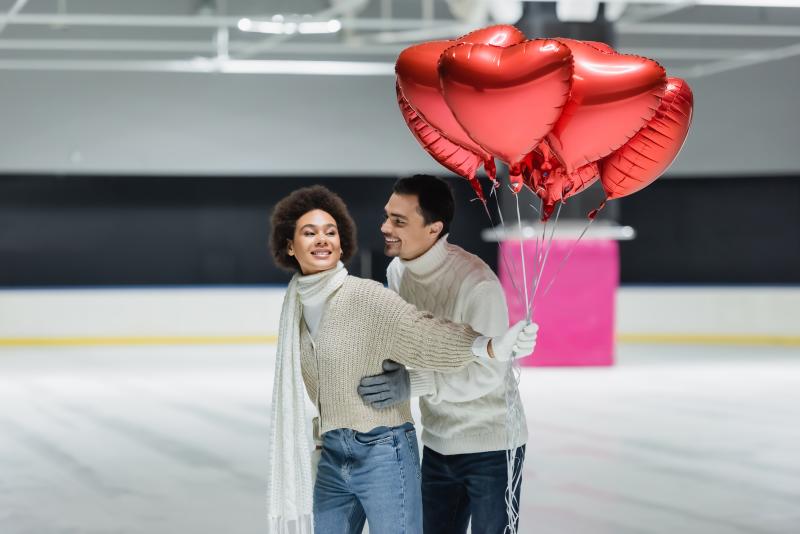 Since the 1300s lovers and friends have exchanged little and not-so-little nothings on February 14th in celebration of Valentine's Day. Americans spent over $20 billion on Valentine's Day gifts in 2019 and were expected to spend a record-breaking $27.4 billion for 2020 according to the National Retail Foundation. But who needs jewelry or chocolate when you can create memories that last a lifetime?
We previously shared a great list of Romantic Gift Ideas in Finger Lakes Wine Country. From snowshoeing to couples massages this time we're focusing on the incredible activities, eateries, and romantic places to stay in the region with your love that will help ignite the spark!
Events + Activities 

Sweet Treats for your Sweetheart
Cayuga Lake Wine Trails introduces Sweet Treats for your Sweetheart (or friends). Stop at 6 different wineries for local ……wine paired with different decadent treats and a rose. You'll even take home a souvenir sparkling wine glass and a digital recipe book to recreate your favorite sweets.
When: Saturday, February 11, 2023 10 AM - 4 PM
Where: Cayuga Lake Wine Trail
Price: $115 * plus service fees and sales tax. 
Purchase your tickets here. 
Annual Sweetheart Pairing Event
The Annual Sweetheart Pairing Event celebrates Valentine's Day and Galentine's Day at Wagner Vineyards Estate Winery with delectable award-winning wines and local dessert pairings. With the help of Laurabelle's Cupcakery, four made-from-scratch desserts will be paired with Wagner wines for this year's Sweetheart Weekend Wine & Dessert Pairings.
When: Saturday, February 11, 2023 and Sunday, February 12, 2023 11:30 AM - % PM
Where: Wagner Vineyards Estate Winery
Book your table here. 
Buttonwood Grove OUTDOOR EXPERIENCE: Kick Off 2023
Kickoff to the new year with a Super Bowl themed event that's fun for the whole family! Relax near outdoor cauldrons overlooking the vineyards and Cayuga Lake while you enjoy food and wine pairings. Including house-made chocolate bark and local cheese, accompanied by a sample of one of their recent NY Wine Classic Gold Medal winners. Then, warm up with a cup of hot cocoa mixed with ever-delicious Blackberry Briar. Capped off your tasting with a guided tour of our production facility, including a tank sample of a not-yet-bottled wine.
Footballs are welcome, and other lawn games will be provided by Buttonwood Grove. Be sure to bring your snowshoes, cross country skis, or hiking boots and venture out on a self-guided trek through their rolling vineyards. Do you want to build a snowman or would you rather sit by the crackling fire as you make s'mores?  
When: Friday, February 10th-12, 2023 
Where: Buttonwood Grove Winery
Price: $25
Get your ticket here. 
Clute Park's Ice Skating Rink
If snowshoeing and cross country skiing sound a bit extreme, opt for ice skating at Clute Park's Ice Skating Rink next to the Seneca Lake Event Center in Watkins Glen. For only $7 you can glide over the ice with someone special before a romantic meal. Hours of operation are Monday - Thursday 4 PM - 8 PM, Friday 4 PM - 9 PM, Saturday 11 AM - 9 PM, and Sunday 11 AM - 7 PM. 
Namaste Spa
Self-care is a worthwhile activity as well and a couple's massage at Namaste Spa could be exactly what you two need to reconnect. Their Love at the Spa Package includes an hour massage, facials for two, and 45 Minute Infrared Sauna Session. There's no better way to pamper your lover and yourself this Valentine's Day. Find even more ways to relax here.  
Romantic Stays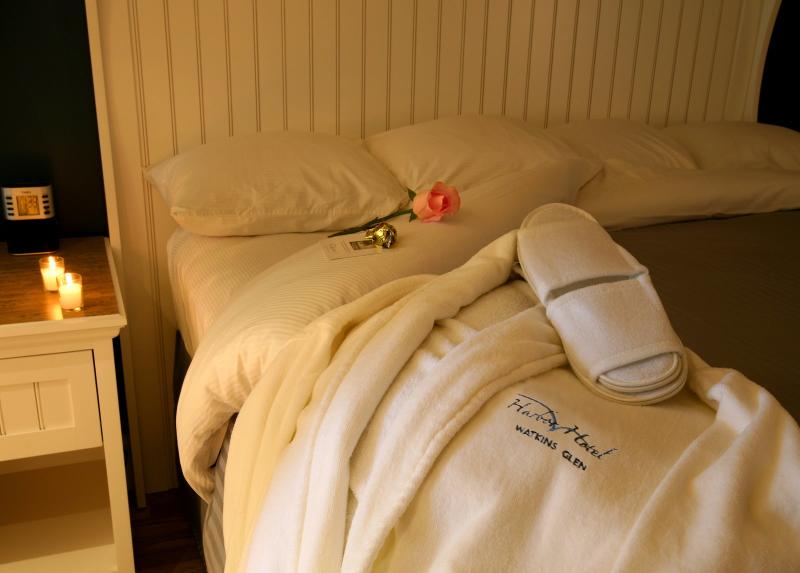 Los Gatos Bed and Breakfast
Los Gatos Bed and Breakfast is the solar-powered home nestled between Seneca and Keuka Lakes just outside Penn Yan. Relax on the swing overlooking the valley or warm up near the fire pit after your daily activities. In the morning enjoy a country-style breakfast in their dining room or the enclosed sunroom. Including custom-blended house coffee and home-made baked goodness or delicious egg dishes. 
1819 Red Brick Inn
Listed with the State and National Historic Register, the 1819 Red Brick Inn in Dundee, NY is an outstanding example of Federal architecture in central New York. Nestled in Crystal Valley between Keuka and Seneca lakes, this charming 1819 Federal-style home offers five guest rooms, each featuring country views, a private bath, sitting area, and guest-controlled thermostat. Each guest room is decorated with some period furnishings as well as custom pieces made by a local Mennonite woodworker
Begin your mornings by the pond enjoying the music of chirping birds. After a day of activities curl up with a good book in the parlor or just lay back and relax in their cozy hammock.
Watkins Glen Harbor Hotel
Named "Best Waterfront Hotel in the Nation" by USA Today, the Watkins Glen Harbor Hotel in Watkins Glen is the area's only AAA Four Diamond property. Nestled on the shores of Seneca Lake in the picturesque town of Watkins Glen this hotel sets the standard for luxury accommodations and is the perfect place to call home when exploring the area. 
Many of the 104 spacious guest rooms and suites have panoramic lake views and balconies. Guests have access to their indoor swimming pool and hot tub, fully-equipped fitness center, and knowledgeable concierge to help you plan your stay. Too tired to go out to dinner after a day of exploring? Enjoy upscale dining and cocktails at Blue Pointe Grille and Coldwater Bar, loved by hotel guests and local residents.
Pleasant Valley Inn
You'll find four inviting guest rooms at Pleasant Valley Inn in Hammondsport. Each with a luxurious queen-size bed and private bath. This chef-owned country Inn in the "Coolest Small Town in America," features gourmet dining in a relaxed Victorian atmosphere.
The restaurant features everything from fresh seafood and prime steaks to house-made pasta and desserts along with an extensive wine list. Their small pub serves as the perfect spot for an after dinner cocktail by the fireplace. A continental breakfast is served each morning on the patio overlooking the vineyards.
The Park Inn
Above the restaurant are the five beautifully restored room suites of Park Inn. Mixing modern-day luxuries and the building's historic architecture. Each suite has a king or queen bed with luxury linens, a private bathroom with a shower, TV, wifi, bottled water, and a coffeemaker. Most rooms also include a sitting room with a pull-out couch. Due to the historic nature of the Inn, only children 13 and over are allowed.
The Restaurant at The Park Inn is seasonally focused, with an emphasis on locally produced and sourced ingredients. The kitchen is directed by Chef Dan Eaton, who had a 20-year professional cooking career that led him to Rooney's, 2Vine, Rio Bamba, Bouley in New York City, and Auberge du Soleil & The French Laundry in Napa Valley, California. 
To complement Chef Eaton's locally focused cuisine is a 200+ selection wine list directed by Sommelier Jason Ferris. The Park Inn's wine list splits its focus between both the Finger Lakes and international regions renowned for the cool climate wines our region emulates.
The bar at The Park Inn is a piece of Hammondsport history, showcasing original crafted woodwork, inlays, and style. The craft cocktail menu focuses on well-executed classics and house specialties that incorporate locally sourced seasonal ingredients such as fruits, herbs, and purees. The full dining menu is also available at the bar, offering the perfect chance for a more social dining environment or just a quick bite before bed.
Looking for even more romantic accommodation options? This list of Charming B&Bs for Your Next Romantic Getaway includes a location that offers a gift package with couples massages, a private candlelit farm-to-table dinner, and more. 
Romantic Eateries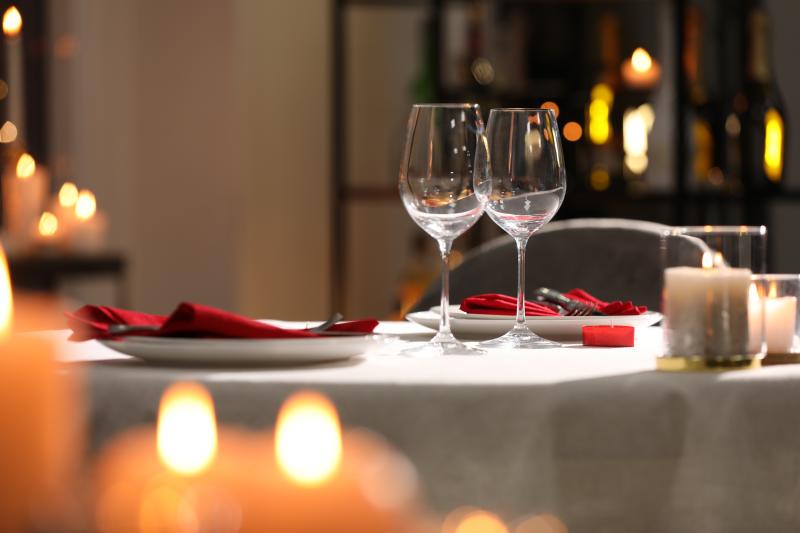 GRAFT Wine + Cider Bar
If you're looking to be wined and dined head to GRAFT Wine + Cider Bar in Watkins Glen. The only wine and cider bar in the area exclusively serving a variety of New York State hand-crafted wines, ciders, and beer. GRAFT Wine + Cider Bar highlights premium Finger Lakes producers on a rotating, seasonally focused bar and kitchen menu thoughtfully prepared by popular regional chef, Orlando Rodriguez. 
The Cellar
Enjoy the hip & trendy vibe of The Cellar, Corning's premier wine and martini bar. Here you'll find a unique fine dining experience extending their casual and relaxed lounge atmosphere in an upscale restaurant. Chef Michael Lanahan has crafted a menu focused on modern fusion cuisine. Featuring unique dishes that blend global culinary traditions and stylings, incorporating locally farmed produce as available. 
Veraisons Restaurant
Celebrate with the one you love at Veraisons in Dundee at the Inn at Glenora Wine Cellars. February 11-13, 2022 they will be offering Valentine's Day Dining in addition to the regular menu. They will be offering lunch and dinner specials with a shared dessert. Reservations are strongly suggested. 
Romantic Wine Tasting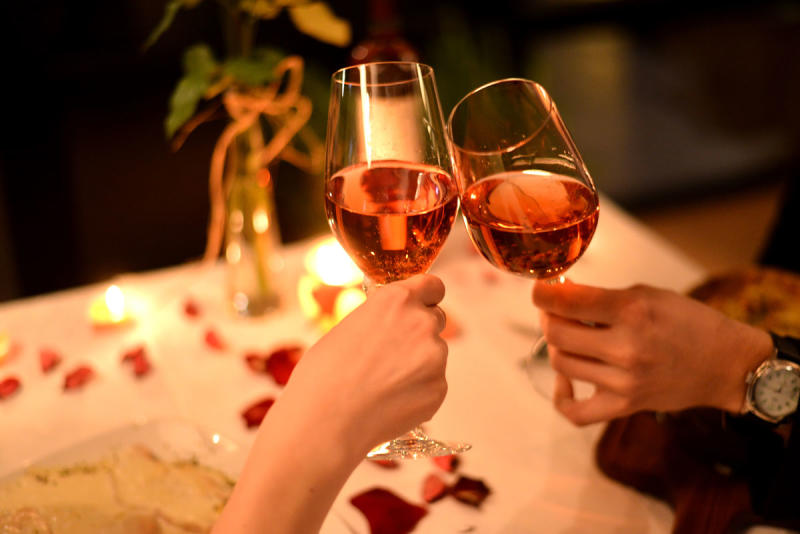 Once Finger Lakes
Once Finger Lakes in Penn Yan offers a curated selection of wines from the region paired with a menu of food sourced using local ingredients. Enjoy a romantic tasting with sweeping views of Seneca Lake from their outdoor deck.
Dr. Konstantin Frank Winery
Dr. Konstantin Frank, a Ukrainian immigrant, successfully developed a method for growing Vinifera, or European wine grapes, in Upstate New York. This winery located near Hammondsport is responsible for revolutionizing winemaking in the United States and is one of the oldest wineries in the region. Situated in a building that once housed a pre-Prohibition wine company, The Terrace at 1886 is an outpost that offers a chance to try the winery's full lineup.
Boundary Breaks
Boundary Breaks' strong commitment and love for Riesling is evident from the moment your lips touch this liquid gold. But even more so in conversation with Bruce Murray and Diane Lyttle, owners of this beautiful Seneca Lake-front vineyard. Their passion for wine and the region, and all the work in the craft of winemaking comes through, further enhancing the wine tasting experience. Enjoy their welcoming tasting room, the stunning sunset, and the wine - yes, there are other varietals to try! No buses or limos are allowed, ensuring that your tasting experience is intimate and special.
The Boundary Breaks Vineyard Winter Wine Exploration Series is a wine-centric adventure to discover the unique elements and the construction of what is being poured into your glass. Exploration will take place two weekends a month from January 2023 to March.2023. Sessions are available at 11 AM and 2 PM on Saturdays and 12 PM on Sundays.The series is pre-sale only and reserved for 30 people per session at $25 per person. Book your session here.