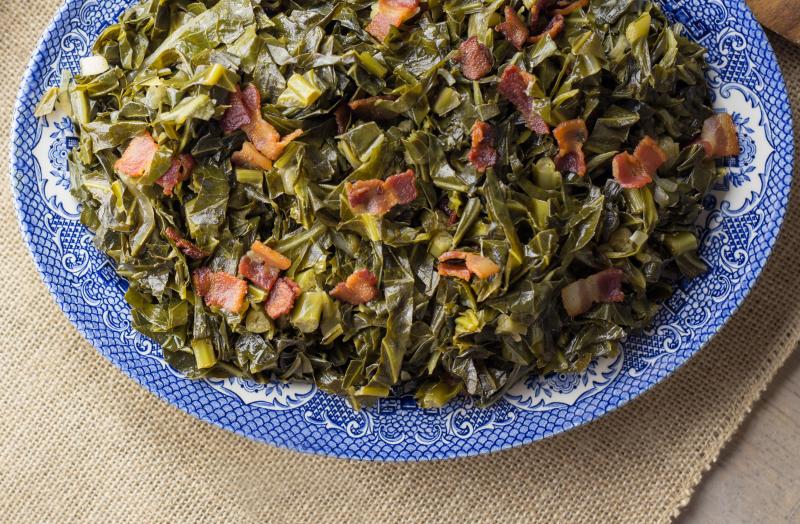 Collard greens have roots in the African American community and to celebrate Black History we're sharing a Finger Lakes Wine-Braised Collard Greens recipe and tracing the history of this ancient vegetable. 
Collard greens date back to prehistoric times. They are the oldest leafy green within the cabbage family. Collard greens originated near Greece, but it wasn't until the first Africans arrived in Jamestown, Virginia in the early 1600's that America got its first taste of the delicious dark green vegetable. 
Collard greens were just one of a few select vegetables that enslaved African-Americans were allowed to grow and harvest for themselves and their families. This leafy vegetable is now considered a soul-food staple. 
INGREDIENTS
2 large bunches fresh collard greens (or one 16 oz. bag)

4 slices bacon, cut in 1" pieces

1 tablespoon olive or canola oil

1 medium onion, chopped

3 cloves garlic, minced

1½ teaspoons paprika Pinch red pepper flakes

¼ teaspoon salt

¼ teaspoon fresh ground black pepper

2 cups low-sodium chicken or vegetable broth

1 cup aromatic white Finger Lakes wine -Riesling or Gewürztraminer

¼ cup apple cider vinegar
PREPARATION
If using fresh collard greens, remove tough stems and center veins. Chop greens into ½" inch pieces,or chiffonade the greens: evenly stack 7-8 collard leaves, tightly roll the leaves,then slice, perpendicular, into thin ribbons.
Wash bagged collard greens thoroughly, drain, and chop into ½"pieces. Heat bacon in a large skillet over medium heat for 2-3 minutes. Reduce heat and add oil, onion, garlic, paprika,red pepper flakes, salt and pepper.
 Add more oil if necessary. Sauté until onions are soft, fragrant, translucent,and just beginning to brown, 5 to 7 minutes.
Add collard greens, stirring constantly until soft and leaves are well-coated, about 5 minutes.
Add broth and Finger Lakes wine and bring to a slow boil. Reduce heat to low, cover and simmer until greens are tender, 20-30 minutes.
Once greens are tender, add vinegar and season with salt and pepper to taste.