Behind every man, there stands a great woman. The Frank family is as much a part of our winery story as the extraordinary wines we are known for.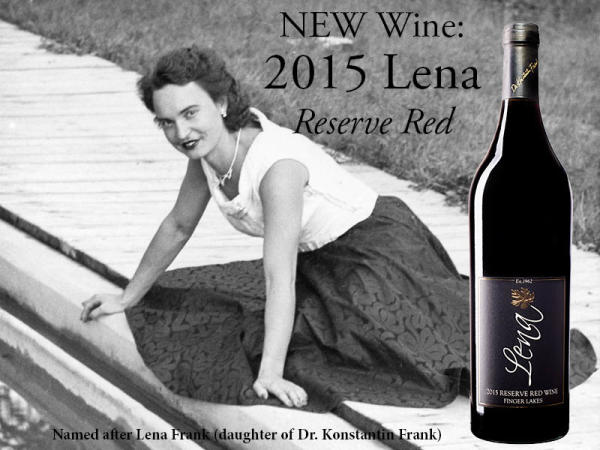 In December 2015, we launched a wine series named after Frank women with a focus on our vineyards.  The first wine in our series, Margrit Dry Riesling is named after Margrit Frank, wife of Willy Frank.  The fruit is sourced exclusively from our vineyards on the east side of Seneca Lake. The Eugenia Dry Riesling  is named after Konstantin's wife, Eugenia. The fruit sourced for this wine comes from Riesling vines planted over fifty years ago, the oldest block of Riesling on our Keuka Lake estate. Our Hilda Chardonnay is named after Hilda Frank Volz, daughter of Konstantin and wife of Walter Volz (our winery's first vineyard manager).  The Hilda Chardonnay is produced from a block of Chardonnay in Volz Vineyards which is located just down the road from the winery.  Our 2015 Lena Reserve Red is the latest wine in the series and was released in December 2017.
The Inspiration Behind our 2015 Lena Reserve Red
Our 2015 Lena Reserve Red, is inspired by Helena ("Lena" Frank) who is the only child of Dr. Konstantin Frank still living today.  A woman of elegance, beauty and depth, Lena has a great love for the Frank family and their contributions to the Finger Lakes wine industry.  Of Konstantin's children, Lena is most well known for her incredible story telling abilities.  Through the years, Lena carefully chronicled the family's story from Ukraine to the Finger Lakes, gathering many historically significant details along the way.  We have enjoyed the amazing photos Lena has kept of the family and have used them many times in our winery information.
When the biography, "Finger Lakes Wine and the Legacy of Dr. Konstantin Frank" was written, Lena was a key resource.  Many of the stories and photos included in the book regarding Ukraine and the family's early days in the Finger Lakes came from Lena.
(Shown in above left photo: Lena, Eugenia & Hilda. Middle photo: Lena sailing on Keuka Lake. Right photo: Hilda, Willy, Lena, Eugenia & Konstantin)
About the Wine
Like Lena, this wine tells a story of how exceptional vineyards, passion and family can coincide to produce a wine of brilliance. Produced from the best parcels in the Finger Lakes, this red blend exhibits elegance, beauty and depth, just like Lena.
Case Produced
170
Varieties
Cabernet Sauvignon, Saperavi, Cabernet Franc, Merlot, Pinot Noir
Vinification
The components for this wine were selected as the best barrels of each of the red varieties that we make here, which originated from the best sites in our Keuka and Seneca vineyards. Barrel selection took place after the wines had already spent 12 months in a mixture of new, 2nd and third fill French oak. This barrel selection was then blended and returned to 2nd fill French oak for a further 8 months prior to filtration in preparation for bottling.
Wine Notes
This wine is velvety smooth with notes of sweet cherry, black current, cocoa, anise, and forest floor with a hint of smokiness.
Food Pairing
Seared duck, roasted lamb, beef tenderloin with mushroom sauce, dark chocolate
Analysis
Alcohol: 13%, pH = 3.59, Acidity = 7.2 g/L, Sugar = 0%
Price
$59.99/bottle