When you think of the Finger Lakes thoughts of endless wineries and vineyards probably come to mind. With over 100 wineries in the region it's easy to assume that most activities in the Finger Lakes are for wine drinkers. That is where you'd be wrong, the Finger Lakes have plenty of incredible activities from museums to the outdoors that don't involve wine or drinking. Check out these 6 activities that prove that the Finger Lakes have much more to offer than wineries and vineyards.
Enjoy a Sunset on a Schooner or Kayak on Seneca Lake
Enjoy some of the greatest water activities along the popular Seneca Lake. Rent a kayak on Seneca Lake for a long and leisurely way to enjoy the surrounding views filled with hills and wineries. If you paddle far enough you can even check out the famous Hector Falls from the lake to see the lower half of the falls. You can easily see the falls while driving from Route 414, but since it's a series of cascading falls you only get to see a portion of it.
Set launch for a sunset cruise on the schooner, "True Love," from Seneca Harbor in Watkins Glen for an unforgettable experience. The boat was featured in an old Hollywood 1940 classic film, "A Philadelphia Story" starring Katherine Hepburn and Cary Grant. Snack on cheese and locally-picked berries on your two-hour cruise. The sailing experience ends with an unforgettable sunset set to music before returning to the harbor.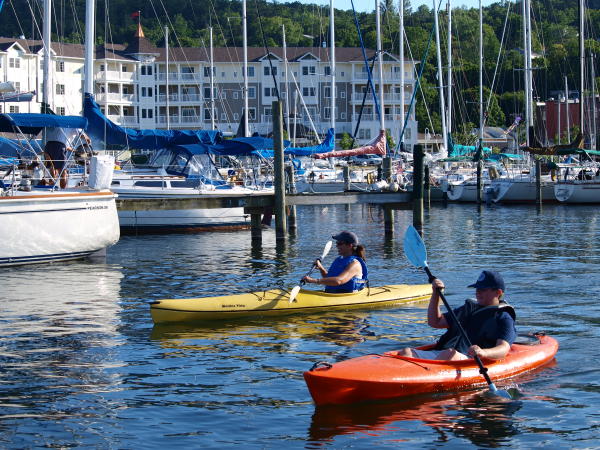 Walk the Enchanting Waterfall Filled Watkins Glen State Park
One of the most enchanting spots in the Finger Lakes is at Watkins Glen State Park. The two mile gorge trail is great for all levels of hikers and passes a whopping 19 cascading waterfalls, each one just as magical as the next and all connected by the stream that runs through the gorge. This is one of the most picturesque places in the region that makes you feel like you're in a fantasy land. Be sure to visit earlier in the day towards opening hours to avoid mid-day crowds.
Find Out Why Ithaca is Gorges
Ithaca has a catchy tagline that doesn't lie, Ithaca is gorgeous and is full of gorges and waterfalls. Located on Cayuga Lake, Ithaca is home to great outdoor activities including trails, Cayuga Lake, parks, gardens, wineries, and over 150 waterfalls within a 10 mile radius of downtown Ithaca! Not to mention the Ivy League campus of Cornell University. If you don't have time to chase down all the waterfalls then be sure to check out Ithaca Falls in downtown Ithaca and Taughannock Falls in Taughannock Falls State Park which also happens to be taller than famous and popular Niagara Falls by a whopping 33 feet.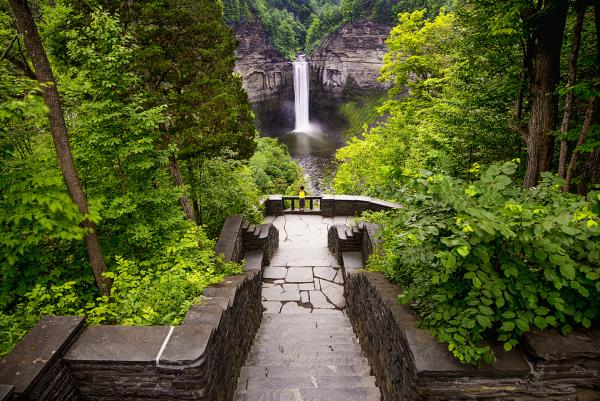 Elmira is for Literary Lovers
If you're a lover of American literature then a visit to Elmira is in order. Elmira, New York was the summer home to famous American writer Mark Twain for over 20 years. Witness the landscape and place that inspired some of his greatest pieces of work including The Adventures of Tom Sawyer and The Adventures of Huckleberry Finn where he wrote in his study in the heart of Elmira. You can visit the famous octagonal wooden building today as well as his gravesite in Woodlawn Cemetery in Elmira.
Glide in the Sky Over the Chemung Valley
If you've ever wished you could fly then your dreams could come true in the Finger Lakes. Soaring at Harris Hill offers an incredibly unique adventure by soaring in a motorless glider plane over the Chemung Valley. To start the soaring adventure you will be towed in 4,000 feet in the sky by a small plane and released where you will glide through the clouds getting a birds eye view of the valley. When you're done with your soaring through the sky adventure you can learn more about these fun motorless glider planes in the National Soaring Museum next door featuring the largest collection of motorless sailplanes in the world dating from the 1890s to today.
Spend a Day Filled with Corning Activities
You can easily spend an entire day exploring the beautiful and charming town of Corning. Stroll down Market Street filled with great shops including a feminist bookstore to boutiques located in between amazing restaurants and cafés. Don't miss out on either of the two incredible museums located in Corning too. The Rockwell Museum is located in a 19th century City Hall building and home to a fabulous collection of American Art showcasing the American experience through paintings and sculptures. The Rockwell museum is a Smithsonian Affiliate with some pieces of artwork that are loaned to their collection on a rotating basis. A trip to Corning wouldn't be complete without visiting the world's largest collection of glass at the Corning Museum of Glass. Spend hours in the museum admiring their collection of glass some dating back to over 3,500 years ago, modern glass art sculptures, interactive exhibits, glass blowing demonstrations, and even hands on glass blowing experiences.
You could easily fill an entire vacation in the Finger Lakes without visiting a winery with all of these amazing activities from outdoor adventures to visiting museums and enjoying the amazing small towns that make up this region.