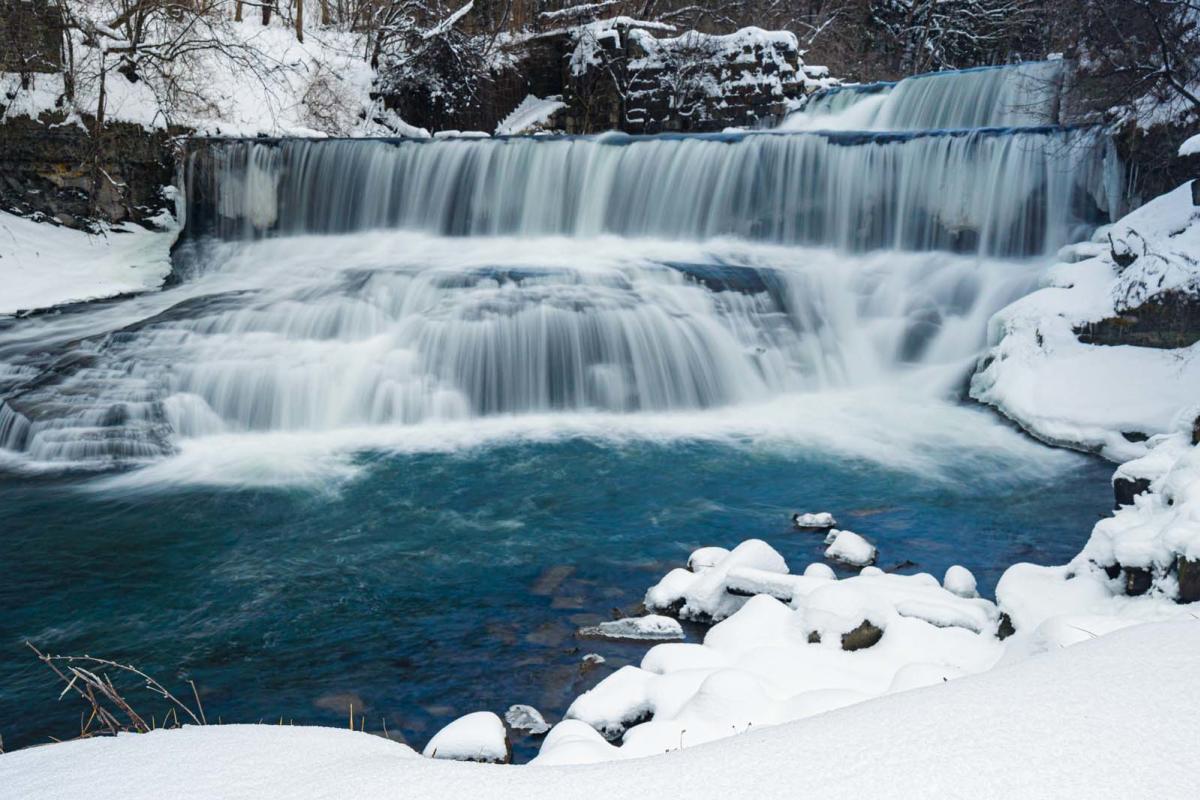 Finger Lakes Wine Country offers some of the most beautiful landscapes in New York State. The region is also a haven for waterfall chasing. One might assume that waterfall viewing is best done in the warmer months, but waterfalls truly come to life and are spectacular to see during the winter months. Enjoy sparkling snowy scenes when you visit these five magical waterfalls this winter. 
For more ideas of how to spend this season in wine country read our guide to outdoor activities to enjoy in the winter in the Finger Lakes.
Hector Falls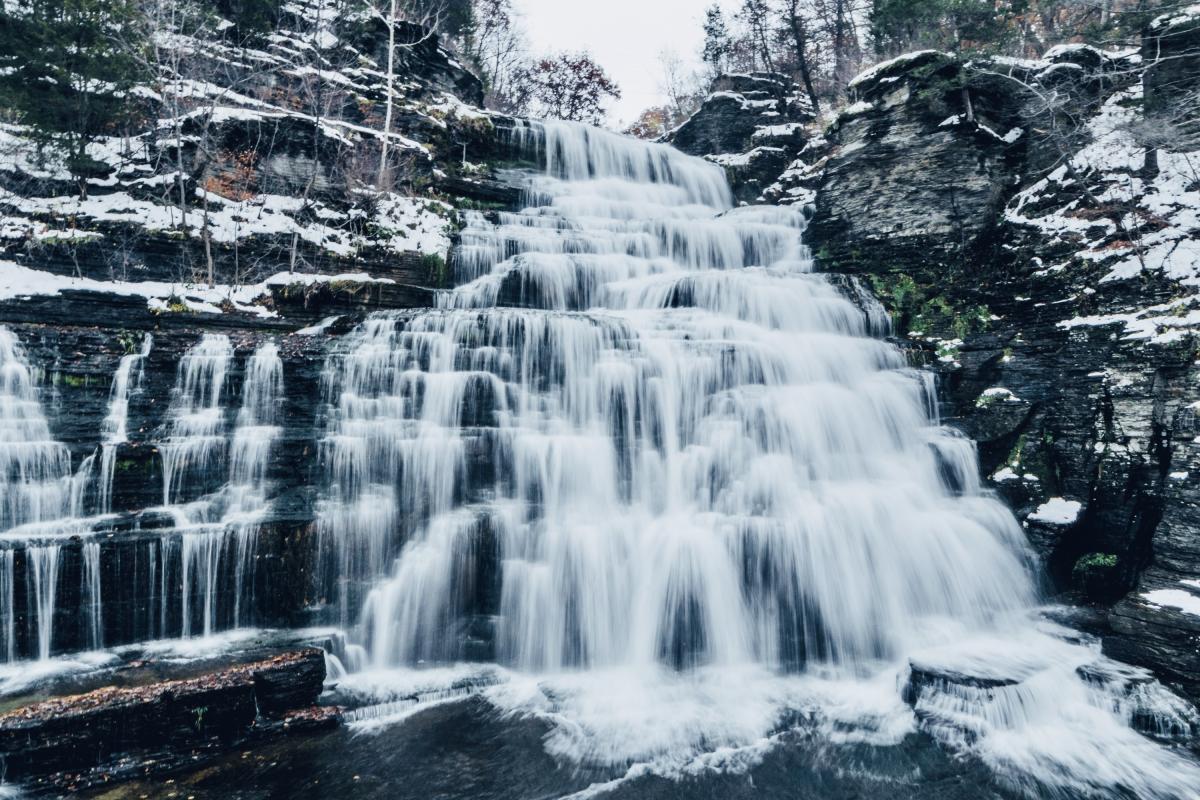 One of the most well-known waterfalls is on the east side of Seneca Lake along State Route 414. Cascading Hector Falls that is truly stunning every season of the year - and it can be viewed right from your car!
In the winter, you are rewarded with a view of the cascading water dusted with snow and ice. From this spot, you're witnessing the upper falls, what you won't be able to see from this vantage point are the series of waterfalls below the bridge you're driving on flowing into Seneca Lake.
Watkins Glen State Park
The famous waterfalls of Watkins Glen State Park attract visitors from near and far every year and every season. While the famous Gorge Trail that takes you through 19 cascading waterfalls directly through the gorge is closed in the winter for safety reasons due to icy conditions, the South Rim Trail is open year-round and offers a glimpse of a true winter wonderland from above overlooking the gorge and its waterfalls.
The South Rim Trail passes the scenic stone arched, Sentry Bridge, which gives visitors a peek at the canyon views and Keyhole Falls.
What's great about visiting this popular natural attraction in the winter is not only the stunning winter scenery, but this is also a less popular time to visit and take in the surrounding beauty with less people.
As with any hike in the winter, use caution as there could be ice. 
Seneca Mills Falls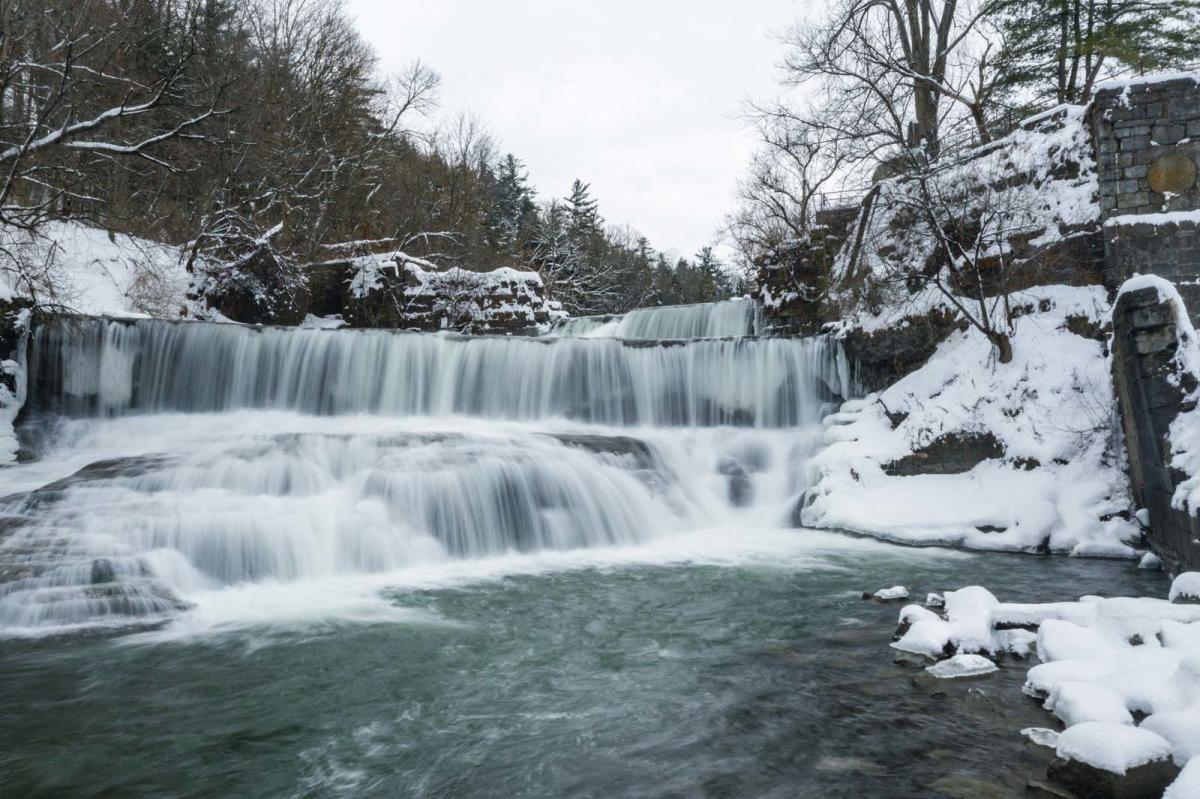 Located just outside of Penn Yan along the 7 mile Keuka Outlet Trail that connects Keuka Lake to Seneca Lake you can find another gorgeous waterfall any season, but especially a sight to see with a layer of snow at Seneca Mills Falls located in the ruins of a former mill.
This 40ft waterfall can be accessed by foot along the Keuka Outlet Trail or by enjoying other winter activities like snowshoeing, horseback riding, and snowmobiling. 
If you're looking for the quickest way to visit Seneca Mills Falls, you will want to find the small parking area on Outlet Road around three miles outside of the town of Penn Yan. From here you can enjoy the easy walk along the trail for about .3 miles before approaching the scenic waterfall.
Aunt Sarah Falls
Another roadside waterfall in wine country that is especially beautiful in winter is Aunt Sarah Falls, located on State Route 414 just north of the village of Montour Falls.
This is one of the waterfalls in the region that is very dependent on waterflow. During a dry summer you won't be able to see Aunt Sarah Falls, but luckily in the colder days of winter the flow freezes and makes for a really beautiful frozen waterfall and giant icicle scene.
There is a parking area right next to the falls making it a very easy and quick stop, even on the coldest of days!
She-Qua-Ga Falls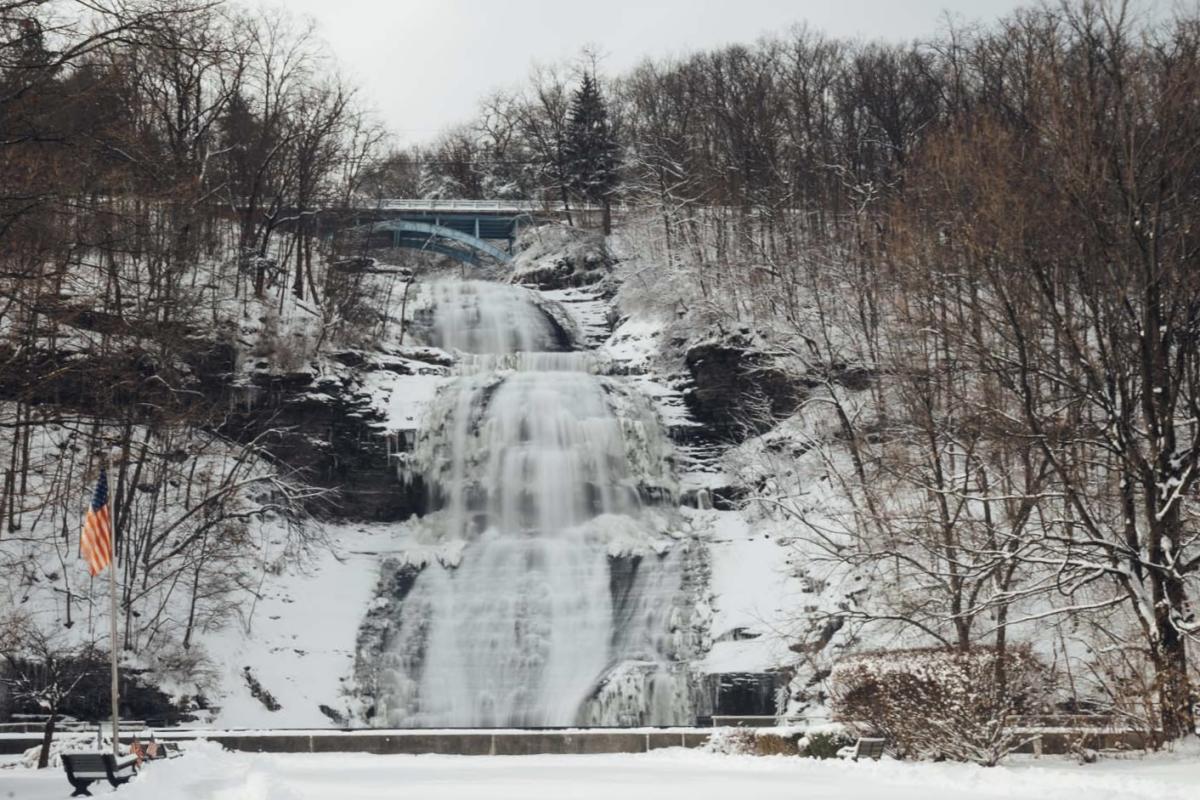 Towering above the village of Montour Falls at 156 feet, She-Qua-Ga Falls is another scenic gem of the region and absolutely gorgeous in the winter. Situated between residential homes and the village of Montour Falls you can witness this stunning waterfall from the viewing platform, driving through the village, and from Main Street.
The name of She-Qua-Ga Falls means 'tumbling waters' in the Seneca language as this site was formerly a Seneca Tribe village.
A surprising fact about She-Qua-Ga Falls and Montour Falls is that you can find a sketch of it on display in The Louvre in Paris completed by King Louis Philippe d' Orleans of France.
During a really dry season, it's hard to see this waterfall, but in the winter you not only get water flow but all the frozen beauty around it.