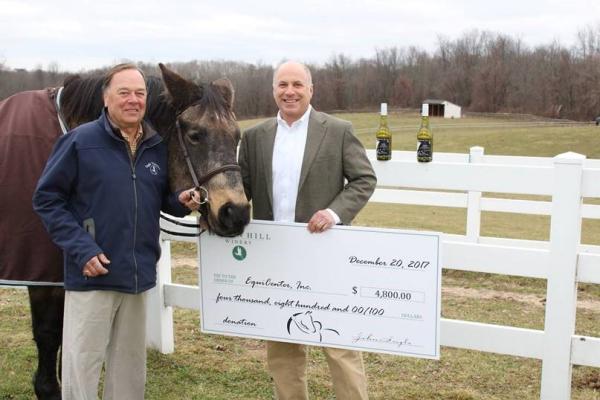 HAMMONDSPORT, N.Y. (December 28, 2017) – Heron Hill Winery presented a donation in the amount of $4,800 to EquiCenter, Inc. at the EquiCenter on December 20th, 2017. In July 2017, Heron Hill Winery released the Riesling-Chardonnay blend under the Friends of the EquiCenter label with proceeds from each bottle sold going directly back to the EquiCenter. Heron Hill Winery would like to thank their customers for showing support of the organization that provides therapeutic equine and other related programs to people with disabilities, at-risk youth, Veterans, and their families.
For many years, Heron Hill's owner's John and Josephine Ingle and Heron Hill Winery have raised awareness and supported the EquiCenter's work to keep the programs going for those that truly need them to help foster their personal growth and achievement.
"We are extremely excited about John and Jo's generous support of the EquiCenter through Heron Hill's 2017 Charity Wine project. Their long-time friendship began with their initiative to launch our therapeutic horticulture program, which now stands to serve as a national model for the U.S. Department of Veterans Affairs. Most recently, John and Jo announced a very exciting $200,000 matching challenge gift to help us launch the construction of a new, larger heated indoor riding arena. Their generosity is remarkable and their friendship is priceless," says Jonathan Friedlander, President of the EquiCenter.
To learn more about EquiCenter, Inc. visit their web site at www.equicenterny.org. Heron Hill and the Ingle family support a variety of not-for-profit organizations which includes many long-standing relationships with organizations focused primarily on programs that benefit family services, arts and conservation.
# # #