DUNDEE, N.Y. (November 11, 2017) – Early Saturday morning, with the temperature getting down to approximately 22˚F, our vineyard crew of six people brought in just over 10 tons of three different ice wine grapes. Starting just before 4:00am. 3 tons of Vidal Blanc, 3.4 tons of Riesling, and 3.7 tons of Niagara, yielded , 400, 400, and 380 gallons respectively of highly concentrated juice for the use in the 2017 vintage of ice wines.
"The universe really has to be in alignment for a good ice harvest in the Finger Lakes! The temperature, timing and crop must be perfect for this to happen. Usually, we freeze hand harvested grapes to guarantee a consistent and quality product. However, in a rare year like 2017, we get a hard freeze early enough to harvest a 'natural' ice wine." Steven Fulkerson
This will be Fulkerson Winery's first "true" [frozen on the vine] ice wine since 2008. Harvesting ice grapes is a very risky proposal in the Finger Lakes mainly due to the unpredictability of weather patterns.
"We can never count on the weather cooperating for us. Normally by the time the weather is appropriate for ice wine harvest, the entire crop is on the ground, or eaten by critters! It's rare that we can harvest a quality ice wine crop like this without tremendous risk." Sayre Fulkerson
Founded in 1989, Fulkerson winery has thrived to become a destination for those seeking to know about the intimacies of the Finger Lakes wine growing region. From enjoying our variety of styles, or learning to make your own, Fulkerson Winery invites you to take part in the history of the Finger Lakes through a glass of wine!
# # #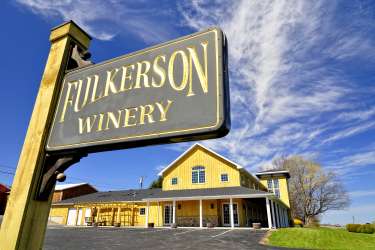 Fulkerson Winery
SENECA LAKE WINE TRAIL MEMBER Seven Generations of Family Farming In 1805, the same year Lewis & Clark set out on their expedition to explore the... More