Listings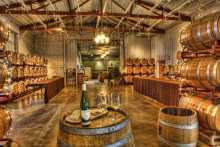 2770 County Road 128
Romulus, NY 14541
(607) 930-3495
In 1977, Doug and Suzie Knapp purchased the property where Knapp Vineyards Winery and Restaurant is now located. During the next five years, 1978-1982, new vineyards of Chardonnay, Cabernet Sauvignon, Riesling, and Pinot Noir were planted, some of the first vinifera grapes along the shores of Cayuga Lake. Concurrently, they began their study of wine making culminating in the establishment of Knapp Winery in 1982 selling their first estate grown wines in the spring of 1984. Knapp was the first winery in the Finger Lakes Appellation to plant and vinify the grape variety Cabernet Franc.
In 1992 the Knapp's opened a restaurant in conjunction with their winery retail shop—the first winery restaurant on Cayuga Lake. Always the pioneers, in 1995, Knapp became the first winery on the East coast to operate an Alembic Pot Still for the production of Brandy. Knapp Vineyards Winery and Restaurant was purchased by Gene Pierce and Scott Welliver in 2000. In 2007 Knapp produced 13,000 cases, consisting of 30 wine products and six distillate products.
From 500 gallons in 1982 to 36,000 gallons in 2008, Knapp's growth has been steady. Our wines are distributed throughout our upstate New York and the mid west, as well as being available at the winery retail shop year around. The addition of Grappa and other grape distillants to the traditional mix of wines has created a more diverse and interesting product line. Growth continues at Knapp: new vineyards, new product lines, new gardens, and much optimism for many more new ventures in the twenty first century. The Alembic Pot Still is used in the making of brandy and our grappa products, such as Limoncello. We are one of two wineries in the Finger Lakes region that has one! Knapp offers many specialty wine series labels such as Curiosity, Superstition and Kat Nap.
Whether it's red, white, dry or sweet wine that you prefer, you'll find it at Knapp Winery! We have an extensive product line that we know you'll enjoy! Come visit our tasting room and try our wines and cordials. We also carry many unique gifts and gourmet food items in our retail shop. We are open daily except for major holidays. Daily 10:30am to 5:00 pm.
The Vineyard Restaurant offers you the perfect opportunity to enjoy mouth-watering eclectic cuisine. Enjoy fabulous gourmet cuisine on the vineyard trellised patio overlooking Knapp's beautifully landscaped gardens and vineyards. Savor your favorite meals with the Chef's wine pairing from Knapp's vast array of award winning wines.
The Vineyard Restaurant is the ideal setting for wedding or special occasion! Affordable elegance is our specialty at Knapp! The Vineyard Restaurant showcases year round events and is open seasonally from April through November.